Lime Market is to Recover and Grow by 3 – 5% in the Coming Years
08 Jun 2010 • by Natalie Aster

Lime is a widespread and variously used chemical material, produced and consumed all over the world. Taking into account minor producers in developing countries and producers of Lime for internal needs (metallurgic works, pipe-and-paper and sugar mills), global Lime production is estimated at 300 mln tons annually. In 2008 China was the largest producer of Lime. It accounted for 60% of the overall production volume.
Lime production increased significantly in 2005-2007 due to the manufacturing growth in major consumption fields. The growth in construction industry and refractory products production was caused generally by demand increase in developing regions, China, in particular. In the USA and Europe the total consumption continued to grow at a moderate rate.
In 2008 the growth slowed down abruptly, it was caused by demand decrease in Europe and North America due to the output decline. At that period Lime consumption per capita dropped up to 80 kg in industrialized countries.
In 2009 demand for Lime continued to decline. Lime consumption dropped in most regions, excluding China and India, where consumption growth just experienced a slow-down.
The global Lime consumption breakdown is presented in the following chart: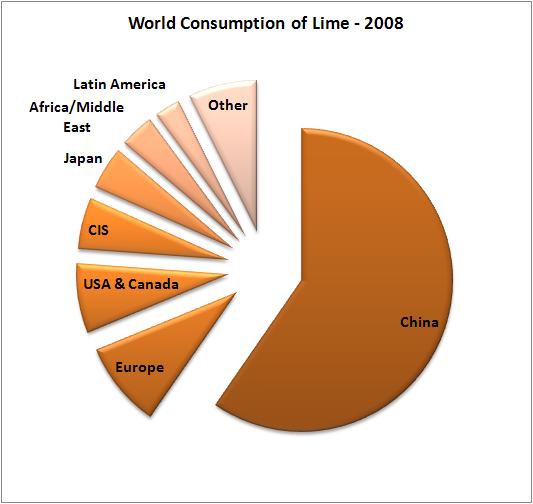 It is forecast that market recovery will take place at a slow rate. An analysis of the consumers sectors allows to project an annual 3-5% growth.
European countries have been the leading global Lime exporters for years: Germany (16% of total export), France (16%), Belgium (15%). Considering export of different types of Lime, the picture seems to be the same. The leading positions in Quick Lime export are taken by Germany (22%), France (20%), Belgium (14%). Major exporters of Slaked Lime are Belgium (20%) and Germany (12%). The Hydraulic Lime market is lead by France (21%) and Germany (18%).
In Europe, North America and Japan the Lime production sector is characterized by regional producers activities, each one operating on a respective regional market. Here, manufacturers are engaged in captive Lime production due to the technological process. Only low-capacity factories or ferroalloy producers, using small volumes of Lime, buy the material outside.
There is a relatively small number of companies (JMS Jura Marble Suppliers GmbH, Rocamat S.A., Carmeuse Group, Carmeuse Lime & Stone, Atlantic Minerals Limited, Thang Kiang Nam Trading Sdn. Bhd., CJSC Lime Factory, etc.), engaged in global trade, firstly because Lime is available in all the parts of the world and shipment costs can influence the Lime price heavily.
The sphere of Lime use is multifaceted. The major consumers of this material are:
Iron and steel industry. Lime is an essential material for the technological process of polymetallic ore and chamosite benification;
Construction industry.
- Quick Lime is used to produce cell concrete and lime-and-sand brick;
- Slaked Lime – in production of dry construction mixture;
- Hydraulic Lime - is a basis for water-resistant construction mixture for constructing parts of buildings in wet conditions: Water Lime is also used in production of low-grade concrete and slag-lime cements;
Chemical industry. Lime is used for producing calcium carbonate, calcium hypochlorite, calcium fluoride, as a neutralizer of acid sludge, and as a reagent in basic organic and non-organic synthesis;
Sugar industry;
Agriculture. By Lime use soil acidity is eliminated, calcium stock is replenished, soil physical properties get better. In cattle and poultry breeding Lime is used for feeding to control calcium shortage in nutrition, it is also used for sterilization;
Pipe-and-paper industry;
Food and leather industry (as oil saponifier);
Textile industry (by textile processing during dyeing).
Related Research:
To order or get a free sample of any report, feel free to contact ps@marketpublishers.com
Source: MarketPublishers, Ltd.