Global Automotive Electronics with Special Focus on OEMs Market
21 May 2010 • by Natalie Aster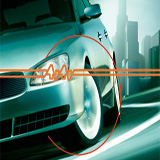 The global market for automotive electronics is projected to reach US$243.7 billion by 2015, registering a Compounded Annual Growth Rate (CAGR) of 6.4% during the period 2006-2015. The market for Original Equipment Manufacturers (OEMs) is analyzed separately in the report and the global market for OEM automotive electronics is estimated for 2010 at US$134.4 billion.
The utilization of electronic components in modern automobiles has shot up over the past few years with concentration on developing safety systems. The anti-lock braking helps making the stopping of cars faster in a controlled manner, the electronic traction control systems provide safety to the drivers under difficult driving conditions, and in case of crash the air-bag and the advanced collision sensors save lives. The telematic system covers geographic maps, GPS, navigation, mobile phones, road tolling and entertainment systems.
The report reviews, analyses and projects the automotive electronics market for global and the regional markets including North America, Europe, Asia-Pacific and Rest of World. The regional markets further analyzed for 11 independent countries across North America–the United States, Canada and Mexico; Europe – Germany, The United Kingdom, France, Spain and Italy; Asia-Pacific – Japan,China,India and South Korea.
A new study "Global Automotive Electronics with Special Focus on OEMs Market" reviews, analyzes and projects the global market for Automotive Electronics for the period 2006-2016
Key Trends
Safety and Security of Vehicles Drives the Market for Auto Electronics Most blind spot detection systems use radar sensors situated behind the back bumper that can observe both sides of a vehicle and the driver is attentive to any accident when another vehicle is enters the blind spot. Nowadays, some sellers are using cameras for…..
China – A Bulls Eye for Auto Electronics Producers China has a wide market for automotive electronics particularly car information systems to provide safety, comfort and driving performance. As the automotive electronics market is slated to record growth the MCU major manufacturers have increased in the areas of…..
Studied Companies
The study profiles 44 key global players and 91 major players across North America – 49; Europe – 24; and Asia-Pacific –18. The report provides the listing of the companies engaged in research, technology development, manufacturing and the supply of automotive electronics. The global list of companies covers addresses, contact numbers and the website addresses of 366 companies (ATX Technologies Inc, Autocruise Limited, Autoliv Inc, Blaupunkt Bosch Group, Bosch GmbH, DELPHI Corporation, General Motors Corporation, Hitachi Ltd, Honeywell International Inc, Johnson Controls Inc, Magna International Inc., etc.)
To order the report or ask for a free sample, please contact ps@marketpublishers.com
Source: MarketPublishers.com