Nutraceuticals market in India showing tremendous growth potential, finds Netscribes' report
15 Sep 2009 • by Natalie Aster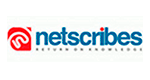 Netscribes (India) Pvt. Ltd., launches "Nutraceuticals Market – India" report covering the Indian Nutraceutical Industry. The report is part of Netscribes' healthcare industry series.
Netscribes (India) Pvt. Ltd., a knowledge consulting solutions company, announces the launch of its report Nutraceuticals – India. The industry is growing at 21% per annum. Growth in this sector is being propelled by increasing shift towards preventive therapies, increase in disposable income, increase in healthcare spending, ageing population, pharma retail growth, and favourable pricing environment.
The report begins with the classification of Nutraceuticals based on their ingredients and therapeutic use. The market overview section gives a quick picture of the market with estimated market size, growth rate and key products and examples. It also provides a brief overview of the two sub-segments of nutraceuticals market – Food & Supplements market and Vitamins & Minerals market. The drivers and challenges explain the factors influencing growth of the industry and a brief analysis of the major issues/challenges hindering growth is also included. The report also highlights the current trends in the market. Competitive landscape identifies major players in the market. The report also covers the private equity investments and other key developments in the industry.