Digital Health: A New Frontier in the Modern Healthcare
07 Sep 2023 • by Natalie Aster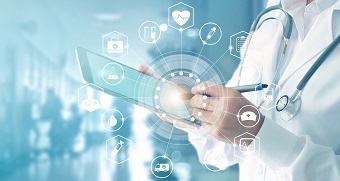 The evolution of healthcare has been nothing short of remarkable. From traditional medicine practices to the dawn of digital health, the journey has been transformative. Digital health stands as a beacon of progress in today's health systems, particularly in developed countries.
Nowadays, it's common to hear terms like mHealth, telehealth, health informatics, and eHealth. However, many mistakenly interchange these terms, while each one represents a distinct aspect of the broader digital health landscape. Although the concept of digital health might seem vast and undefined to many, its impact is palpable and transformational.
Digital health refers to the use of cutting-edge information and communication technologies to enhance healthcare efficiency, speed, and affordability. From patient data management to remote consultations, it is the bridge between technology and improved healthcare services.
The digital health market continues to evolve at a rapid pace, as technological advancements fuse with healthcare to deliver more efficient, personalized, and innovative solutions. Stakeholders in the health sector need to be keenly aware of the emerging trends. Here are some of the prominent trends that are shaping the digital health landscape:
The Rise of Virtual Health Consultations
Virtual health consultations, also known as telehealth or telemedicine, have become increasingly popular, especially in the wake of global events that necessitated remote care. Their convenience, coupled with advancements in video conferencing technology, has made it easier for patients to connect with healthcare professionals from the comfort of their homes.
Benefits of Virtual Consultations:
Accessibility: Patients in remote areas can access specialized care without traveling.
Efficiency: Reduces waiting times and allows healthcare professionals to see more patients.
Safety: Limits exposure to infectious diseases in clinical settings.
Integration of Artificial Intelligence & Machine Learning
Artificial intelligence (AI) and machine learning (ML) are making significant inroads in the healthcare sector. From predictive analytics to patient management, these technologies are providing unparalleled insights and automating various aspects of patient care.
Major Applications of AI in Healthcare
Disease Identification: Using imaging and diagnostic tools to detect diseases early.
Treatment Personalization: Tailoring treatment plans based on individual patient data.
Operational Efficiency: Streamlining hospital operations and administrative tasks.
Wearable Health Tech Goes Mainstream
Wearable devices, once considered novelties, are now mainstream tools for health monitoring. From fitness trackers to advanced biometric monitors, these devices provide real-time data, empowering individuals to take charge of their health.
Key Features of Modern Wearable Devices
Continuous Monitoring: Track vital signs and activity levels 24/7.
Health Insights: Analyze data to provide actionable health recommendations.
Integration with Other Devices: Sync with smartphones and other smart devices for comprehensive health management.
The Expansion of Digital Therapeutics
Digital therapeutics, often called "software as a drug", are digital solutions designed to manage and treat medical conditions. These platforms are becoming integral components in treatment plans, offering evidence-based therapeutic interventions to patients.
Benefits of Digital Therapeutics
Personalized Treatment: Adaptable to individual patient needs.
Cost-Effective: Often cheaper than traditional treatments, with reduced side effects.
Accessible Anytime, Anywhere: Can be accessed from any digital device, allowing flexibility in treatment schedules.
Enhanced Data Security & Patient Privacy
With the proliferation of digital health tools, the security of patient data has never been more critical. Enhanced encryption methods, blockchain technology, and strict regulatory guidelines are being implemented to ensure the utmost protection of sensitive patient information.
Measures to Enhance Data Security
Advanced Encryption: Ensuring data is unreadable without specific decryption keys.
Regular Audits: Continuous monitoring of systems to detect and address vulnerabilities.
Strict Regulatory Compliance: Adherence to regulations like HIPAA to safeguard patient information.
Final Thoughts
The advent of digital health promises a brighter, more efficient future for healthcare globally. The digital health market is poised for significant growth and transformation, driven by technological advancements and the integration of digital solutions into mainstream healthcare. Stakeholders in the healthcare industry need to stay informed and adaptive to these trends to remain competitive and provide the best possible care to patients.
Product Details:
Global Digital Health Market: Market Segments: By Technology (Mobile Health, Electronic Health Record, Telemedicine & Healthcare Analytics); By Component (Software, Hardware and Services); By End User (B2B & B2C); and Region – Analysis of Market Size, Share & Trends for 2014 – 2019 and Forecasts to 2030
Published: September 2023
Pages: 152
A full collection of Market Publishers' topical research reports covering the Digital Healthcare Industry can be found in this catalogue.
CONTACTS
The Market Publishers, Ltd.
Natalie Aster
Tel: +44 208 144 6009
Fax: +44 207 900 3970
[email protected]
MarketPublishers.com