The Rise of Personalized Fitness: Fitness Apps Market Overview
06 Apr 2023 • by Natalie Aster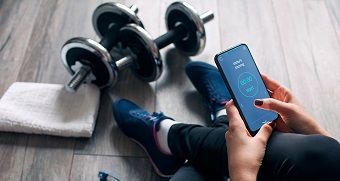 In a modern fast-paced world, people are always on the move, and finding time to hit the gym or attend fitness classes can be a challenge. Fortunately, technological breakthroughs have come to the rescue with the advent of fitness apps. These apps are designed to assist users in reaching their fitness goals by offering them access to personalized workout plans, customized nutrition information, and other health-related resources. If you're looking to stay healthy and get fit, then fitness apps might be just what you need. In this article, we will take a deep dive into the world of fitness apps, exploring the benefits of using them, the different types of apps available, and how to choose the right one for you.
Benefits of Fitness Apps:
Fitness apps offer a range of benefits to users, including:
Convenience
Fitness apps allow you to work out anywhere and anytime. You don't need to go to a gym or attend a fitness class to get your daily exercise. All you need is your smartphone and an internet connection, and you're good to go.
Personalization
Fitness apps give access to personalized workout plans based on your fitness level, preferences, and goals. This means that you can adapt your workouts to your specific needs and get better results.
Motivation
Many fitness apps come with features that help to keep you motivated, such as reminders, challenges, and rewards. These features can help you stay on track and attain your fitness goals.
Tracking
Fitness apps can keep track of your progress and provide you with valuable data on your workouts. This can help you point out areas you need to improve in and adjust your workouts accordingly.
Fitness Apps Market
The market for fitness apps is rapidly growing as more people are looking for convenient and accessible ways to stay fit and healthy. With ongoing technological advancements, fitness apps are becoming all the rage, and there is a wide range of apps available to cater to different fitness preferences. The increasing awareness of the importance of fitness and the rising adoption of wearable devices are among the major factors boosting the growth of the market.
Market Segmentation
The market for fitness apps can be segmented into various categories, including nutrition apps, workout apps, running apps, yoga apps, and meditation apps. Workout apps provide access to a variety of workouts for different fitness levels and goals, while nutrition apps help to keep a close watch on calories and macronutrient intake and offer healthy eating tips. Running apps track runs, provide coaching tips, and help set running goals. Yoga apps offer yoga routines for all skill levels, and meditation apps give access to information on guided meditations for stress relief, better sleep, and overall mindfulness.
Competitive Landscape
Some of the top players in the fitness app market include Fitbit, MyFitnessPal, Nike, Strava, and Headspace. These companies offer a range of features and services to cater to the diverse needs of their users. Fitbit offers heart rate monitoring, activity tracking, and sleep tracking features, while MyFitnessPal suggests calorie and macronutrient tracking, and recipe suggestions. Nike offers personalized workout plans, running coaching, and social features, while Strava offers running and cycling tracking, challenges, and community features. Headspace offers guided meditations, mindfulness exercises, and sleep sounds to help users improve their mental well-being.
Conclusion
In conclusion, the fitness app market is rapidly growing and offers a broad range of apps to cater to different fitness preferences, levels, and goals. With the surging penetration of wearable devices and the rising awareness of the importance of fitness, the market is expected to continue its growth trajectory in the coming years.
Product Details:
Fitness Apps: Global Market Size, Share & Growth Forecast
Published: April 2023
Pages: 83
Price: US$ 5,500.00
To find many other topical research studies covering the apps market, please, follow this page.
CONTACTS
The Market Publishers, Ltd.
Natalie Aster
Tel: +44 208 144 6009
Fax: +44 207 900 3970
[email protected]
MarketPublishers.com