Top 3 Latest Reports on Fish Market
13 Feb 2023 • by Natalie Aster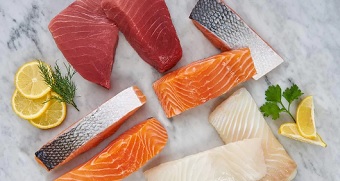 LONDON – The Market Publishers' rich collection of in-demand research reports covering the fish market has been recently replenished with cutting-edge studies worked out by our research partners. Our experts have identified the three most popular reports covering the fish market recently uploaded to MarketPublishers.com:
The volume of the global salmon market reached 3.5 million tons. This market is projected to increase at a CAGR of 3.54% in the next 6 years to reach a volume of 4.3 million tons. Some of the major market growth engines include the significant growth of the food and beverage industry, increasing awareness about the health benefits associated with seafood consumption, rising shift to protein-based diets, and increasing purchasing power of consumers. Atlantic species are the most common salmon species among consumers worldwide as they are more nutritious. The farmed salmon segment is projected to command the largest market share during the forecast period owing to the increasing preference for high-quality seafood. The foodservice industry will likely remain the largest consumer of salmon during 2023-2028, supported by the rising consumer spending on restaurants and other dining establishments…
The volume of the world's sardine market is expected to increase from 3.5 million tons in 2022 to 3.9 million tons in 2028, registering a modest CAGR of 1.31% in the next 6 years. The market growth will be spurred by stable demand, affordable prices compared with other fish species with the same nutritional value and rising awareness about the benefits associated with sardine consumption. Among various species, Sardina Pilchardus represents the most popular species around the globe. The canned sardine segment is predicted to hold the largest market share during 2023-2028. Asia-Pacific is anticipated to remain the leading regional sardine market during the forecast period…
Presently, tuna forms a very important part of the world's fishing scenario. Tuna is enjoyed around the globe fresh-cooked, frozen, canned, and as sushi. Around 60% of the global tuna production volume comes from the West and Central Pacific Ocean (WPCO). Last year, the value of the world's tuna market reached USD 42.2 billion. This market is projected to demonstrate modest healthy growth at a CAGR of 2.84% in the next 6 years to come to USD 50.2 billion by the year 2028. The increasing consumption of canned tuna, mounting demand for ready-to-eat food, rising awareness of a healthy diet, and soaring popularity of seafood will likely act as the major tuna market growth drivers in the coming years. Europe is poised to remain the dominant importer of canned tuna during 2023-2028. Meantime, China and North America rank the largest importers of fresh and frozen tuna. Indonesia is expected to take the lead in global tuna production through 2028, while Japan is poised to remain the largest consumer…
To find many other topical research studies featuring the fish market, please, use our search form.