New Reports on Home Appliances Market Available at MarketPublishers.com
18 Aug 2022 • by Natalie Aster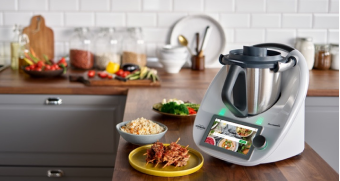 LONDON – Market Publishers is pleased to inform that a lot of cutting-edge research studies have been recently added to our home appliances market reports catalogue. These new studies offer updated information on the examined markets' performance and dynamics, discuss prevailing and emerging market trends, identify the major growth challenges and drivers, delve into the competitive landscape, outline future growth prospects, uncover future short-term and long-term forecasts, and provide other vital information on the development of the examined markets. Here are only some of the new reports covering the home appliances market recently added at MarketPublishers.com:
Robotic Vacuum Cleaners Market
The global market for robotic vacuum cleaners is slated for impressive growth at a CAGR of 23.18% between 2022 and 2026, encouraged by the increasing working population, rising adoption in the hospitality sector, growing income levels of consumers, introduction of industrial robots, booming digitalization, and increasing penetration of smart home appliances. However, growth of the robotic vacuum cleaners market may be hampered by such challenges as high initial and maintenance costs, rising concerns regarding high power consumption and shorter operational period, and wide availability of counterfeit products. By 2026, the value of the global robotic vacuum cleaners market is predicted to reach USD 11.26 billion. Asia is anticipated to be the fastest growing regional market for robotic vacuum cleaners during the forecast period, due to the growing tech-savvy population, rising inclination of people towards automation, soaring popularity of smart homes and smart appliances, and presence of the leading market players in the region…
The global small appliances market is anticipated to surpass USD 307.8 billion in value terms by the year 2026, increasing at a CAGR of 5.78% in the next 4 years. Growth in the small appliances market will likely be supported by the increasing trend of modular kitchens, technological innovations, and the introduction of multifunctional appliances and smart appliances. Meantime, the market growth may be hampered by fluctuations in raw material prices along with macroeconomic downturn and restraints on expansion. The small cooking appliances segment is predicted to maintain the dominant market share during the forecast period, driven by the rising demand for smart features in appliances, technological advancements, and mounting demand for multifunctional appliances…
Dishwashers have been increasingly popular across developed economies of North America and Europe, where the adoption of technologically advanced appliances is higher. Besides, the adoption of dishwashers in developing countries of the Asia-Pacific region is also on the rise. Last year, the value of the global dishwasher market crossed the USD 21 billion mark. This market is anticipated to register healthy growth at a CAGR of 6.61% between 2022 and 2027, driven by the growing population, accelerated economic development, rising purchasing power of consumers, changing lifestyles, and soaring demand for smart kitchen appliances…
Many other topical research studies covering the home appliances market can be found in this Market Publishers' catalogue.