Solar PV and Onshore Wind Capacity to witness rapid growth in China by 2030
29 Oct 2021 • by Natalie Aster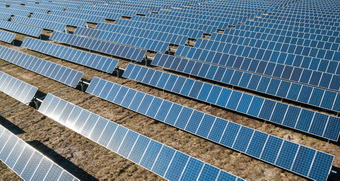 Renewable power capacity (excluding hydropower) in China is expected to increase from 572.89 GW in 2020 to 1,772.05 GW in 2030, growing at a compound annual growth rate (CAGR) of 12%. Solar PV and onshore wind are expected to witness swift growth in the country by 2030. The cumulative solar PV capacity is expected to grow from 253.69 GW in 2020 to 890.31 GW in 2030, whereas cumulative onshore wind capacity is set to increase from 279.04 GW in 2020 to 742.62 GW in 2030, forecasts GlobalData.
GlobalData's report, 'China Power Market Outlook to 2030, Update 2021 – Market Trends, Regulations, and Competitive Landscape', says that this growth is supported by the 14th Five-Year Plan (2021-2025) rolled out by the Chinese government. In 2020, the combined cumulative capacity of solar PV and wind power stood at 542.71 GW and the government plans to increase this to over 1,200 GW by 2030.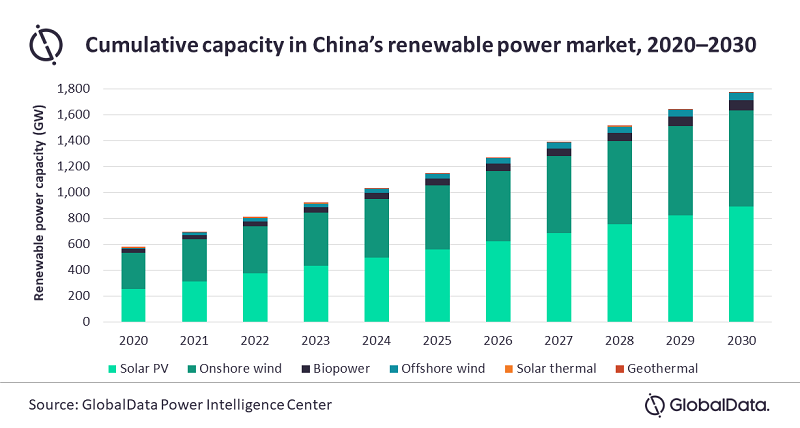 Rohit Ravetkar, Power Analyst at GlobalData, says: "China has been actively encouraging the use of renewable power sources to reduce the dependence on fossil fuels. The country plans to reduce coal-based power generation to meet its carbon emission reduction targets under the Paris Climate Agreement. In December 2020, the government set an ambitious target to increase the cumulative installed capacity of solar and wind power to over 1,200 GW by 2030. The country is expected to comfortably meet this target as the cumulative solar and wind power capacity in the country is projected to reach around 1,690 GW by 2030."
As of June 2021, around 18 solar PV plants are under construction in China, having a total capacity of around 3 GW. In addition, around 282 solar PV plants with a total capacity of around 34.3 GW are in various stages of receiving governmental permits. The country is also witnessing rapid growth of wind power, with around 175 plants in permitting stage with total capacity of around 42.9 GW and around 113 plants under construction with a total capacity of around 29.4 GW.
Mr. Ravetkar concludes: "The integration of renewable energy into the grid can be a major challenge for China as the renewable power generation locations are distant from the areas of high electricity demand. However, the government is focusing on upgrading the grid infrastructure while improving the efficiency. This is also set to create opportunities for investments in smart grids, including the production and supply of the high-tech equipment needed for renewable integration."