Aerospace & Defense Market: Markets and Markets Spotlight
01 Aug 2021 • by Natalie Aster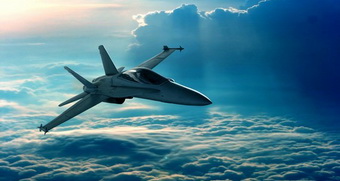 Commercial aviation has weathered many downturns in the past, yet the recovery has followed quickly and the industry has been reliably returned to its long-term growth rate of approximately 5 percent per year. Despite uncertainties, 2011 passenger traffic rose to about 6 percent above 2010 levels. It can be expected that this trend would continue over the next 20 years, with world passenger traffic growing by approximately 5 percent annually.
Also, expansion of emerging-market economies will foster a growing need for efficient transport of goods. It can be estimated that air cargo will grow approximately 5 percent annually through 2031. Boeing has projected a long-term demand for 34,000 new airplanes over the next 20 years, valued at around $4 trillion. These new airplanes will replace older, less efficient airplanes, benefiting airlines and passengers and stimulate growth in emerging markets and innovation in airline business models.
Approximately 23,240 airplanes (68 percent of new deliveries) will be single-aisle airplanes, reflecting growth in emerging markets, such as China, and the continued expansion of low-cost carriers throughout the world. The twin-aisle segment will also increase, from a 19 percent share of today's fleet to a 23 percent share in 2031. The 7,950 new twin-aisle airplanes will allow airlines to continue expansion into more international markets.
According to Airbus forecast, Latin American airline traffic will grow by more than 6% per year in the next 20 years, the second highest growth rate in the world after the Middle East and ahead of Asia Pacific. Overall, the region's traffic is expected to triple in the next 20 years. In India 2012 marked a decade of full-fledged entry of the private sector in defense production with 100% equity and 26% foreign direct investment
The new publications:
Unmanned Electronic Warfare - Global Forecast to 2026.
Thermoelectric Generators Market by Application (Waste Heat Recovery, Energy Harvesting, Direct Power Generation, Co-Generation), Temperature (<80c, 80- 500c, >500c) Wattage, Type, Material, Vertical, Component, Region - Global Forecast to 2026.
Thermoelectric generators (TEG) are solid state devices that convert heat into electricity. They are based on the Seebeck effect, which produces an electric current when dissimilar metals are exposed to varying temperatures. Thermoelectric generators have p-type and n-type elements through which the electrons migrate and as a result, generate electric current. These generators are a renewable energy source and are easy to install, safe to store, cost-effective, and low-maintenance products.
The thermoelectric generator market has been segmented based on vertical, type, component, wattage, temperature, material, application and region. By application, the market has been segmented into waste heat recovery, energy harvesting, direct power generation, co-generation. These segments look after various ways in which TEG generate electricity from heat. The vertical segment includes various sectors in which TEGs are utilized, namely automotive, aerospace & defense, industrial, consumer, marine, healthcare, oil & gas, mining, and telecommunications. By wattage, the market has been segmented low power (<10w), medium power (10-1 kw), high power(>1 kw) depending on the type of application. By material, the market has been segmented into Bismuth Telluride, Lead Telluride, others. By temperature, the market is segmented into low (<80°C), medium (80°- 500°C), high (> 500°C). And accordingly used in various verticals. Also, the market is segmented according to various components that make up the TEGs namely Heat Source, Thermoelectric Module, Cold Side, Electric Load. The type segment includes single stage and multi stage, defined based on their design and the number of stages present. The TEG market is segmented according to five key regions in this report, namely, North America, Europe, Asia Pacific, and the Rest of the World (RoW), along with their key countries.
The overall thermoelectric generator market is projected to grow from USD 406 million in 2021 to USD 635 million by 2026, at a CAGR of 9.4% from 2021 to 2026. North America is estimated to account for the largest share of the thermoelectric generator market from 2021 to 2026.
Thermoelectric generators and thermoelectric materials that were previously utilized primarily in niche applications are now becoming more popular with the introduction of wider automotive applications and the efforts to exploit waste-heat-recovery technologies. Thermoelectric generators are not only highly reliable and durable, but they are also environmentally friendly because they do not include chemical products. These reasons are boosting their demand further.
COVID-19 impact on the TEG Market
The occurrence of the COVID-19 pandemic is an unparalleled global public health emergency that has disrupted almost every industry, and long-term effects are expected on the thermoelectric modules market as well. This is primarily due to the decline in aerospace, industrial, and automotive applications. Consumer electronics saw a drop in revenue initially in 2020 and is still lagging due to active cases of COVID-19 even in 2021. The telecommunications and medical segments also experienced a slight decline due to total lockdowns since remote communications, medicine/vaccine storage, and transport and pharmaceutical research have been given more importance during the pandemic. This led to a decrease in the growth of the thermoelectric generators market. There is a substantial drop in demand and restricted cash inflow, which have influenced the growth of the automotive thermoelectric generators market as well. For instance, Komatsu Ltd. (Japan), the world's leading supplier of precise thermal control systems based on thermoelectric modules, has witness extremely unstable demand because of the pandemic.
Unmanned Electronic Warfare Market by Product (Unmanned EW Equipment, Unmanned EW Operational Support), Operation, Platform (Unmanned Aerial Vehicles, Unmanned land Vehicles, Unmanned Marine vehicles), Capability, and Region - Global Forecast to 2026.
The Unmanned Electronic Warfare market is projected to grow from an estimated USD 685 million in 2021 to USD 847 million by 2026, at a CAGR of 4.3% in terms of value during the forecasted period. It is witnessing significant growth due to increasing new technologies and demand of going unmanned electronic warfare systems. The North American region will dominate the market due to the growing investments in Unmanned electronic warfare systems.
COVID-19 Impact on the unmanned electronic warfare market
The unmanned electronic warfare market includes major players such as market Lockheed Martin Corporation (US), Northrop Grumman Corporation (US), Thales Group (France), L3Harris Technologies, Inc. (US), BAE Systems (UK), and Saab Ab (Sweden). These players have spread their business across various countries includes North America, Europe, Asia Pacific, Middle East, and Latin America. COVID-19 has impacted their businesses as well.
R&D in unmanned electronic warfare systems is constantly evolving, considering the current scenario and the countries cutting down their defense budget in might be a hindrance to the growth of this technology The manufacturing activities have faced operational and running activities due to the import and export regulations. Currently, control of the COVID-19 outbreak is an international concern and has become a crucial challenge in many countries.
DC-DC converter Market by Vertical, Form Factor (SIP, DIP, DIN Rail, Box, Chassis Mount, Discreter, Brick), Input Voltage, Output Voltage, Output Power, Output Number, Product Type, Isolation Working Voltage and Region - Forecast to 2026.
The global DC-DC converter market size is projected to grow from USD 9.9 billion in 2021 to USD 17.6 billion by 2026, at a CAGR of 12.1% from 2021 to 2026. The market is driven by various factors, such as increasing power consumption and increasing industrial automation.
COVID-19 Impact on the Global DC-DC converter System Market
The DC-DC converter market includes major players TDK Lambda Corporation (Japan), Murata Manufacturing Co. Ltd. (UK), Texas Instruments Incorporated (US), Vicor Corporation (US), and Traco Power (Switzerland). These players have spread their business across various countries includes North America, Europe, Asia Pacific, Middle East, Africa, and Latin America. COVID-19 has impacted their businesses as well. Industry experts believe that COVID-19 has affected the power converter production and services globally in 2020.
The COVID-19 pandemic has impacted the industrial verticals adversely, resulting in a sudden dip in 2020 DC-DC converter orders and deliveries. This is expected to negatively impact the DC-DC converter system market in the short term, with slow recovery expected in Q1 of 2021.