Global Oranges Production to Increase by 9% in 2018/2019
11 Oct 2019 • by Natalie Aster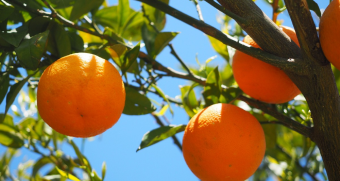 LONDON – In the 2018/2019 crop year, the volume of the world's citrus fruits production is slated to demonstrate a 9% YoY increase and hit a record high totaling some 101.5 million metric tons. Oranges command the bulk share of the overall citrus fruits output – appr. 53.4%; mandarins grab a 31.5% share, lemons and limes represent around 6.7%, and grapefruits contribute 6.7%.
The major portion of the worldwide citrus fruits production volume, around 73.2 million tons, is poised to be consumed fresh; whilst the remaining part, 28 million tons, will go for processing (of which almost 84% will be oranges).
As for global exports of citrus fruits, the volume is projected to come to 10.4 million tons. Oranges will likely contribute some 45.6% of the world's citrus fruits exports, whilst mandarins – 26.2%, lemons and limes – 20.1%, and grapefruits – 8.1%.
World's Output of Oranges to Go Up by 9% in 2018/2019 Crop Season
The global output of oranges is poised to increase by 9% YoY in 2018/2019 and reach the volume of 54.3 million tons – the highest level for the last 8 years. Large harvests this crop year are majorly attributed to favourable weather conditions in the major producing countries especially Brazil, the US, and the EU countries. Besides, growth of the global oranges production is propelled by such factors as the mounting demand for fresh oranges across the globe along with the rising consumption of fresh-squeezed orange juice (backed by the surging health and wellness trend) and pasteurized orange juice.
Global production of oranges during 2012/2013 – 2018/2019 (in million metric tons)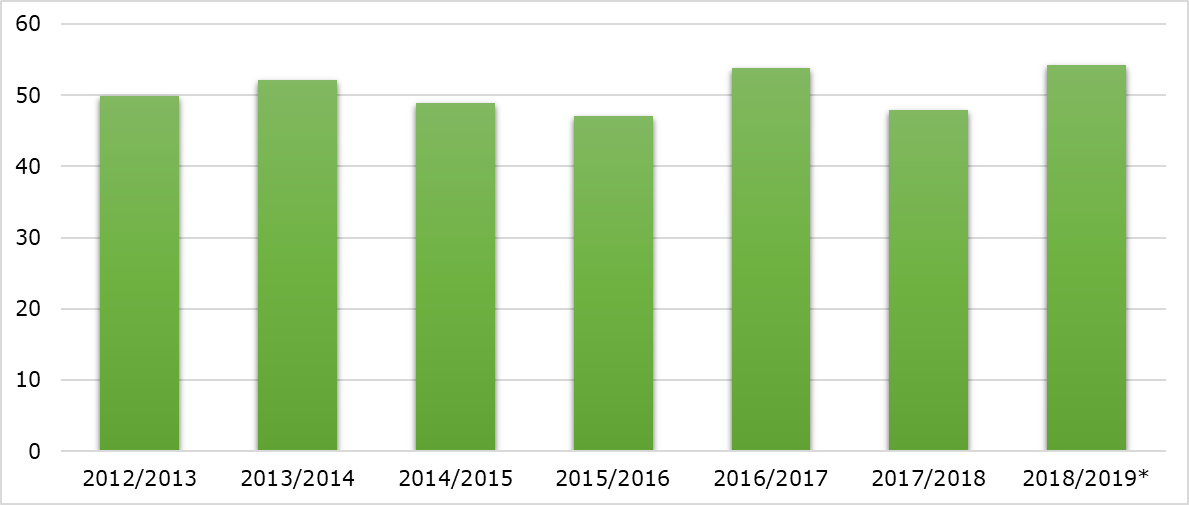 In 2018/2019, the volume of oranges crop in the top producing country, Brazil, is projected 26% higher than in 2017/2018; it will go beyond 20.1 million tons. Around 22% of the Brazilian oranges production volume is intended for processing. Brazil maintains the dominant position in terms of oranges production in the world, grabbing a share of almost 37% of the world's overall output volume.
Meantime, China (the second largest oranges producer in the world) is expected to register a slight decline in the production of oranges, which is projected to come to some 7.2 million tons. This is majorly attributed to unfavourable weather conditions in Jiangxi province.
As for the EU oranges production, it is forecast to add 4% in 2018/2019 to reach 6.5 million tons, primarily owing to favourable weather conditions in Portugal and Spain during flowering and fruit set periods. The region's imports of oranges are likely to stay flat, whilst the volume of oranges intended for processing and also fresh consumption are poised to demonstrate healthy growth. Besides, the EU ranks the leading oranges export market.
Top five oranges-producing countries in the world in 2018/2019 (in million metric tons)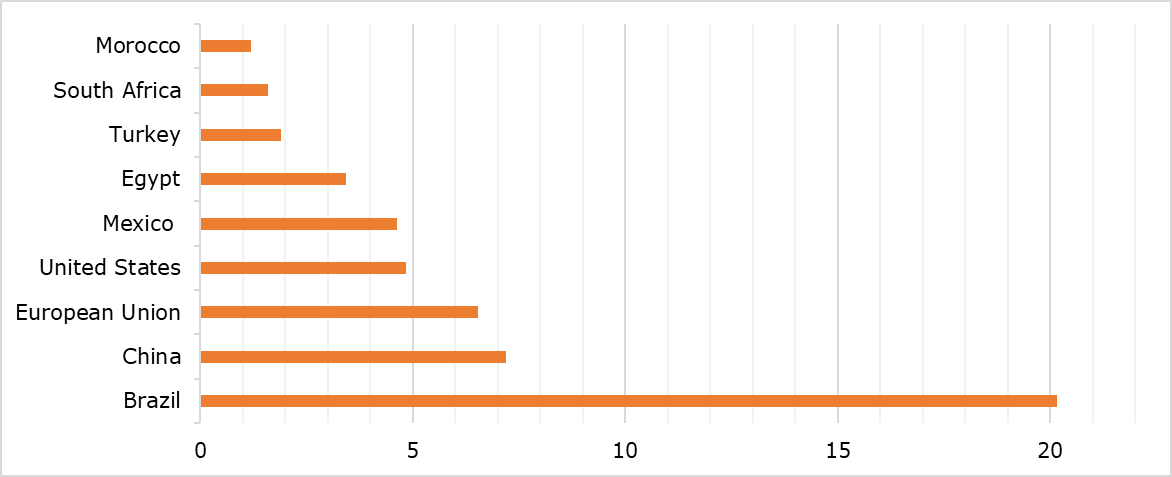 After a weather-struck and devastating effects of Hurricane Irma in 2017/18, the US production of oranges is slated to bounce back in the 2018/19 crop year and jump by 41% to amount to almost 5 million tons.
The production of oranges in Mexico is forecast to increase by 100,000 tons to cross 4.6 million tons.
Meanwhile, Egypt's output of oranges will likely set a new record, rising by 10%, and exceed 3.4 million tons; this is primarily attributed to the extended crop season and increased production area.
Turkey's production volume of oranges is likely to remain flat during the 2018/2019 campaign and total appr. 1.9 million tons.
Favourable weather conditions along with expanded production area are poised to ensure a higher oranges production volume in South Africa. The country's oranges production is anticipated to add 5% in 2018/2019 and reach 1.6 million tons.
As for Morocco, the domestic output of oranges is expected to surge by 18% in 2018/2019 to amount to a record volume of 1.2 million tons.
GLOBAL EXPORTS
In 2018/2019, the world's exports of oranges are forecast to add 4% YoY and total some 5.1 million tons. South Africa and Egypt maintain the leading position on the global arena in terms of oranges exports, together accounting for a share of appr. 60% of the overall volume.
Egypt's export shipments of oranges will likely add appr. 60,000 tons and reach a record high of 1.6 million tons. The major destination markets for the Egyptian oranges include the EU, Saudi Arabia, Russia, and Ukraine.
South Africa contributes around 25% of the world's total exports of oranges. In 2018/2019, this country is projected to ship abroad some 1.3 million tons.
© MarketPublishers.com, 2019