Global Demand for Polycarbonates on the Rise
04 Mar 2019 • by Natalie Aster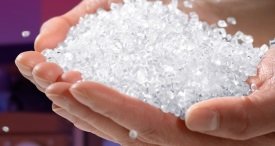 LONDON – Polycarbonates – sustainable, high-performance thermoplastic polymers including carbonate groups in their chemical structures, are one of the most popular types of plastics used in the modern world. The range of commercially available polycarbonate materials has increased considerably over recent years along with an ongoing expansion of end-use spheres of these materials. Worldwide, the demand for polycarbonates exhibited a notable upturn during 2011-2017: in volume terms, it increased from 3.6 million tons in 2011 and came to 4.3 million tons in 2017. The global demand for polycarbonates is slated to continue gaining momentum in the years ahead; by 2022, it is anticipated to go beyond 5.1 million tons.
World's demand for polycarbonates in 2012, 2017 and 2022*, by application (in million tons)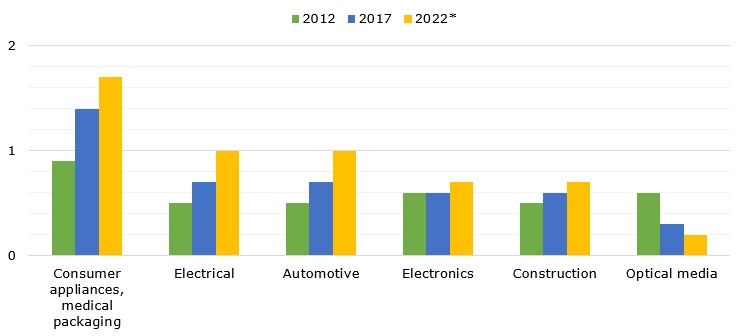 Here are some of the key trends that are expected to influence the growth of the demand for polycarbonates:
Mounting Consumption in Construction Applications to Spur Polycarbonates Demand
Polycarbonates are high-performing thermoplastics with unique properties like high optical clarity, lightweight, high transparency, durability, high-heat and high-impact resistance, excellent thermal stability and flammability resistance, and cold formability. Therefore, polycarbonate material is highly suitable and one of the most popular types of plastic used in various building and construction applications. Thus, the rapidly-growing construction sector is poised to act as an important driver of the global demand for polycarbonates.
Rising Adoption of Lightweight Materials in Automotive Production to Boost Polycarbonates Demand
The automotive industry is amid the key end-use sectors for polycarbonates. In the wake of high fuel costs along with fluctuating fuel prices, there has been a notable shift among consumers from traditional passenger cars to lightweight and fuel-efficient cars. Besides, stringent governmental regulations related to emissions of various harmful pollutants are also boosting the demand for fuel-efficient light vehicles. Due to such properties as high transparency, excellent impact resistance, and lightweight design, polycarbonate plastic is increasingly adopted by automotive manufacturers worldwide and is replacing conventional materials. The use of polycarbonates allows automakers to boost fuel economy and cut emissions of carbon dioxide. Backed by the rising usage of lightweight materials in the automotive manufacturing, the demand for polycarbonates in this end-use sector has demonstrated a robust upturn during recent years and is poised to demonstrate high growth rates in the years ahead, thus, propelling the global demand for polycarbonates.
Lack of Potential Substitutes is Strengthening Demand for Polycarbonates from End-Use Segments
The unique properties of polycarbonates make it suitable in a great variety of applications. It is very difficult to substitute polycarbonate materials with some other thermoplastics in any particular applications. Nevertheless, some alternatives already exists: for instance, Tritan, elaborated by Eastman Chemical, is recognised as the major alternative to polycarbonate material in different food applications because of its Bisphenol-A (BPA) free property; another, transparent thermoplastic, Polymethyl Methacrylate (PMMA), is a cost-effective alternative to polycarbonate in such applications as medical equipment and optical media, but it has its own limitations; Acrylic Styrene Acrylonitrile (ASA) is used in a range of outdoor applications, for example, exterior siding, signage, and automotive side mirror housings, amid others. However, all these products are not providing enough resistance in the market to cause a switch to polycarbonate substitutes, due to their limitations.
China and the US to Make the Largest Contribution to Polycarbonates Demand Growth
Presently, China and the US rank amid the top consumers of polycarbonate materials on the global arena. In these countries, polycarbonates are extensively used in such industries as construction, food packaging, automotive, electronics, healthcare, to name a few. In China, for instance, the demand for polycarbonates is anticipated to be fueled by the rising number of elderly people in the country resulting in the robust growth of healthcare facilities infrastructure and ongoing expansion of medical equipment sector, which are heavy consumers of polycarbonates. In the US, the automotive industry is the leading consumer of polycarbonate materials.
Price Fluctuations of Crude Oil Threatens Polycarbonates Market
Fluctuating prices of crude oil act as one of the main challenges to the global polycarbonates market growth as the key raw material used in the production of polycarbonates is Bisphenol A, which is petroleum-derived. High feedstock prices present an essential concern for manufacturers of polycarbonates: the fluctuating prices of crude oil have a negative influence on the final cost of polycarbonates, thus, affecting the profit margins.
Conclusion:
The world's polycarbonates market was on a growth trajectory over the past few decades and is poised to continue growing at a brisk pace in the coming years. This market is predicted to register a CAGR of appr. 3-6% in the next 5 years, propelled by the surging popularity of thermoplastics as an alternative to conventional materials, rising investments in R&D, mounting demand from the major applications, and expanding range of end-use spheres.
© MarketPublishers.com, 2019