Candy Market: Key Trends to Take Centre Stage in 2019 and Beyond
10 Jan 2019 • by Natalie Aster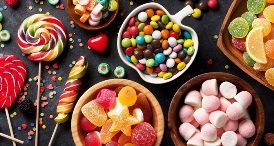 LONDON – Candy (a.k.a. confectionary) is one of the most popular goods and most coveted treats among consumers all over the globe. Presently, the candies category encompasses a whole lot of sugar, chocolate, and gum products.

The world's candy market is characterised by huge demand spikes during the festive seasons with the highest sales usually registered during winter holidays. With "candy gifts" remaining a mainstay of all major holidays, it doesn't seem like people are in danger of losing their sweet tooth in the foreseeable future.
Globally, the candy market has been demonstrating a steady, modest growth over recent years. The constantly increasing disposable income and, thus, rising expenditure capacity of consumers, robust urbanisation, changing consumers' preferences and tastes, ongoing product innovations, and rising investments by key players act as the key factors encouraging upturn in the candy market. Children and young population form the biggest candy consumers group, therefore, the increasing global population, resulting in the expanding target consumers group, also gives a boost to the candy industry growth. Moreover, the mounting interest towards the premium candy segment is poised to perform as one of the major market growth engines. In the foreseeable future, the world's candy market is slated to continue growing at a CAGR of appr. 2-3%.
However, the candy market also faces a range of challenges, for instance, escalating health concerns and shifting preferences amid consumers, and falling prices, amid others. Besides, the promotional campaigns by companies offering products and solutions for health improvement also hamper the candy market performance: as most candies contain great amounts of sugar, therefore, they are directly connected with some health disorders (e.g. obesity, diabetes).
Have a look at the prominent trends expected to shape the candy market landscape in 2019 and beyond:
TREND #1 Changing Consumer Preferences to Act as Key Driver of Product Innovation
To stay competitive in the rapidly-evolving market landscape candy manufacturers have to adjust and respond to the changing consumer behavior and tastes. Therefore, changing consumer preferences perform as the major driver of innovation in the candies industry. For instance, with the notable rise in health concerns associated with the intake of sugar, which hampers the candy market growth, manufacturers of candies have introduced low-calorie and sugar-free confectionary to their offerings to tackle this trend, however, owing to considerable technological advancements in sweetening products they managed to preserve the sweetness customers desire in candies. The escalating demand for dark chocolate has encouraged manufacturers to expand the range of their products with candies containing dark chocolate. The same situation with the popularity of gluten-free, organic, non-GMO products, and many more.
TREND #2 Non-Chocolate Candy Segment Has a Bright Future Ahead
The non-chocolate candy segment has been recently demonstrating higher growth rates compared to the chocolate candy segment, and the trend is poised to continue in the offing. This is primarily attributed to the changing consumer preferences. Novel experiences and new product launches are expected to serve as the key propeller of growth in the non-chocolate candy segment. Manufacturers of non-chocolate candies are anticipated to turn their focus to fun, appealing, more flavorful products in order to catch consumers' eyes and money. Children and youngsters seeking a sugar rush like no other are likely to stay the main target consumer group for non-chocolate candies.
TREND #3 Surging Wellness Trends to Have Significant Impact on Candy Market Dynamics
Whilst candies have largely retained their popularity across the globe, manufacturers of confectionary have to keep an eye on enhancing consumers' attraction to health and wellness lifestyle trends. In this regard, manufacturers of candies are developing healthier alternatives that employ more organic and natural ingredients, at the same time eliminating artificial additives, GMOs, and high sugar content, in order to mitigate the negative perception of health-conscious consumers towards candies. Besides, candy companies are anticipated to increase the usage of various nutritious add-ins (like fruits, seeds, nuts) to win the favour of health-focused consumers. Meantime, chocolate candy producers are expected to expand the list of their offering with more products made from dark chocolate which is well-recognised for health benefits it provides. As a result, the introduction of different new products encouraged by the surging popularity of health and wellness lifestyle is slated to have a considerable impact on the dynamics of the global candy market.
TREND #4 Candy Manufacturers to Attract Eco-Conscious Consumers with Sustainability Initiatives
In addition to the mounting demand for higher quality ingredients consumers worldwide have become more eco-conscious and increasingly look for improved transparency and sustainability in the production of food as well as supply chain. The candy industry is no exception. Some major companies active in the candy market have already taken note of this soaring trend and initiated certain measures to adapt their sustainability strategies to respond to these concerns. For instance, last year, Mars Inc. announced its plans to invest around USD 1 billion over the next several years to fight climate changes, including investments in the development of solar and wind energy, renewable food sourcing and farming practices. The Hersey Company intends to invest about USD 500 million through 2030 to expand its "Cocoa for Good program" that is aimed at the improvement of sustainable practices in cocoa production. Mondelēz International Inc. operates the "Cocoa Life sustainability program" that is targeted at the improvement of sustainability and profitability of cocoa-growing farmers in some major producing countries including Côte d'Ivoire, Ghana, Indonesia, the Dominican Republic, Brazil, and India.
Bottom Line
All in all, it is fair to say that candies will long have a standing place as one of the largest global markets, and their integration into society through holidays will continue spurring annual upswings in candy sales. With the ongoing acceleration in the global economy along with improving living standards worldwide, candy sales are forecast to grow all over the world.
The world's candy market is projected to experience sustainable growth in the years ahead, and the future looks rather promising for candy makers. The candy market growth will be driven by changing consumer behavior and tastes, launch of new, creative products, inclusion of exotic flavours, introduction of novel packaging formats, continued progress in biotech technologies, etc. Although the rising health consciousness has made chocolate confectionary less popular that earlier, it has opened tremendous growth opportunities for the sugar-free and fruit-based categories of the candy industry, which are set to keep on expanding in the coming years. Besides, the industry is poised to benefit from the growing demand from the emerging markets and untapped areas.
This article focuses on just a few major trends shaping the landscape of the global candy market. For more comprehensive coverage check out the research reports featuring the candy market trends and performance available at MarketPublishers.com.
© MarketPublishers.com, 2019