Molybdenum Market: Current Scenario & Future Outlook
01 Nov 2018 • by Natalie Aster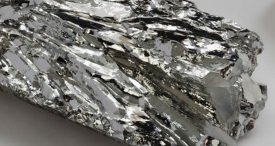 LONDON – Last year, the world's molybdenum market recovered after 2 consecutive years of decline: the improving demand has been matched by the rising supply. In 2015, this market registered a sharp slump with a remarkable drop in the global mine production. It was attributed mainly to the poor demand and weakening prices which forced primary producers to respond by cutting output. The situation changed in 2017 with an improvement in molybdenum prices (which added some 25%) and rising output volume.
MOLYBDENUM USES
Nowadays, owing to its unique properties this silvery-white, hard metal finds applications across an array of industries including Energy, Chemicals/Petrochemicals, Aerospace, Agricultural, Automotive, Medical, Consumer, Mechanical Engineering, Construction, Electronics, amid others.
The highest share of the overall molybdenum consumption is held by the production of different steel products (stainless steel, alloy steels, engineering and tool steels, etc.). When added to steel and different alloys, molybdenum brings a number of desirable properties to them: improved hardness, higher strength and weldability, and better corrosion resistance.
Structure of molybdenum consumption by end-uses, 2016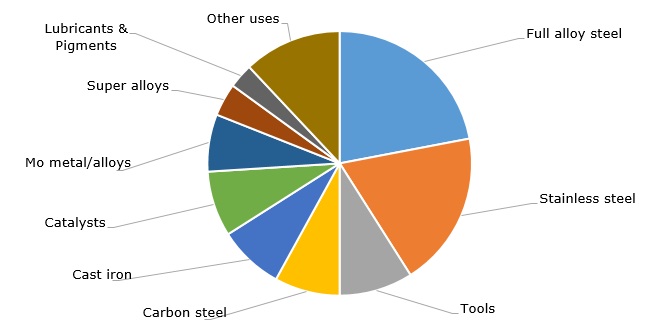 A great part of molybdenum-containing alloys is used in the Oil & Gas sector for various purposes including drilling, refining. The recovery of oil prices last year gave an impetus to an increase in molybdenum consumption in steel applications.
RESERVES
In nature, molybdenum doesn't occur in the form of a free metal, it occurs only in various oxidation states in different minerals. The world's total reserves of molybdenum are estimated at some 17 million metric tons.
China boasts the largest deposits of molybdenum in the world – the country's reserves are estimated at about 8.3 million metric tons which is equivalent to around 48.8% of the world's total reserves of this metal. The US also has abundant molybdenum reserves – nearly 2.7 million metric tons (appr. 15.8% of the world's total). The third largest molybdenum reserves worldwide are found in Peru – some 2.2 million metric tons.
World's molybdenum reserves by country, 2017 (in million metric tons)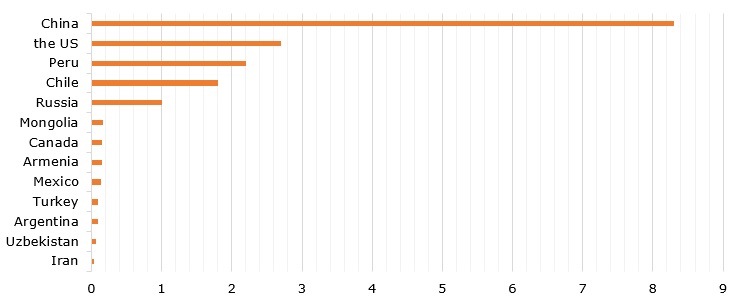 PRODUCTION
Globally, the mine production of molybdenum demonstrated a steady upturn during 2010-2014, and in 2014 reached the record high of around 306,000 metric tons. However, in the year 2015, it experienced a considerable slump and decreased to 288,000 metric tons. Nevertheless, due to the recovering demand and rising prices, the world's mine production of molybdenum exhibited a healthy growth in 2017: the global output of molybdenum climbed to nearly 290,000 metric tons – up from 278,000 metric tons in 2016.
Global molybdenum mine production over 2010-2016 (in thousand metric tons)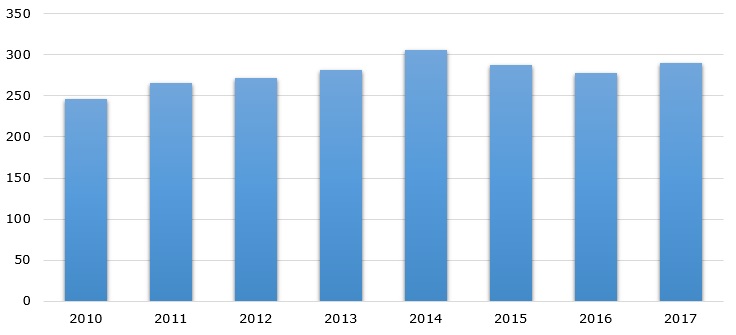 Presently, top four molybdenum producing countries contribute almost 90% of the world's total supply volume.
China is an unrivalled leader in terms of molybdenum production by a large margin outpacing other producing countries. This is primarily attributed to the country's abundant molybdenum deposits and the burgeoning, massive industrial sector that requires a fair amount of molybdenum for steel applications. In 2017, China produced some 130,000 metric tons of molybdenum, which is equivalent to almost 45% of the global output volume.
Chile ranks the second leading producer of molybdenum accounting for nearly 20% of the world's total output. The Chilean production of molybdenum increased from some 55,600 metric tons in 2016 to come to appr. 58,000 metric tons in 2017. The bulk share of the country's molybdenum supply volume is produced by the state-owned company – Codelco.
Leading molybdenum producing countries, 2017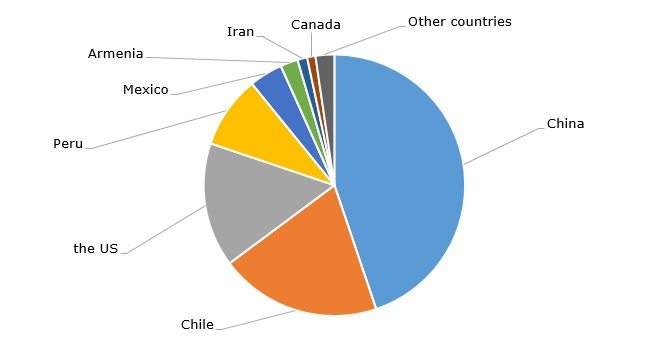 The third biggest producer of molybdenum, contributing nearly 15.37% of the world's total supply, is the US. Last year, the country bumped up the production of molybdenum by appr. 24% YoY, and it amounted to some 44,600 metric tons. The major share of molybdenum produced in the US is obtained as a by-product of other metals: just two mines of seven operating ones are engaged in the primary molybdenum production.
Peru comes the fourth on the list of the world's leading molybdenum producing countries. It grabs a share of almost 9% of the global output volume. In 2017, the molybdenum production in Peru exhibited a modest increase, reporting the output volume of 26,000 metric tons – up from 25,800 metric tons in the year 2016. The Peruvian molybdenum industry is set to see further expansion due to anticipated investments in the country's mining sector.
MOLYBDENUM MARKET FUTURE OUTLOOK
The world's molybdenum market is forecast to continue following an upward trajectory in the coming years, registering a modest CAGR of around 3-4%. By the year 2026, revenues generated by the global molybdenum industry may climb to USD 350 billion.
Oil & Gas Industry to Retain Largest Share of Molybdenum Consumption
Although the current cost of oil is rather low, the oil and gas industry is anticipated to retain the largest chunk of the overall molybdenum consumption in the coming years. Growing investments in capacity augmentation along with remarkable oversupply and weaker demand has provoked a reduction in capital spending on molybdenum-related projects. But, on the back of the recovery of oil prices, equilibration of the oil market, and increasing investment returns, the demand for molybdenum in the oil and gas industry is set to record an amazing upturn.
Meantime, the coming years are likely to see a notable increase in sales of molybdenum for end-use in the mechanical engineering, chemicals and petrochemicals, and automotive industries. These end-use industries will account for major shares in the overall molybdenum consumption as well.
Rising Focus on Renewable Energy to Propel Demand for Molybdenum
The past few years have seen a surging demand for energy across all key industrial sectors. In view of depleting natural resources, more and more manufacturers tend to give higher priority to and invest in the development of renewable energy sources. The installation of renewable energy plants requires huge amounts of steel, which in its turn creates a strong demand for molybdenum. Top molybdenum producers are increasing their focus on the introduction of novel primary and by-product operations in an effort to alleviate their outputs and also satisfy the mounting demand for molybdenum in a range of special steel and chemical applications. Some vendors active in the molybdenum market already offer application-specific products for a broad spectrum of end-uses.
Full Alloy to Remain Most Lucrative Application
As for revenues, full alloy is set to remain the most lucrative molybdenum application, followed by stainless steel. Nevertheless, sales of molybdenum for the production of stainless steel are forecast to see a comparatively faster growth rate than that for full alloy in the years ahead. Meantime, catalysts and high-strength low-alloy steels are poised to be the most rapidly expanding applications of molybdenum in the near future.
APAC to Hold Dominant Position in Molybdenum Market
Presently, APAC is deemed to be the world's hub for steel production and sales. Robust economic expansion along with ongoing industrialisation in the APAC countries spurs the infrastructural development in the region, which further fuels the demand for steel and its alloys. Since molybdenum is an essential ingredient of different types of steel and alloys, the demand for this metal is projected to register a considerable upswing in APAC, which is set to be the largest and most rapidly growing regional market for molybdenum.
Molybdenum markets in Europe and North America are also predicted to witness remarkable gains in the coming years, however, the latter is set to see a higher CAGR.
© MarketPublishers.com, 2018