Smart City Trends to Know in 2018
26 Oct 2018 • by Natalie Aster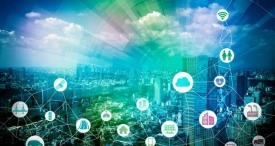 LONDON – Today, more people live in urban centers than in rural areas: urban population accounts for over 55% of the world's total population. The urbanization rate is set to continue increasing at a swift pace with nearly 1.4 million people worldwide added to the urban population weekly. People move to cities for different reasons, for instance, stronger education resources, better job opportunities, more diverse environment, exposure to arts and culture, amid others. By the year 2050, the share of urban population may reach 70%.
However, urban living is also associated with challenges like traffic jams, overcrowded sidewalks, taxed energy systems, to name a few. Most of these problems are rooted in the dated infrastructure, therefore, modernisation of city infrastructure becomes a crucial issue. In this wake, the best option is to create a "smart city" where modern, sophisticated technologies are leveraged to create better structures and systems to support it as well as to improve the quality of life of its residents, provide digital connectivity, enable better decision-making, increase the efficiency of urban operations and services, at the same time ensuring that it caters to the needs of present and future generations with respect to all aspects (environmental, social, financial, etc.) of urban life.
Smart cities are already a reality today, due to the constant evolution and breakthroughs of various technologies empowering this initiative around the world. The increasing penetration of Internet of Things (IoT) and expanding connectivity generate new lucrative development opportunities and accelerate the rise of smart cities across booming metropolitan areas across the globe.
Top 10 smart cities by index score, 2017



*Scores are based on different categories including governance, sustainability, transport, digitalization, innovative economy, living standards, expert perception, etc.
In 2017, the world's smart city market was evaluated at some USD 1 trillion. It is projected to go beyond USD 3.5 trillion by the year 2025, exhibiting a CAGR of appr. 16-20% in the coming years.
Here are some prominent smart city trends to know in 2018:
Ongoing Expansion of Infrastructure for Electric Vehicles
Urban mobility is experiencing drastic changes with the proliferation of electric vehicles (EVs), increasing popularity of ride-sharing and anticipated introduction of autonomous vehicles to urban fleets.
The EV industry is teetering on the edge of mainstream adoption owing to remarkable advancements in vehicle batteries, surging "go green" trend, and booming interest – the major barrier is the lack of refueling infrastructure. Yet today, in some countries there are certain incentives for residents who own EVs and for residents and/or businesses installing EV charging equipment. However, most of such incentive programs focus on charging infrastructure at residential areas rather than throughout the greater community. To encourage the construction of EV infrastructure some countries introduce regulations that require developers to fix every new commercial or residential building up with electrical infrastructure able to support EV chargers. Similar measures are expected to widespread worldwide and accelerate the construction of EV infrastructure.
Cybersecurity Is One of Key Priorities
Security has emerged as an undeniable challenge for smart cities as a result of the robust upturn in the use of Big Data, connected devices and data analytics. Cybersecurity has become a city-wide issue, as data breaches at the city scale could uncover critical information about hundreds of thousands of individuals and provoke widespread service outages and administration blackouts. Therefore, securing smart cities is a global initiative aimed at solving the current and forthcoming cybersecurity challenges of smart cities through cooperation between governments, organisations, media outlets, and other agencies worldwide.
As more municipalities recognise the importance of giving a higher priority to cybersecurity, they take measures to find more secure methods to integrate IoT and other technologies, improve the people's awareness about cybersecurity as well as emphasise that security is a shared responsibility. Moreover, an increasing number of businesses make a greater emphasis on the boosting of their internal cybersecurity capabilities.
Blockchain Boosts Security and Transparency
Blockchain has emerged as an innovative technology that enables transparency and safety in any sort of transactions that people make. It has already revolutionised almost all industries, and the public sector is no exception. Presently, the blockchain technology is successfully leveraged by both government and public sectors to ensure a reliable, secure and authentic information sharing between various fields.
Actually, the blockchain technology redefines the framework under which data can be used for value-based purposes. Blockchain presents an enormous opportunity for smart cities to better connect all of the city's services as well as to make the incorporation and usage of technologies safer, more efficient, transparent and resilient. Besides, the blockchain technology is set to influence smart cities through smart contracts that will assist in processing transactions, billing, and handling facilities management.
Public-Private Partnerships Are Essential for Development of Smart Cities
The requirement of substantial investments is one of the essential components in the integration of new, innovative technologies for the development of smart cities. Thereby, municipalities are forging advanced partnerships as a means of modernisation and refurbishment of aging and outdated infrastructure which in turn enhances the quality of life of citizens.
Public-private partnerships emerge as an effective tool for governments to fill resource gaps. These partnerships are set up to satisfy the need for smart, sustainable infrastructure through economic cooperation between public organisations and private sector agencies. Industry experts consider the maintenance of minimum public control to be significant for smart cities and propose to use public-private partnerships as a collaborative growth solution.
Final Words
Globally, smart cities incorporate modern technologies to foster a better quality of life for its residents. With booming urbanisation and exponential growth of data, cities must use technological advancements to identify, understand, and respond to citizens' needs and to address the existing challenges.
© MarketPublishers.com, 2018