Key Trends Shaping Gluten-Free Food Market in 2018
24 Sep 2018 • by Natalie Aster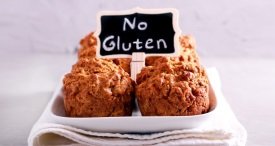 LONDON – The food industry is evolving at a brisk pace propelled by constantly changing diet habits and consumer preferences. The last several years have seen gluten-free products turning into a surging trend. With the growing awareness about different health benefits products free from gluten provide to the human body, the demand for gluten-free food has experienced an amazing upturn, as even consumers tolerant to gluten jump on this trend. During the previous decade, a gluten-free diet has transformed from a special necessary lifestyle for people living with gluten intolerance to emerge as a part of clean-eating.
From pole to pole, the gluten-free food industry is enjoying an impressive growth rate due to the increasing global population, rising yields, ongoing improvements in logistics along with modernisation of storage and transport infrastructure, higher purchasing power of consumers and soaring trend of healthy lifestyle.
In the year 2012, the overall value of gluten-free food retail sales around the globe stood at just some USD 1.95 billion. Last year, it has jumped to a whopping USD 3.84 billion. By the end of the current year, the world's retail sales of gluten-free food are poised to exceed USD 4.14 billion and further go beyond USD 4.8 billion by the year 2021.
Global gluten-free food retail sales value over 2012 – 2020 (in USD billion)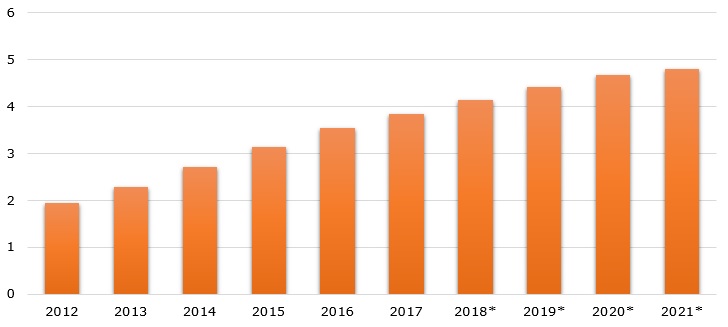 Worldwide, the volume of the gluten-free food market totaled some 465,700 tons in 2017. This year, it is anticipated to surpass 503,400 tons.
Looking forward, the gluten-free food market is slated to continue demonstrating a strong upward move in the years ahead, registering a CAGR of appr. 6-7%.
Volume of global gluten-free food market from 2017 up to 2023 (in 1,000 tons)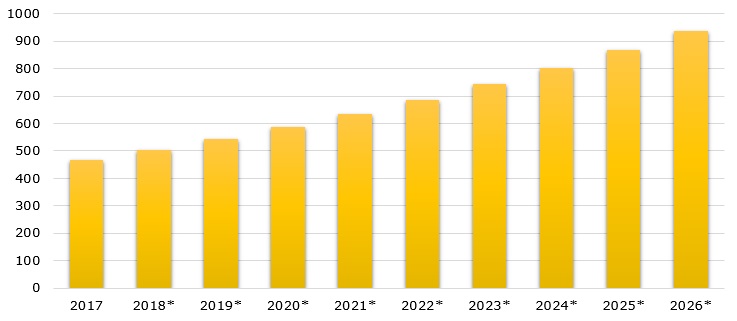 HERE ARE SOME PROMINENT TRENDS SHAPING THE GLUTEN-FREE FOOD MARKET LANDSCAPE IN 2018:
Rising Health Consciousness Acts as Key Growth Engine of Demand for Gluten-Free Food
In the wake of the concerted efforts of various healthcare institutions, easy access to information along with the increasing number of health awareness campaigns, people have become far more health-conscious and inclined to healthy lifestyle and eating. This factor is set to give a boost to the gluten-free food industry in the offing. Products free from gluten help to address a range of health disorders, for instance, they are able to lower cholesterol levels in the human body. What is more, these food contains fewer fats, and therefore, it is recommended for people who need to slim down or cut down the fat consumption. Besides, gluten-free products are highly useful for people suffering from diabetes, autoimmune problems, and digestive disorders.
Escalating Incidence of Celiac Disease Bolsters Market Growth
Today, just around 3.5% of people leaving with celiac disease have been diagnosed. The only option for people with this disease is to keep to a gluten-free diet, as they suffer from severe gluten intolerance. Therefore, the increasing incidence of celiac disease has a direct impact on the gluten-free market upturn. Meantime, there are many more people who prefer to "go gluten-free" because they consider it to be a part of a healthy lifestyle.
Availability of Gluten-Free Products across Multiple Sales Channels Drives Market Expansion
Just a decade ago, gluten-free food could be found only in selected retail outlets owing to a scanty demand. But, with the mounting appetite for gluten-free food along with the emergence of new distribution channels and considerably expanded contacts of producers, gluten-free products have worked its way to the shelves of groceries, supermarkets, local stores, and other selling points. The rising presence of gluten-free food across a broad spectrum of distribution channels has facilitated the expansion of the world's market.
The conventional stores segment is anticipated to see the fastest growth in the offing. The hotels and restaurants segment and e-retailers are also expected to experience considerable gains
Bakery Grab's Bulk Share of Gluten-Free Food Market
The biggest chunk of the overall sales of gluten-free products all over the world is held by the bakery category. This is majorly attributed to the rising preference for bakery as a staple food in developed regions esp. Europe and North America; besides, countries in these regions are estimated to have the greatest number of gluten-intolerant population worldwide. However, the rising awareness amid local consumers about celiac disease and an array of health benefits associated with the intake of gluten-free foods is rather high, which propels the demand for gluten-free bakery in these regions. This segment is projected to maintain the dominant position in the world's market for gluten-free food in the long to medium run.
Global gluten-free food sales by product category in 2016 and 2020* (in %)
The gluten-free baby food segment is expected to see an impressive increase in the offing due to the enhancing awareness amid parents about the nutritional requirements for healthy activity, development, and growth of their children coupled with the increasing focus on the healthy baby food and prevention of celiac disease.
Furthermore, the remarkable growth of the working population together with hectic lifestyle will likely spur the increase of the gluten-free ready meals segment.
Europe Holds Lion's Share of World's Gluten-Free Food Market
Europe and North America boast the most prominent markets for gluten-free foods owing to high awareness of negative influence of gluten-rich food in these regions.
As of 2017, the biggest (both volume and value) share of the worldwide gluten-free food market was held by Europe. This trend is set to continue in the coming years. Strong manufacturing base coupled with a robust upsurge of the gluten-free bakery sector (especially in Germany and Italy) and the rising number of health-conscious consumers in the region are the major factors propelling an upturn in the European market for gluten-free food.
Meantime, the gluten-free food market in North America is recognised as the most rapidly evolving regional market spurred by the growing prevalence of celiac disease, favourable government initiatives, prominent retail presence, and availability of gluten-free sources (e.g., sorghum, quinoa, and corn) for making bakery in the region. In the years ahead, this regional market is set to witness a CAGR of about 9%.
The APAC market for gluten-free foods is also forecast to exhibit remarkable gains (a CAGR of appr. 8%) with the largest contribution from China, Japan, Australia, and India. Growth in this regional market is supported by the escalating interest towards healthy lifestyle and diet and enhancing awareness of gluten intolerance.
Bottom line
Whilst some consider that the gluten-free trend will eventually reach saturation and fade away, the recent statistics indicate that this trend shows no signs of slowing-down. However, the food industry has to pass a long way to teach people to distinguish healthy eating and gluten-free diet. Rising consumer appetite for gluten-free options creates an array of lucrative growth opportunities for brands active in the gluten-free field. The world's gluten-free market is anticipated to continue following an upward trend spurred by the escalating prevalence of the celiac disease, enhancing awareness of gluten-free diet, and ongoing product innovations.
© MarketPublishers.com, 2018