Adoption of Robots in Manufacturing Industries Is On the Rise: Boon or Bane
11 Sep 2018 • by Natalie Aster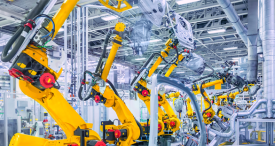 LONDON – Robots have already penetrated an array of sectors and spheres and changed a lot in people's life. In manufacturing, robots were firstly introduced in the year 1961. With constant breakthroughs in robotics technologies, Internet of Things, big data, machine learning, and artificial intelligence, the recent years have seen a remarkable upturn in the adoption of robots (that can perform dangerous and repetitive operations with consistent precision and accuracy) in different manufacturing industries. The automation of the manufacturing sector has considerably modified the need of human resources, boosted the economic performance of various manufacturing industries as well as has helped to reduce wastage of raw materials, spur productivity, and optimise operational costs.
Novel installations of industrial robots globally in 2017, by industry (in thousand units)



ROBOTS VS. HUMAN WORKFORCE
Still, people argue regarding the role of robots in manufacturing industries: will they replace the human workforce or help people by reducing their workload? Opinions are very divided on this issue.
Some believe that soon manufacturers will likely replace their entire workforce with industrial robots to enhance their productivity, as robots can work tirelessly without breaks, strikes, and sick leaves. With the expanding adoption of manufacturing robots and increasing automation in different industries, the risk to job security amid workers will also exaggerate. In the wake of the rising labor costs, manufacturers in some countries tend to focus on automation and adoption of robots.
Others believe that manufacturing robots are not stealing jobs from people but improving them. Considerable costs savings due to the implementation of robots will continue encouraging numerous manufacturers across various industries to focus on and invest in innovation and modern technologies, thus, spurring the demand for better educated and highly-qualified workers. Robots provide new employment opportunities creating more jobs in such spheres as programming, engineering, equipment maintenance, and management. Meantime, robots protect workers from different dangerous, repetitive, and mundane tasks. For instance, in the automotive sector, the human workforce has moved on from a manual building of cars to programming robots to perform tasks on car assembly and, therefore, get paid more in the process.
Besides, heavy investments in the industrial automation are slated to boost the countries' GDP which in turn will encourage improvements in the quality of life. This will assist in the creation of a positive cycle of higher satisfaction amid highly-skilled workers, resulting in superior-quality work and higher pay, which will give people an opportunity to get higher education, that will result in a higher skilled workforce with higher disposable incomes to further fuel the economic growth. The implementation of robots has also emerged as a nice solution for developed economies like the US and Japan, suffering from a surge in aging population.
INDUSTRIAL ROBOTS MARKET OVERVIEW
In 2016, the number of industrial robots in operation went beyond 1.82 million units. It is expected to keep on rising at a brisk pace and by late 2020 will likely surpass the 3 million mark. Around 1.7 million new manufacturing robots are predicted to be installed in different industries by the year 2020.
Last year, the worldwide market for industrial robotics generated revenues of some USD 12.33 billion, registering an impressive YoY increase – more than USD 1 billion. This year, the market is also predicted to exhibit a YoY gain, however, far more modest than in 2017. Looking forward, the global revenues of the industrial robotics market are slated to keep to an upward trend in the next 5 years and in 2023 are poised to cross USD 17.8 billion.
Revenues of world's industrial robotics market during 2016 – 2023 (in billion USD)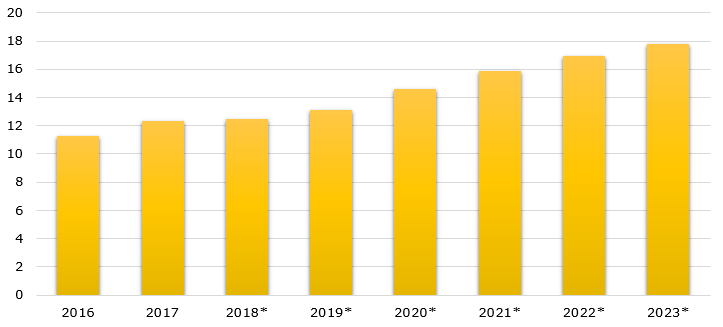 As of 2016, global sales of industrial robots grew by 16% YoY and exceeded 294.3 thousand units – a new peak for the 4th year in a row. Further, overall sales of industrial robots set a new record of 387 thousand units in 2017, demonstrating an impressive 31% YoY ramp-up. As for countries, China reported the highest growth in demand for manufacturing robots last year – up by nearly 58%. Meantime, sales in the USA added 6% YoY, whilst in Germany – 8% YoY.
Worldwide sales of industrial robots during 2004 – 2017 (in thousand units)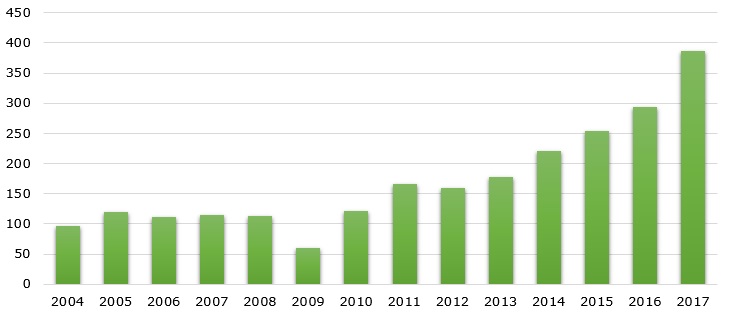 As for end-use sectors, the automotive industry currently grabs a bulk share (appr. 35%) of the world's industrial robots market. As of 2017, nearly 125.5 thousand industrial robots were sold in this sector, which is equivalent to YoY growth of 21%. Meantime, the highest growth rates in terms of industrial robots sales in 2017 were registered in the metal industry (+55%), the electronics & electrical industry (+33%), and the food industry (+19%).
In 2016, the world's average industrial robot density (number of units per 10 thousand employees) stood at 74. In the same year, South Korea was at the forefront on this indicator with the industrial robot density in the country estimated at 631 units. The second spot was held by Singapore – 488 robots per 10 thousand employees. Germany had the third highest industrial robot density in the world with 309 installations per 10 thousand employees.
Density of industrial robots in different countries, in 2016 (in number of units per 10 thousand employees)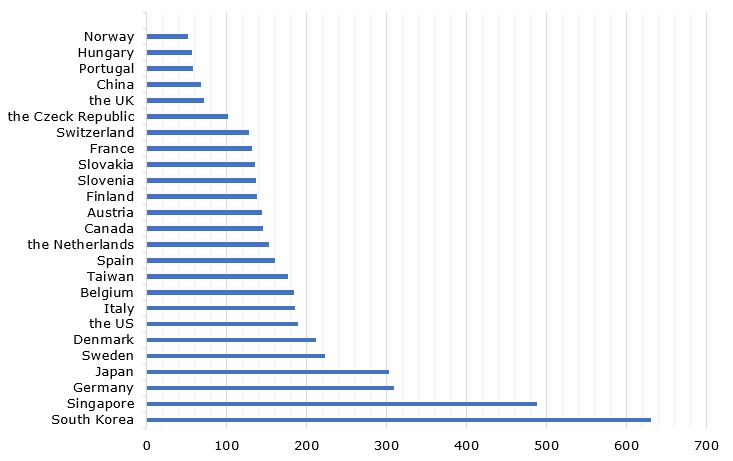 RECENT ADVANCEMENTS IN INDUSTRIAL ROBOTICS INDUSTRY
Industrial automation has already provoked revolutionary changes in a host of manufacturing industries. Global dominant robotics companies are making heavy investments in R&D to provide their end customers with more customised and sophisticated robotics solutions.
Top companies in industrial robotics market in terms of revenues generated from industrial robots sales, 2016 (in EUR million)



With recent breakthroughs in robotics technology, manufacturing robots are slated to become the mainstay in an array of industries. Listed below are some of the important advancements in industrial automation that are disrupting the landscape of manufacturing industries.
Cloud storage technologies allow to automatically upload and back up the data gathered from all machines wirelessly. This solution helps to keep important data safe even in case of system crashes and gives an opportunity to access it and recover from the cloud on any PC.
3D printing has brought improved accuracy and enhanced capacity to a wide span of manufacturing industries. The implementation of 3D printing across different industries has allowed to manufacture highly complex, efficient and customised designs as well as to produce lighter and stronger products that require lesser assembly.
Robotics-as-a-service (RaaS) is a surging trend in the industrial robotics market. RaaS involves a lease holding or temporary acquisition of manufacturing robots and advanced hardware at a manageable cost. This new solution has enabled robots to find their way to cost-sensitive sectors. Although the upfront and maintenance costs of industrial robots are rather high, the return on investments can be achieved very quickly, thus, proving that RaaS is a valuable long-term investment.
Collaborative robots (cobots) prove the opinion that manufacturing robots are not displacing humans but helping them. Presently, a great number of smaller and lighter cobots are working alongside people with the help of various sensors and vision technologies, thus helping to improve efficacy and reducing hazards.
Nanomanufacturing technology refers to the manufacturing of materials on an atomic or molecular level. This technology is anticipated to be of paramount importance in the production of high-efficiency solar cells and batteries. Future generations of computing and electronic devices are also predicted to rely heavily on nanomanufacturing technology.
Bottom line
During the recent past, technologies have massively evolved, thus, revolutionizing the nature of manufacturing industries. Today, manufacturing operations are no longer wholly dependent on the human workforce. Industrial automation has emerged as a competitive advantage in the present industrial landscape.
Prominent trends such as human-robot collaboration, simplification, and digitalization are expected to shape the future of the industrial robotics. With major industrial robotics companies staying focused on research in the field of IoT, machine learning, tactile sensing, artificial intelligence, and other modern technologies, industrial robots are projected to become more technologically advanced.
The world's market for industrial robots is poised to keep on expanding at a CAGR of about 8% in the medium to long run. Globally, new installations of industrial robots are set to rise at a CAGR of around 15% in the next few years.
© MarketPublishers.com, 2018