World's Popular Medical Tourism Destinations
15 Aug 2018 • by Natalie Aster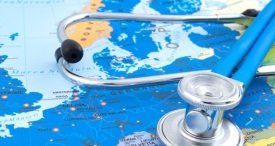 LONDON – Despite emerging as a popular activity relatively recently, medical tourism is now burgeoning, with more and more people all over the globe leaving their native countries in search of affordable, high-quality healthcare services. The number of people travelling abroad for various health care purposes is estimated at nearly 11-14 million per year. An average sum spent by an international patient is varying between USD 3,800 – 6,000 per one visit (including transport, accommodations, inpatient stay and medical costs).
Presently, the procedures enjoying the highest popularity amid medical tourists comprise cosmetic surgery, dentistry, and heart surgery. Other in-demand healthcare services attracting people on medical tourism trips are orthopedics, cancer treatment, reproductive therapy, weight loss programs, medical check-ups, amid others.
Nowadays, medical tourism is becoming a thriving industry as the competition for health travelers between countries offering medical care for tourists is becoming increasingly bitter. The number of people travelling to obtain certain medical treatments is poised to continue growing by around 25% annually through the next decade. Therefore, the world's medical tourism market is slated to keep on expanding at an astonishing pace in the future: during 2018-2025, a CAGR may exceed 20%. By 2025, the market value is projected to go beyond the USD 130 billion mark.
POPULAR MEDICAL TOURISM DESTINATIONS
Besides being recognised for exotic beaches and unique hospitality, Thailand is at the forefront of the global health tourism market, and it is expected to remain one of the most visited medical tourism destinations in the future. The country boasts about 37 private hospitals that have JCI accreditation and offer a broad spectrum of excellent healthcare services. Cosmetic surgery and dental treatments are the most in-demand option amid international patients coming to Thailand. Besides, the country is known for sex reassignment surgeries. Availability of low-cost, high-quality medical services is predicted to continue encouraging growth in the Thai medical tourism market.
India also draws a great number of medical travelers. The Indian medical tourism market has demonstrated a remarkable growth during the recent past owing to the increasing investments in the healthcare industry and high popularity of such unique ancient national practices as yoga, Unani, meditation, Homeopathy, and Ayurveda. Some of the most in-demand services among people traveling to India for medical purposes include cosmetic and cardiac surgeries, dental care, organ transplantation, orthopedic and infertility treatments, and surrogacy. The major source countries of medical travelers to India are the US, Maldives, Afghanistan, Pakistan, Bangladesh, Sri Lanka, and some countries of the MEA region. Two of the global top ten medical tourism hospitals are situated in India, and 22 country's hospitals are accredited to JCI.
The availability of the modern, advanced equipment along with an efficient healthcare system has made Singapore one of the major medical tourism hubs from pole to pole. The country's internationally accredited hospitals offer high-quality medical services and attract numerous people every year. Singapore maintains the top position in the WHO's ranking of healthcare destinations in Asia. The most prominent medical procedures sought for in Singapore are oncology and cancer treatment, cardiology, and organ transplantation. The Singaporean health tourism market is poised to continue following an upward trend due to ongoing technological progress and favourable government initiatives to promote the country as a medical tourism destination.
The influx of American-trained doctors has encouraged Turkey to emerge as one of the favourite medical tourism destinations especially for patients from the US and Europe. Around 32% of all medical tourists coming to Turkey are from Iraq, Greece, Iran, Syria, Russia, the UK, and the US. The most sought-after procedures comprise cancer, cardiac, and orthopedic care. Besides, Turkey has gained a reputation of the leading places across the globe for eye treatments and laser surgery. The Turkish medical tourism market is recognised for affordable and quality healthcare services and zero waiting times. Moreover, the country's national carrier (Turkish Airlines) offers special prices for medical travelers.
Costa Rica has a rapidly-evolving medical tourism market, with dentistry and cosmetic surgery ranking as the top-performing categories. This country has also built a name in such medical fields as cancer therapy, bariatric and eye surgery.
The Taiwanese market for medical tourism has exhibited considerable growth during the past few years, with prominent advancements in the treatment of orthopedic conditions and cardiac diseases. The country is on the threshold of becoming a hub in these medical fields. Taiwan ranks as the top destination for kidney and liver transplantation in the Asian region.
As one of the most technologically advanced and tech-savvy countries worldwide, South Korea is recognised for advanced healthcare services, modern equipment, and well-trained medical professionals. Another factor that attracts international patients to South Korea is the insurance coverage offered for them: the medical tourists' insurance stress disorders, injury, and death as a result of medical procedure or treatment.
Brazil is one of the leading destinations for cosmetic surgeries worldwide. More than 200,000 foreign patients come to Brazil every year looking for cheap cosmetic procedures. Ivo Pitanguy Clinic in Rio de Janeiro is known all over the world as a clinic that has performed probably the highest number of cosmetic surgeries than any other place in the world.
With over half a million people arriving in Malaysia for medical purposes each year, the country is among the most visited health tourism destinations. The country attracts international patients by the large English-speaking population along with strong healthcare infrastructure. Malaysia ranks as a renowned player in vitro-fertilization, physicals and blood work, and it is also widely recognised for the sophisticated treatment of burn victims. The majority of international arrivals for medical purposes are from the neighboring countries, with Kuala Lumpur being the most preferred city.
Conclusion
As the environment in the health tourism market becomes more and more competitive and countries increase investments in their healthcare infrastructure, the world's medical tourism market is supposed to continue gaining momentum at a brisk pace. Such factors as the increasing ease of travelling, ongoing development and rising availability of air transport, growing geriatric population, high treatment costs across the developed countries, and rising assistance from tourism departments as well as governments for medical tourism are expected to act as the major growth engines of the medical tourism market. The mentioned health tourism destinations are likely to remain at the top whilst more countries spring up in the race to become the leading places for medical travel.
© MarketPublishers.com, 2018