Polyvinyl Chloride (PVC) Market: Key Trends and Latest News
24 Jul 2018 • by Natalie Aster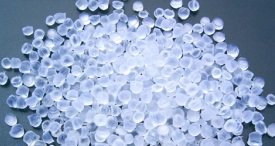 Polyvinyl Chloride (PVC) is one of the most vastly exploited synthetic plastic polymers, alongside polypropylene and polyethylene. It is categorised primarily into thermoplastic resins and thermosetting resins. PVC, due to its ease of processing and blending, high-tensile strength, as well as heat resistant properties, among others, finds widespread use in a slew of applications nowadays.
The PVC market worldwide is forecast to be valued at some USD 72.33 billion in the year 2021; its value in 2015 stood at USD 53.06 billion. The market is projected to see a moderate CAGR of around 5% in the next few years.
World's PVC market value over 2015-2021* (in billion USD)
The demand for PVC is gaining traction globally, by an average of 5% per year, driven by the soaring investment in the construction and infrastructure projects, especially in the emerging markets of APAC and Latin America. The world infrastructure sector is expected to observe a stable 5.5% CAGR in the next four years. The mushrooming growth of the global automotive sector is also making a positive impact on the market. The usage of high-performance polymeric materials to reduce vehicles' weight and improve fuel economy and increasing product application in the healthcare domain will also likely pave the way for the global PVC market.
At the same time, volatile prices of raw materials alongside rigorous regulatory requirements pertaining to the reduction or minimisation of PVC use for medical applications could hinder the market growth.
In volume terms, the global market size is projected to come close to 53.81 million tonnes in 2020.
World's PVC production volume over 2013-2020* (in million tonnes)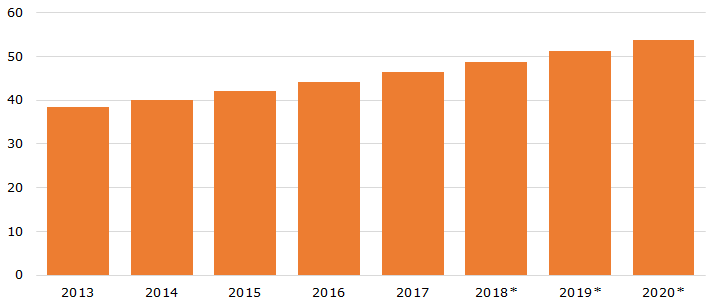 Building and Construction Remain Key PVC Applications
The demand for PVC in building and construction applications is poised to maintain a stable growth trajectory due to the material's cost efficiency, resistance to chemical corrosion and durability. The rigid form of PVC is widely utilized in pipes, as well as in such profile applications as windows and doors. Extending use of unplasticized PVC (uPVC) as a substitute for painted wood in window frames and sills are poised to propel the product demand in the construction domain in the offing. Polyvinyl is also used in floor coverings.
Driven by ample demand for packaged food and consumer goods, worldwide, PVC films and sheets are seeing augmented demand. Further, surging demand for flexible packaging and proliferating pharma sector in APAC would also boost the demand in the medical packaging domain during the forthcoming years.
The Electrical & electronics (E&E) industry is slated to be the most rapidly-evolving application segment that is set to go up at around 5.5% CAGR to 2020, spurred by the growth of the electronics industry of China and Taiwan. In particular, owing to its superior insulation properties polymerised vinyl chloride is extensively used in electrical wire and cable products. Moreover, it exists in a broad range of consumer goods like toys, ceiling tiles, interior cladding, packaging, etc. Growing adoption in consumer and E&E applications will also drive the demand upturn in the forthcoming years.
Structure of world PVC market by application (2016)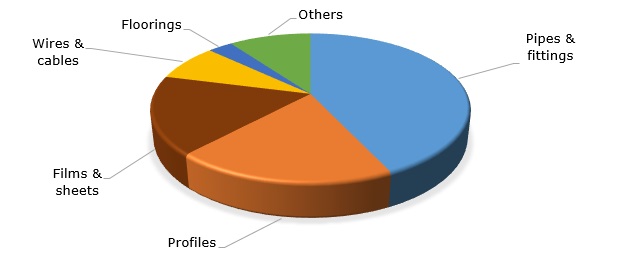 Asia-Pacific Maintains Leading Position in PVC Production and Consumption
Asia-Pacific is deemed to be the biggest regional market for PVC valued at above USD 32.73 billion as of 2017 and is likely to register close to 6.95% CAGR from 2018 to 2023.
The share of Asia-Pacific in the overall PVC output stood at around 60% as of 2016, and it has continued to grow ever since. North America and Europe are still following after, accounting in the same year for the shares of close to 19% and just over 16%, respectively.
Structure of global PVC production by region (2016)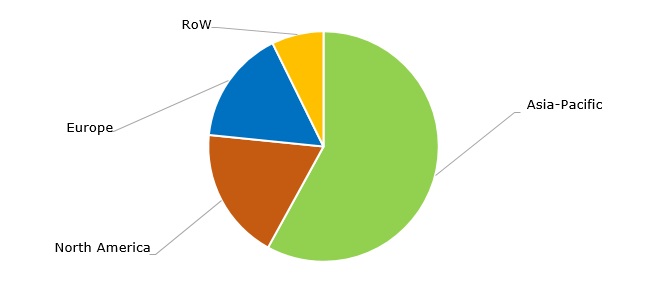 As for the demand for PVC, Asia-Pacific also takes the lead, consuming over half of the world PVC produced worldwide every year and set to grab around 61% of the world PVC demand by 2020. The region is bound to grow mainly due to the huge consumption by China and the surging potential of India's market; these two countries together capture over 75% of the regional demand. Factors such as the thriving construction sector on the back of the mushrooming population, surging buying power of the middle-class, and urbanisation growth, among others, are fuelling the demand in the region.
Europe is the second largest market for PVC and is likely to add considerably to the global demand growth going forward owing to the anticipated robust growth in Russia and Turkey.
North America is also the important consumer, hanging back only a little. The region's demand for PVC is set to rise by around 2% per annum till 2021. The region is set to witness more PVC production capacity expansions as shale gas keeps on providing low-price feedstock.
Structure of global PVC demand by region, 2016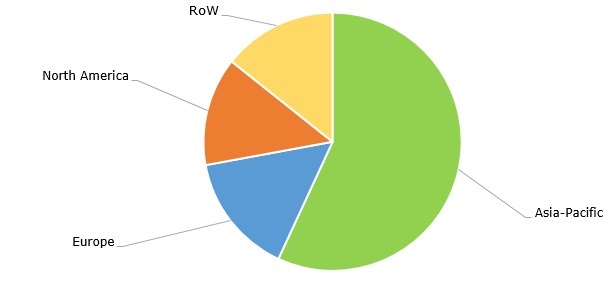 PVC Demand in Middle East & Africa to Show the Fastest Growth to 2020
Meantime, Middle East & Africa is predicted to be the most rapidly-evolving region for PVC market recording around a 6% CAGR through 2020. Growth of the top end-use industries like construction, automotive and E&E in Saudi Arabia and South Africa is expected to drive the demand for PVC in this region.
At large, the demand for PVC in construction applications from the developing nations, such as APAC, is projected to compensate for the slowdown in routinely large markets of Europe and North America, grabbing close to 61% of the world PVC demand by 2020.
USA Is Top PVC Exporter Globally while India Dominates PVC Imports
North America is the largest PVC exporting region, specifically the USA. The country accounts for about 32% of global exports. The offshore PVC markets will continue to be a vital outlet for the US manufacturers, specifically given the moderate growth in the national marketplace. Besides, due to its low-cost position the US producers are able to ship its PVC to most countries across the globe competitively. Northeast Asia (led by China) is the second-largest exporter of PVC.
With respect to PVC imports, India is the leader. The Middle East and Asia, led by China, follow in tracks.
Global PVC trade in 2017 (in MMt)

LATEST PVC INDUSTRY UPDATES:
Novel bio-based PVC compounds for FDA applications
Pennsylvania-based Sylvin Technologies, Inc. has developed a novel, innovative 39 series of bio-based flexible PVC compounds produced exclusively with ingredients sanctioned by the FDA. The company's new series compounds are formulated with a natural-based plasticizer and are characterised by the same texture, flexibility, and ease of processing as usual flexible vinyl products. The compounds can be tailored to comply with the specific requirements of a diversity of applications such as tubing, food processing belts, toys and medical devices.
VinylPlus champions nearly 640,000 tonnes of PVC recycled in 2017
VinylPlus, a thriving voluntary 10-year commitment of the European PVC value chain, recycled 639,648 tonnes of PVC within its 2017 framework. The sustainability achievements included the recycling of almost 80% of PVC of the 2020 target. U.K.-based Recovinyl again stood out as the main contributor, recording 633,127 tonnes of recycled PVC, with increased volumes registered in France and Italy.
Another key achievement last year was the implementation for the window profile segment of the VinylPlus® Product Label, an eco-labelling scheme for PVC products, developed in collaboration with BRE Global and TNS, and created in March 2018.
Formosa to expand US PVC capacity in Louisiana by 2020
Formosa Plastics USA intends to expand its PVC production in the USA by 2020. The company is set to add 136,000 tonnes per year in production capacity at its site in Baton Rouge. Formosa's complex currently has PVC production capacity of 470,000 tonnes per year.
HSIL to double PVC plant in Telangana (India) in 2 years
Hindustan Sanitaryware and Industries Limited (HSIL) is mulling over doubling the capacity of its Medak-based PVC pipes production facility to 60,000 tonnes per annum by 2020 to cater to the needs of this rapidly evolving industry. The planned investment in this exercise is approximately USD 2 billion. The plant manufactures both uPVC and cPVC (chlorinated PVC); the latter is claimed to be much more flexible and can withstand hotter temperatures.
MCC to Acquire PVC Compound Business of Welset in India
Mitsubishi Chemical Corp plans to sign an agreement in autumn of the current year under which MCC will buy the PVC compound business of Welset Plast Extrusions Pvt. Ltd. The acquisition will allow the Japanese company to join the medical PVC compound business. Moreover, MCC will fortify its current PVC and TPE businesses in India and ASEAN markets by using Welset's marketing infrastructure and distribution channels.
Conclusion
Nowadays, plastics are being faced with turbulent, yet inspiring times of changes, novel challenges, and opportunities. Now like never before the industry strives to demonstrate the noticeable contribution of its experience and development to the well-doing of society and in complying with social needs globally.
© MarketPublishers.com, 2018
Some of Related Reports Available at MarketPublishers.com: