Key Trends Shaping Beauty Market in 2018
11 Jul 2018 • by Natalie Aster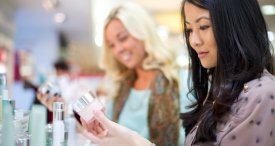 LONDON – Over the last two decades, the world's beauty and personal care industry demonstrated a steady uptake with growth rates varying between 2-3%. It proved its ability to maintain continuous growth and capacity for resilience even in unfavourable and volatile economic conditions. The value of the world's beauty market climbed to USD 432 billion in 2016, and further reached USD 443 billion in 2017. This year, the market continues to gather momentum encouraged by the enhancing people's awareness of being beautiful, rising disposable incomes and changing preferences of consumers, increasing penetration across the emerging regions, and ongoing technological advancements. By the end of 2018, the value of the beauty market may go up to USD 465 billion. Here is a look at the major trends shaking up the beauty industry this year:
TREND #1 SKIN CARE SEGMENT DOMINATES BEAUTY SALES
The skin care category accounts for the biggest chunk of the overall revenues generated by the world's beauty industry. Besides, it is the most rapidly-growing segment which is slated to maintain brisk growth pace in the future.
Global sales of beauty products in 2015 and 2016, by category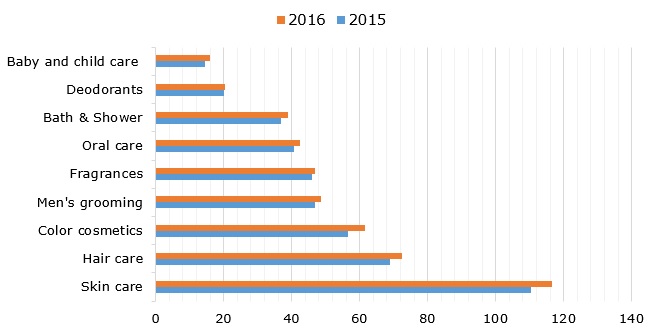 Meantime, the hair care products segment will see a sluggish increase in the coming years given the market saturation along with the presence of a range of companies with similar offerings.
During the recent past, the demand for anti-aging products has gathered momentum at a brisk pace backed by the rapidly aging global population and strong desire to retain good appearance. The trend is set to continue in the offing.
TREND #2 MALE GROOMING EMERGES AS PROMINENT GROWTH AREA
Although men's grooming is a relatively new category of the global beauty industry, it is anticipated to strengthen and see robust growth in the short run. By the present day, the male grooming sector has already moved beyond just fragrances and shaving products, as more and more attention is paid to personal appearance. In 2018, the interest in male grooming and personal care products continues to pick up the pace, thus, triggering growth of the overall beauty market. Men's grooming has attracted much attention during the last years and opens new growth avenues for the manufacturers of beauty and personal care products. Some leading beauty brands have already developed their own product lines for men.
TREND #3 CONSUMERS' APPETITE FOR ORGANIC BEAUTY PRODUCTS IS RISING
Nowadays, the "Go Green" trend is gathering momentum from pole to pole along with the increasing number of #naturals-hungry" consumers. People in the modern world are well-informed and connected, they make their choice with a knowledge of raw materials and source origin as never before, thus, seeking for products that are less harmful regarding their chemical composition. The past several years have been marked by a paradigm shift in consumer preferences and demands towards organic (a.k.a. chemical-free) beauty and personal care products. Therefore, manufacturers active in the beauty space switched their focus to organic/natural ingredients to keep pace with the soaring organic trend.
Shares of major categories within organic beauty products market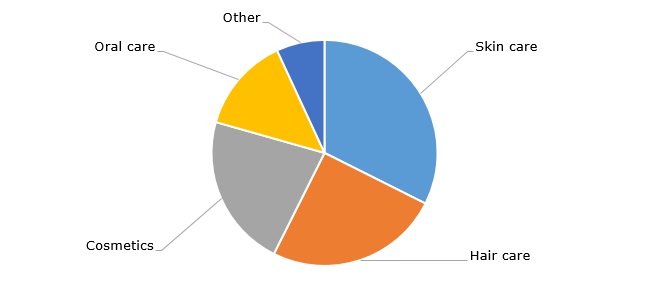 TREND #4 DIGITAL TECHNOLOGIES ARE ENHANCING PERSONAL EXPERIENCE
To date, digital technologies are disrupting an array of industries, and the beauty sector as well has experienced considerable changes caused by growth of digital landscape. Digital technologies have already brought shopping (both in-store and online) to the next level making it more personal, much easier and time-saving. Beauty brands are harnessing various digital technologies to offer such tech options as skin analysis, try-on apps, and magic mirrors, amidst others. Besides, there is a range of smart skincare devices, smart hair brushes, and other wearable devices in the beauty and personal care market. Such beauty wearables collect personal data and transmit it to smartphone apps, which are able to offer personalised care tips and product recommendations. Advancements in biometric monitoring also allow beauty brands to offer unprecedented customisation of the shopping experience.
TREND #5 ONLINE SALES CHANNELS DEMONSTRATE HIGH GROWTH
Effective sales channels are of paramount importance for any industry. It's no secret that today the retail landscape is reshaped by the Internet, and online sales channels are outpacing the traditional brick-and-mortar stores. This is evident in the beauty world, too. Online channels enable vendors of beauty product to reach mass markets and also foster closer relationships with end-users. Today, social media plays a crucial role in beauty products retailing, as it helps to reach out to a rapidly-expanding group of digital-savvy consumers, generate awareness of existing products and attract new potential consumers. Thus, companies active in the beauty domain are increasingly focusing on online marketing campaigns.
TREND #6 DERMOCOSMETICS – NEW FRONTIER IN BEAUTY WORLD
Dermocosmetics is a field that has appeared fairly recently but is gaining traction at a fast pace. It opens new growth avenues for cosmetic brands, as it fills the gap between pharmaceuticals and cosmetics and offers a more medical approach to skin beauty and health. Dermocosmetics products are already widely used to protect the skin from UV radiation and pollution, to prevent premature aging, to hydrate the skin with the use of minerals and amino acids. The dermatologically inspired beauty products are poised to be increasingly in vogue in the years ahead and will create further lucrative growth opportunities for the beauty industry players.
To Conclude
The world's beauty industry is always changing. It continues to thrive on novelty adjusting to constantly changing consumer needs. R&D, innovation, and technology are the core tools driving the beauty industry to reach new heights. Beauty is a big multi-billion business, which is booming despite the volatile economic environment.
© MarketPublishers.com, 2018