5 Digital Solutions Disrupting Healthcare Market
20 Apr 2018 • by Natalie Aster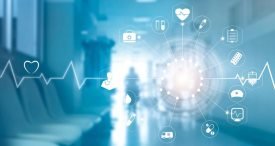 LONDON – The rise of Internet age coupled with rocking digital revolution has brought profound changes to many industries. Although, the healthcare sector is deemed to be amid conservative fields in regard to the adoption of digital solutions, yet there is no doubt that healthcare systems worldwide have recognized the paramount importance and immense potential of "digital healthcare". Digital technologies have already penetrated almost every vertical of the healthcare industry and continue to push it towards exciting changes that could not have been imagined ever before. Top digital solutions that are disrupting the healthcare market landscape right now include:
1. Smart Medical Wearables
Today, a rich selection of gadgets and devices, which could help to leave a better and healthier life, is available in the medical wearables market. Modern medical wearables provide real-time, personalized health records and assist people in multiple issues, for instance, they help to get rid of stress, manage weight, stay fit, keep a healthy heart, measure a body temperature, monitor night's sleep, improve general well-being, and many more. With smart medical wearable devices patients can not only regularly monitor their vital health statistics, but also send the updates on their health conditions to their physicians who can provide recommendations based on the gathered results.
In the wake of surging trend towards a healthy lifestyle, the demand for medical wearables is rising at a brisk pace. The volume of medical wearables shipments globally is projected to go up from just 2.5 million units in 2016 to exceed 97.6 million units in 2021. Meantime, the medical wearables market is anticipated to generate revenues of around USD 17.8 billion in 2021.
Shipments and revenue of medical wearables globally from 2015 to 2021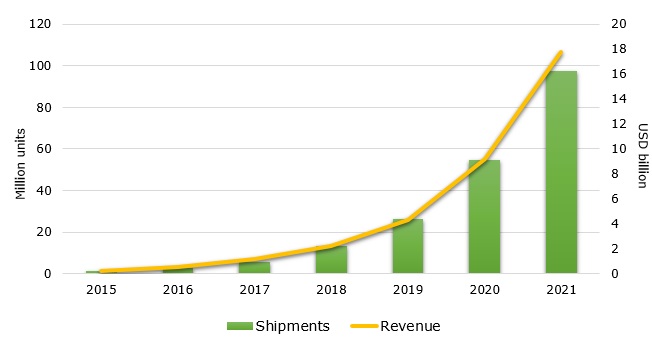 In 2017, activity monitors grabbed the lion's share of the medical wearables market by type and are supposed to maintain the leadership in the offing. Among applications, the sports and fitness sector is poised to demonstrate the highest growth pace.
Geographically, North America is in the lead of the world's medical wearables market owing to well-developed healthcare infrastructure, presence of dominant players, coupled with thriving technological progress and development of highly-advanced, interconnected healthcare apps. However, the highest CAGR is predicted in the APAC market, this is attributed to many untapped opportunities in this region.
Still, the medical wearables market faces a range of challenges associated with certain regulatory hurdles, consumer confidence, customer education, user experience optimization, connectivity, and concerns regarding sensor accuracy.
2. 3D Bioprinting
3D bioprinting is a young but rapidly-evolving field with tremendous growth potential. By the present day, scientists have already managed to print some types of tissues, for instance, cartilage, bone, muscle, vascular, skin, and liver. In the light of a widening supply-demand gap in organs transplantation along with a limited number of organ donors, the demand for 3D bioprinting technology is set to pick up steam in the short-term. However, whilst there is a long way to go to print complete organs, revenues of the 3D bioprinting market will be boosted by more near-term potential applications like tissue engineering, toxicology, cosmetics testing, regenerative medicine, and drug discovery. However, growth in the 3D bioprinting market may be hampered by certain ethical issues regarding the usage of lab-generated tissues and organs.
At present, North America grabs the largest chunk (around 40%) of the total revenues generated by the world's 3D bioprinting market. Europe ranks second. Meantime, the APAC 3D bioprinting market is predicted to rise at the highest pace.
Through 2021, the world's 3D bioprinting market is slated to exhibit tremendous growth at a 25% CAGR.
3. Telemedicine
The emergence of telemedicine has considerably changed the healthcare paradigm, with impressive technological progress in the healthcare services and medical devices sectors. Telemedicine has passed through a striking evolution during the past decade, and now it is an essential component of the healthcare system. Furthermore, telemedicine holds a promising potential to address some of the existing challenges of the healthcare industry.
Though the telemedicine sector hasn't flourished largely yet and is still in the nascent stage, it is poised to see increased adoption rates in the future propelled by the rising awareness of telemedicine and its benefits among patients.
Stimulated by the increasing geriatric population, escalating prevalence of different chronic health disorders, shortage of healthcare professionals, ongoing improvements in the telecom infrastructure, and mounting demand for affordable treatments, the global telemedicine market is forecast to enjoy an upturn at a CAGR of nearly 15% in the next 4 years. In 2021, the market value will likely cross the USD 41.2 billion mark.
World's telemedicine market value during 2015-2021 (in billion USD)

With the strong demand for technologically advanced products, North America is in the forefront of the worldwide telemedicine market, capturing the bulk share. Europe is the 2nd leading market for telemedicine. In the foreseeable future, the highest growth rates are expected in the APAC telemedicine market, with Japan, China, and India leading the way in this regional market.
4. Robotics
Today, many healthcare sectors are benefitting from the modern robotic technologies: robotic-assisted surgeries, movement therapy and rehabilitation where robots assist patients, robotic disinfection, robotic medicine dispensing, etc. Besides, robot companions (e.g., Paro, Jibo, Buddy, Pepper robots) that serve as social partners to alleviate loneliness and treat mental health disorders have become widely adopted.
The annual shipments of healthcare robots are likely to pick up from just 3,400 units in 2016 to go beyond 10,500 units by 2021. The cumulative healthcare robots shipments over 2016-2021 may reach 38,400 units.
Global healthcare robots shipments during 2016-2021 (in thousand units)

The value of the world's medical robots market is projected to ramp up at an amazing CAGR of over 21% through 2023 to surpass USD 18.75 billion. Some of key market growth engines include accelerating adoption of medical robots at hospitals, demographic changes, escalating need to improve quality of life of elderly and disabled, mounting demand for minimally invasive surgical procedures, and ongoing advancements in robotic technologies.
At present, surgical robots command the dominant share of the medical robotics market. However, through 2021 they will likely be outpaced by exoskeletons and prosthetics.
5. Artificial Intelligence
Artificial intelligence (AI) is getting more and more sophisticated at performing tasks that humans perform, but more quickly and efficiently, and what is more – at a lower cost. AI has already become an essential part of healthcare ecosystem and still has an enormous growth potential. Today, this modern technology allows to overcome a shortage of healthcare professionals across the globe and improve the availability and quality of healthcare services. AI is set to continue revolutionizing the healthcare sector on the horizon.
As of 2016, the value of the world's market for AI in healthcare stood at slightly above USD 1.09 billion. In 2017, it went beyond USD 1.42 billion. Furthermore, by 2021 the world's AI in healthcare market is projected to rise up to USD 28.04 billion.
As for shares of AI applications in healthcare industry, personal health and nursing assistants form the major revenue-generating sector. In 2016, this sector captured around 24% of the overall market – equivalent to USD 265 million. The second position was held by the real-time monitoring sector, which contributed appr. USD 220 million to the world's AI in healthcare market revenues in 2016.
Shares of AI applications in healthcare industry, in 2016

Final Thoughts
Digital solutions not only boost quality of healthcare services but also improves the patient experience. The share of patients using digital healthcare services will exceed 75% in the near future encouraged by the undeniable benefits provided by digital health solutions and enhancing awareness of innovative technologies in healthcare.
There is no doubt that nowadays major breakthroughs in the healthcare sector are achieved thanks to digital solutions. Moreover, the healthcare industry is on the cusp of a new exciting chapter of great advances, and digital technologies are likely to pave the way.
© MarketPublishers.com, 2018