Chocolate Market: Major Trends to Keep an Eye on in 2018
11 Apr 2018 • by Natalie Aster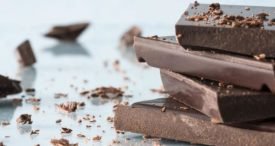 LONDON – Today, chocolate enjoys widespread appeal. It is consumed by people of different age and socio-economic status. Besides, chocolate presents one of the most profitable segments of the overall confectionery market. The chocolate industry is already a multibillion-dollar business, and it is anticipated to reach new heights in the future.
During the last decade, the world's chocolate market experienced sustainable growth. As of 2016, the overall value of the chocolate retail sales globally climbed to USD 98.3 billion, registering a CAGR of around 2.7%. In the years ahead, this market is set to continue witnessing a steady upturn.
Global chocolate retail sales in 2015-2016 (in billion USD)

Switzerland ranks the leading chocolate consumer. In 2017, an average per capita consumption of chocolate in Switzerland stood at around 8.8 kilograms. Austria is the second biggest chocolate consumer; the country's average per capita consumption reached 8.1 kilograms last year. The third position is held by Germany; an average per capita consumption of chocolate in this country totaled 7.9 kilograms in 2017.
Top 20 countries in terms of per capita consumption of chocolate, in 2017 (in kilograms)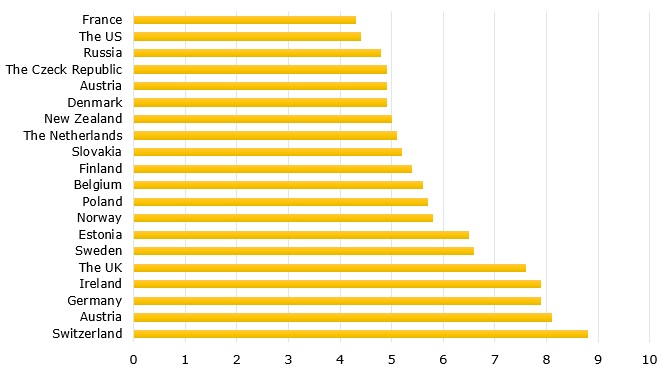 Constantly elevating awareness of various health benefits associated with chocolate consumption acts as a major booster to the world's chocolate market growth. Milk chocolate is believed to have an ability to reduce cardiovascular diseases. Meantime, dark chocolate enjoys strong demand owing to its antioxidant capacity. Moreover, chocolate products are valued for such properties as anti-aging, cancer prevention, blood pressure aid, etc.
Whilst developed countries have established and evolving markets for chocolate, shifting consumer preferences and escalating spending on confectionary products are the main triggers of the chocolate market increase in developing countries. Therefore, rising urbanization along with the wide availability of chocolate products is another important factor propelling an upswing in the chocolate market. However, chocolate is still largely viewed as an affordable luxury across some regions; thus, price-sensitivity may restrain the penetration of chocolate across underdeveloped markets.
Top Chocolate Market Trends to Watch in 2018:
1. Uncertainty in Cocoa Supply to Fuel Chocolate Prices
Unstable cocoa supply (majorly due to high dependence on West African producers) coupled with volatile prices is the major challenge of the chocolate market. It will likely result in the increasing chocolate prices in the near future.
Monthly cocoa prices globally in 2017 (in USD per metric ton)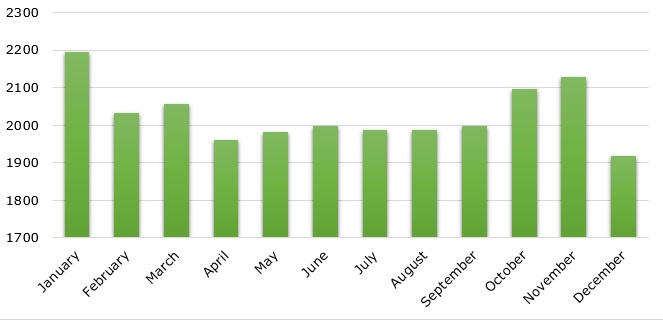 Côte d'Ivoire tops the list of the global leading cocoa producing-countries with a share of about 35% of the world's total supply volume. In 2015/16 crop year, the country's cocoa beans production totaled around 1.58 million metric tons. Ghana and Indonesia rank second and third in terms of cocoa production, respectively.
2. Supermarkets/Hypermarkets to Remain Key Sales Channel
As a popular impulse buy, tempting displays of chocolate can be found almost everywhere: from confectionary aisles in supermarkets to checkout lanes in department stores. Supermarkets and hypermarkets are predicted to remain the dominant sales channel for chocolate products given the availability of a great choice of different chocolate types under one roof. Furthermore, sales of chocolate via online stores are gaining momentum at a robust pace.
3. Mars to Stay in the Lead of Chocolate Market
Mars Inc. leads the chart of the world's dominant chocolate companies. The company's share of the global chocolate market was over 14% in 2016. As of 2017, the annual sales of Mars exceeded USD 18 billion. Mars is anticipated to maintain leadership in the chocolate market in the current year.
Market shares of top chocolate companies, in 2016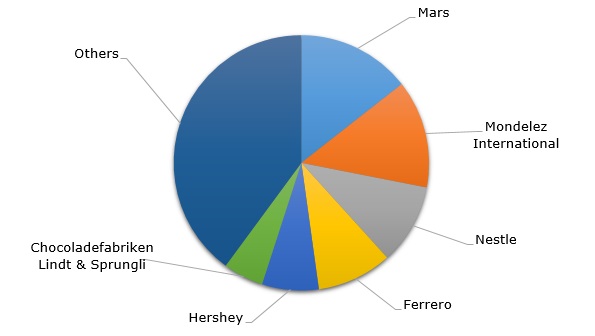 4. New Applications to Propel Demand for Chocolate
The high popularity of various chocolate-flavored products (e.g., drinks, ice-cream, milk, bakery, functional foods, mousse, amidst others) is one of the key factors sustaining the demand for chocolate. An expanding range of applications of chocolate in Beverage, Food, and Confectionary industries is poised to continue spurring the demand for chocolate this year.
5. Premium Chocolate to See Amazing Growth
At present, premium chocolate is available across various channels and covers many purchase occasions. It is recognized as a sales winner in the chocolate market. During the last 4 years, this category demonstrated double-digit growth, outpacing the overall chocolate market growth by nearly four times. The market share of premium chocolate has increased from 7.6% in 2010 to 10.4% today. Premium chocolate is poised to be one of the major revenue generators in the chocolate market in 2018. This segment is set to post a CAGR of appr. 7% in the short term.
6. Dark Chocolate to Enjoy High CAGR
As for types, the milk chocolate sector presently accounts for the biggest chunk of the chocolate market. However, the dark chocolate sector is set to demonstrate the highest CAGR in the years ahead; this is majorly attributed to enhancing awareness of health benefits provided by cocoa-rich dark chocolate.
Value of the chocolate market segments by type in 2016 and 2022 (in billion USD)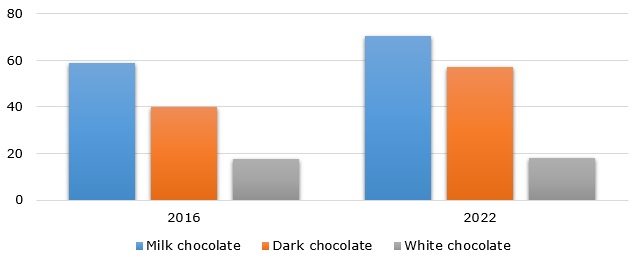 7. Healthy Chocolate to Gain Popularity
In the wake of surging health awareness among consumers, many top chocolate producing companies are also introducing healthy options such as vegan, organic, gluten-free and sugar-free chocolate. The rising incidence of health disorders, the high prevalence of obesity along with the escalating need for weight management solutions, and the growing demand for nutritious food will propel the demand for healthy chocolate in 2018.
The organic chocolate category is slated to exceed the value of USD 886 million by late 2018, registering appr. 3% YoY gain.
8. Mounting Demand in Asia to Drive Global Chocolate Sales
Asia is likely to boost the global chocolate sales this year. This is primarily attributed to the rapid urbanization, increasing middle-class population, and growing disposable incomes in the region. Moreover, chocolate consumption in Asia is also encouraged by the accelerating impact of Western culture. Besides, the success of top international chocolate brands in this region will further spur the demand for chocolate products there. The demand for chocolate in Asia is predicted to go up at nearly twice the global pace in the coming years.
Conclusion
Today, a great variety of chocolate products is available in the market. The demand for chocolate keeps rising across the globe. The chocolate market is highly driven by changing preferences of modern consumers, therefore, companies active in this market make a greater emphasis on product development and innovation, marketing strategies to expand their market share, attract new consumers, and enter new markets.
© MarketPublishers.com, 2018