Mobile App Market: Current Scenario and Trends to Watch Out in 2018
14 Mar 2018 • by Natalie Aster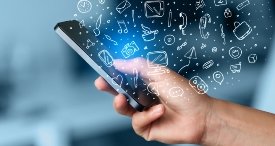 LONDON – The world's mobile app market demonstrated a tremendous upturn during the past few years and exceeded USD 108.4 billion in value terms in 2016. This market is projected to continue picking up at an amazing 19.2% CAGR during 2018-2023 to go beyond the USD 311.24 billion mark.
The major growth engine of the mobile app market is the rapidly expanding pool of smartphone users from pole to pole. As of 2016, the number of people using a smartphone stood at around 2.1 billion, in 2017 it exceeded 2.32 billion; by 2020 it is poised to surpass 2.87 billion. The penetration of smartphones is forecast to rise as well: in 2018, appr. 36% of the worldwide population is supposed to use a smartphone in comparison to only 10% in 2011.
Number of smartphone users globally during 2014-2020 (in billions)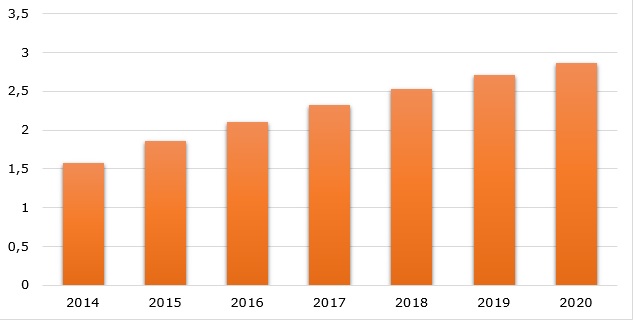 The most densely-populated country worldwide, China, dominates the world's smartphone industry. Over 50% of the country's population is forecast to have a smartphone by the year 2020. The number of local smartphone users stood at nearly 563 million in 2016 and is poised to run up close to 675 million in 2019.
The US also counts among the top smartphone markets. In 2017, there were about 223 million smartphone users in this country, and this figure is set to cross 247 million by 2019.
iOS and Android are the dominant smartphone operating systems. Around 1.5 billion smartphones (with either iOS or Android OS) were sold worldwide in 2016. Android with above 80% of the world's total sales of smartphones is an unrivalled market leader. iOS grabs a share of around 15% of the overall figure.
As for smartphone vendors, Apple and Samsung are the top market players with shares of nearly 15% and 25%, respectively.
Top smartphone vendors, 2017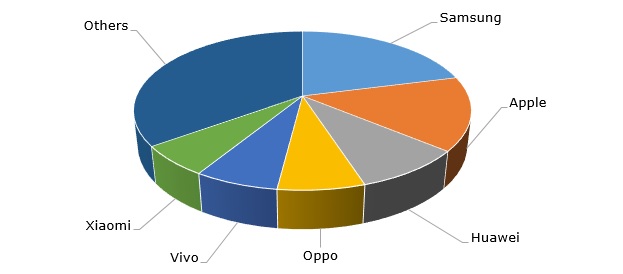 The rapidly increasing global smartphone users base has spurred a remarkable upswing in the number of apps used by consumers of their phones. In October 2017, the number of apps available in the Google Play store crossed 3.5 billion, whilst in the iOS App Store surpassed 2 million.
As of 2016, people worldwide downloaded appr. 149.3 billion mobile apps to various connected devices. By the year 2021, mobile apps downloads are projected to climb over 352.9 billion
Mobile app downloads globally in 2016, 2017 and 2021 (in billions)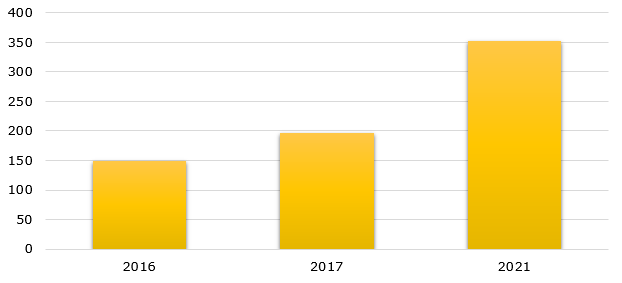 Over 50% of overall time spent by users on a smartphone belongs to mobile apps. This fact clearly indicates that companies engaged in the mobile apps industry are generating huge revenues from the usage of their mobile apps.
In 2015, the world's mobile app industry revenues were estimated at appr. USD 69.7 billion. In 2016, the industry revenues crossed USD 88.3 billion. Through 2020, revenues generated by the companies engaged in mobile app industry through app stores and also in-app advertising are predicted to surpass the USD 188.5 billion mark.
Global mobile apps revenues 2015, 2016 and 2021 (in billion USD)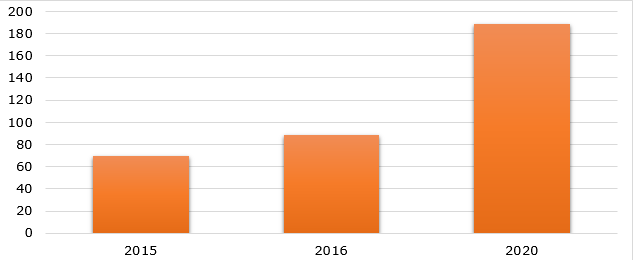 People between 18-24 years old form the major mobile app consumer group, however, it is closely followed by groups '25-34 years old' and '35-44 years old'. Therefore, mobile app providers tend to target primarily the middle generation consumer group. Besides, female population spends more time on different mobile apps rather than male.
As for time spent on various mobile apps: games grab a share of around 43%, social networking apps – 26%, various entertainment apps and utility apps both account for nearly 10% shares. Mobile games present one of the biggest and most dynamic sector of the overall mobile app market, this sector has demonstrated sustained, strong growth over the recent years.
Over the year 2017, the shopping app category exhibited the highest YoY gains (54% up) in terms of consumer time spend amid all mobile app categories. Meantime, the lifestyle app category demonstrated the biggest loss.
YoY growth in time spent for various mobile app categories in 2017

Prominent Trends to Watch out in the Mobile App Market in 2018
On-Demand Apps to Remain All the Rage
On-demand apps have already become mainstream and they continue enjoying extreme popularity. They assist people in multiple day-to-day things like making reservations, finding nearby services (cleaning, laundry, food delivery, taxi, etc.), checking the weather, amidst many others. Besides, these apps can be used almost anywhere. On the back of the ongoing rise of the shared economy, companies will likely come up with novel, disruptive business models and introduce more on-demand apps to satisfy the increasing needs of on-the-go users.
Wearable Apps & IoT to Take a Huge Leap Forward
Wearable apps and IoT has considerably gathered momentum during 2017 and penetrated a wide array of industries including education, automotive, healthcare, etc. Furthermore, the integration of mobile apps with wearables and IoT is predicted to continue increasing considerably in 2018. This is majorly attributed to an exponential growth in the IoT sector, as most existing IoT devices are controlled via smartphones.
VR & AR Apps to Become More Mainstream
VR and AR are anticipated to further revolutionize the ever-progressing mobile app industry. 2018 is expected to see the introduction of many new VR/AR-based mobile apps, as these technologies help companies to attract more customers by providing them with a unique, exciting visual experience and, thus, boost the usage of their products/services.
Mobile Payments to Reach New Heights
Although at the beginning consumers were rather suspicious about the cashless payments via their phones, today it is a common payment option, especially in m-commerce apps. In 2018, mobile app based payments are likely to become easier and will get a wider reach.
Mobile App Security to Play Important Role
Data security still remains a matter of concern whilst using a smartphone because of the large amount of personal user data it stores. During 2018, companies engaged in the mobile application development will likely put a greater emphasis on the improvement of the data security.
Final Thoughts
2017 emerged to be a phenomenal year for the mobile app industry, and the current one is unlikely to fall from grace. 2018 will not only see enormous growth of the mobile app market but will also mark the introduction of novel, innovative apps that will get people even more addicted to their smartphones.
Whilst some trends continue impacting the way people use mobile apps, others present innovative methods to convince users to pay their attention to new products/services. The mobile world is extremely dynamic, and app developers need to adapt their offerings to all changes to stay competitive in the fierce environment.
© MarketPublishers.com, 2018