3D Printing Market: 5 Most Promising Applications
21 Feb 2018 • by Natalie Aster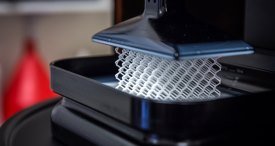 Today, almost everyone is familiar with 3D printing, a.k.a. additive manufacturing (AM). It refers to the process of a 3D solid model production using a 3D printing material and a 3D printer. Initially, the usage of 3D printing was limited to prototype manufacturing. However, now the technology is extensively used as part of the conventional manufacturing process in a great number of industries ranging from architecture, construction, and aerospace to retail and food industries. The 3D printing technology can hardly substitute common manufacturing methods and techniques; still, it can provide producers with a bundle of advantages.
Core Advantages of 3D Printing:
3D printing is time-saving: a product can be created within several hours.
While the traditional process of prototype manufacturing is highly expensive, the 3D printing process is more cost-effective.
The 3D technology helps to mitigate risks associated with money loss by providing an opportunity to verify a design on a test prototype before making large investments in expensive molding tools.
This technology gives a great opportunity to manufacture personalized and customized products that uniquely fit users' needs.
3D printing is a highly sustainable process: it uses less materials than traditional manufacturing options, generates little waste, and uses recycled materials.
3D printing technology provides users with freedom of imagination: an endless variety of designs and complex geometries can be created.
Global 3D Printing Market Overview
As of 2015, the world's 3D printing market was evaluated at USD 11 billion. In the year 2016, it climbed to USD 13.2 billion. In 2017, the market size came up to USD 16.1 billion. This year, the 3D printing industry is projected to surpass USD 19.7 billion. In the years ahead, the 3D printing market will likely enjoy a colossal growth. In 2019, the market size is anticipated to amount to USD 24.1 billion and further, by late 2020, get close to USD 29 billion.
Global 3D printing market size in 2015-2020 (in bn USD)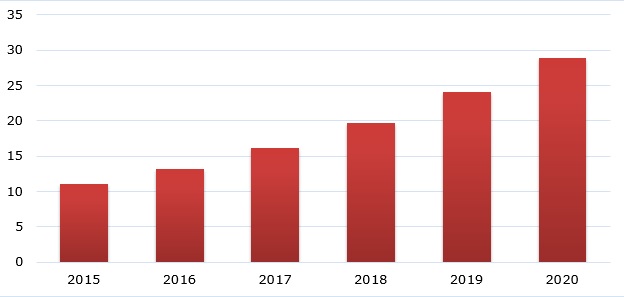 Sustainable, rapid expansion of the 3D printing market is encouraged by lucrative advantages provided by 3D printing, constantly rising awareness about this modern technology, a robust uptake in R&D activities, ongoing technological innovations and advancements, introduction of new materials and upgraded 3D printing equipment, surging global demand for prototypes across various verticals (especially from such industries as healthcare, automotive, aerospace, defense, construction, chemical, education, maritime, robotics, electronics, food, as well as from space travel sector and commercial art).
INDUSTRIES SHOWING HIGH GROWTH POTENTIAL FOR 3D PRINTING:
1. Healthcare
3D printing has already brought revolutionary changes to the healthcare industry and continues to transform it, making healthcare services more affordable, accessible and personalized than ever before.
The 3D printing technology has already enabled companies active in the healthcare industry to successfully print a broad array of unique, cost-effective, personalized products, for instance, bones, heart valves, tissues with blood vessels, drugs, ear cartilages, organs, low–cost prosthetic parts, tailor-made sensors, medical models, skin and equipment, amid others.
Applications of 3D Printing in Healthcare, 2016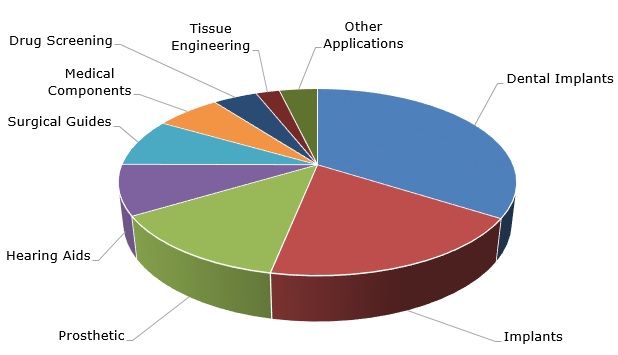 The total revenues of the world's 3D printing in healthcare market were estimated at USD 520 million in 2015. As of 2016, the revenues stood at about USD 660 million. By the year 2022, the global revenues generated by the 3D printing in healthcare market are likely to exceed USD 3.89 billion, growing at an unbelievable CAGR of appr. 22% during the projected period.
Revenues of the global 3D printing in healthcare market during 2015-2018 (in bn USD)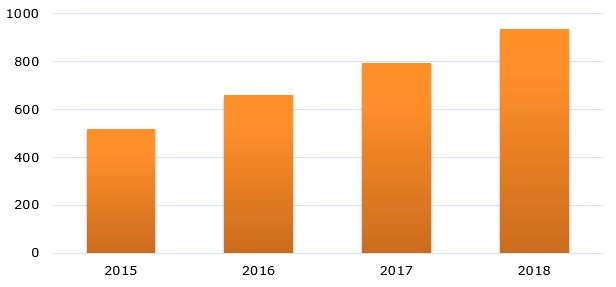 To date, the lion's share of the worldwide 3D printing in healthcare market belongs to medical and dental implants.
Regionally, the world's 3D printing in healthcare market is dominated by North America. The region grabs the biggest chunk of the overall market revenues and volume.
2. Aerospace
The 3D printing technology has already proven to be a vital tool for aerospace engineers: it has made prototyping, tooling and even part manufacturing much easier and cost-effective.
Strong reliance of the aerospace industry on traditional manufacturing methods may considerably hamper its further growth. However, the enhancing need for design optimization along with ongoing technological progress is likely to encourage the increased adoption of 3D printing in the aerospace sector in the foreseeable future.
3D printing demonstrates high potential to revolutionize the aerospace industry: it allows to solve numerous engineering problems, manufacture specialized aircraft components, reduce aircraft weight, strengthen the prospects of space travel, to name a few. Looking ahead, the introduction of fully 3D printed aircraft seems possible.
In 2017, the aerospace 3D printing market reached USD 1.18 billion. By 2022, this market is slated to gain traction at a rapid pace to come close to USD 3 billion, registering an amazing double-digit CAGR.
Global aerospace 3D printing market size, 2017-2022 (in bn USD)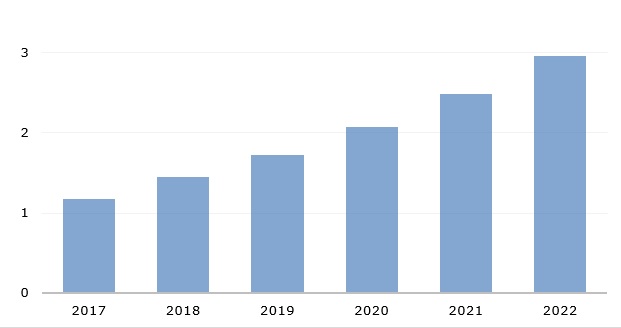 Over 2017-2022, the highest CAGR in the world's market for aerospace 3D printing is anticipated in the materials segment (on the basis of verticals), this is majorly attributed to the great demand for materials having a high strength-to-weight ratio for 3D printing of aircraft components and parts.
Amid regions, North America ranks first in the world's aerospace 3D printing market owing to the constantly rising penetration of the technology in the regional aerospace industry.
3. Construction
Over the past several years, the interest towards the 3D printing technology in the construction industry has demonstrated significant growth. The penetration of 3D printing in the construction sector keeps gathering momentum supported by the permanently growing global demand for lightweight structures along with surging demand for commercial buildings. The recent introduction of Building Information Modelling (BIM) is also predicted to encourage the increasing usage of 3D printing in the construction sector.
In the offing, the 3D printing technology is deemed to provide companies engaged in the construction industry with a nice opportunity not only to create prototypes in reasonable time frames, reduce human workforce and cut material wastage, but also to 'print' entire buildings. Besides, 3D printing is expected to make construction process possible in the unsafe environment and even in space.
By 2021, the construction 3D printing market revenues are set to witness tremendous growth and go up to appr. USD 1.18 billion. In 10 years, the market revenues may surge to reach USD 40 billion.
As for regions, APAC demonstrates a huge potential for the construction 3D printing market, majorly due to a booming adoption of this technology and escalating demand for residential buildings (especially in China).

4. Art
During the past several years, additive art has exhibited a considerable uptake. By the present day, the 3D printing technology has already rushed in all spheres of the art world. The 3D printing technology allows millions of artists worldwide to make art accessible to everyone, to introduce new attractive formats, materialize the invisible, and also to draw attention of more people towards art.
A slew of artworks has been already created by means of the 3D printing technology, for instance, 3D replicas of well-known masterpieces, sculptures of different sizes, miniature public artworks, 3D sculptures of soundwaves, interior design items, stop-motion animation, artifacts, garments, self-portraits, and many more.
In the long run, the adoption of 3D printing in the art world is poised to be on the march. Art is set to considerably expand its chunk in the total pie of 3D printing applications.
Share of art amid various 3D printing applications, 2017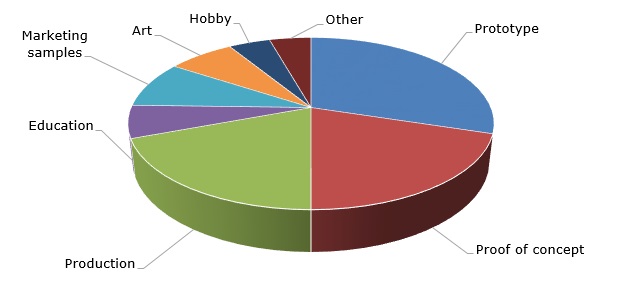 Though the 3D printing art sector is still at its nascent stage, it has an enormous growth potential. The 3D printing technology opens a bundle of great opportunities for artists to put aside traditional formats and expand horizons of their creative work.
With 3D printing, the preservation, restoration, and reincarnation of artworks become possible; that is highly essential for the preservation of the global historical and cultural heritage.
5. R&D
Research & Development (R&D) is an essential aspect for many industries, it is a progressive step in the foundation of the product innovation lifecycle and also a vital trigger of future product development and further market expansion. Companies engaged in the development of different products need to be sure that their offerings meet the ongoing trends and varying consumer requirements, satisfy changing market demands, and able to withstand fierce competition.
The 3D printing technology is an important contributor to the R&D sector. It enables companies to undertake R&D at basic and medium levels, change designs at any stage, and create prototypes to get a clear understanding of a new product. With a great plethora of materials and designs, 3D printing opens numerous new R&D options for various industries.
Top Benefits of 3D Printing for R&D Sector:
multiple design modifications;
effortless replication;
great variety of options at hand (including geometries, colours, materials, complexities, etc.);
cost-effective and fast creation of prototypes to test a product's features and make a presentation to potential investors;
opportunity to create flawless products (true replicas of the designs) down to the last detail;
ability to pinpoint potential risks at early stages of product development;
etc.
© MarketPublishers.com, 2018