Robotics Market: Current and New Trends on the Horizon
16 Feb 2018 • by Natalie Aster
LONDON – Whilst some only expect robots to revolutionize the future of the mankind, they have already paved the way towards sustained penetration across various sectors and have considerably transformed people's lives. Robotics has proved to be a vitally important component of the industrial transformation, which has already brought about remarkable improvements in operational efficiency and agility in both emerging and developed markets.
In 2016, around half of overall robotics spending came from the manufacturing sector (with 31% commanded by discrete manufacturing and 28% held by process manufacturing). This trend is likely to continue in future years. Presently, the key robotics applications in discrete manufacturing include welding, painting, and assembly; whilst in process manufacturing the major use case is mixing.
Other important robotics purchasers comprise such industries as resource (including oil & gas extraction, mining, agriculture), consumer and healthcare. Besides, robust growth in spending on robots is projected in the retail, education, construction, wholesale, and insurance industries.
The world's spending on robotics crossed USD 71 billion in 2015, surged to USD 91.5 billion in 2016 and came over USD 97 billion in 2017. In years ahead, the world's spending on robotics is projected to continue picking up at a high double-digit CAGR.
Global spending on robotics in 2015-2020 (in billion USD)

The world's robotics market is forecast to ramp up at a high healthy CAGR through 2025, fueled by robust technological progress in robot hardware, increasing number of applications, surging demand from the major end-uses, huge investments and also enhancing automation across various industries.
Boosted by constant race for improved efficiency, enhanced quality and reduced costs in different industries, the adoption of robots is anticipated to continue gaining momentum at a swift pace in the foreseeable future.
Anticipated CAGR of the global robotics market up to 2025, by segment (in %)



Regionally, the highest CAGR is projected in the APAC robotics market. Furthermore, this region will account for the biggest share of the global spending on robotics.
TOP TRENDS SHAPING THE GLOBAL ROBOTICS MARKET
Industrial robotics maintains leadership in global robotics market
From 2010 to 2017, the demand for industrial robots has escalated tremendously majorly owing to the continued trend towards automation and steady technological progress. During this period, global sales of robots went up by appr. 12% annually. The number of robot installations had never registered such a heavy increase.
Global sales of industrial robots during 2010-2016 (in thousand units)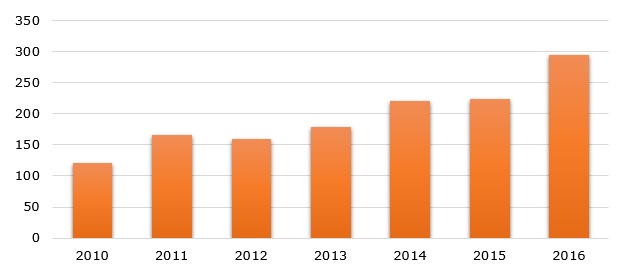 Top trends in the industrial robotics market:
automotive industry is the biggest contributor;
articulated robots grab the major share and are expected to take lead in the offing;
rising need for Chief Robotics Officer (CRO);
surging demand from E-Commerce for warehousing and delivering functions;
strong demand for professionals to design, develop and produce robots for specific tasks;
increasing need for improvements in the regulative framework to protect the rights of the human workforce;
etc.
Over 2018-2023, the world's industrial robotics market is projected to gather momentum at a 9.6% CAGR to came over the value of USD 72 billion. Important growth drivers comprise rising investments for automation in different industries and booming demand for industrial robots from SMEs in emerging countries.
Collaborative robotics gains momentum at a swift pace
Designed and programmed to interact with and work alongside humans in a safe working environment, collaborative robots (a.k.a. cobots) are witnessing rapidly increasing adoption across a slew of industries encouraged by low initial investment, short integration time and ease of use. Cobots provide nice opportunities for different industries, small and medium-sized start-ups, OEMs, and ventures due to their beneficial features like faster production, reduced errors and effective automation.
Amid numerous applications, the handling sector commands the biggest chunk of the overall collaborative robotics market and is poised to maintain the leading position in the near future. Meantime, the fastest growth is anticipated in the assembling and packaging sectors; this is attributed mainly to the elevating demand from the automotive, food & beverage, healthcare, and packaging industries.
Structure of the global collaborative robotics by application (2016)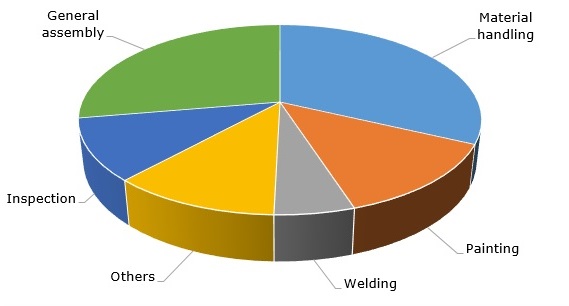 Top trends in the collaborative robotics market:
high potential of cobots to replace the major part of existing human jobs;
surging demand from the automotive industry;
booming R&D in Europe's collaborative robotics market encouraged by the skyrocketing demand for cobots in this region;
food & beverage industry exhibits a remarkable uptake in adoption of collaborative robotics and is predicted to override other key end-use sectors in the short term;
increasing number of new startups;
etc.
Although the penetration of collaborative robotics is already rather high in a great number of industries, there are still certain challenges, for instance, concerns associated with cyber-security threats, safety standards issues, rapid technological development, compliance with stringent regulation norms, lack of skilled workforce, amid others.
However, despite all restraints, the collaborative robotics market is poised to go up at a tremendous CAGR of over 45% in the next 5 years.
Robotics-as-a-service (Raas) demonstrates robust uptake
In the wake of immense growth of cloud solutions and artificial intelligence (AI), the Robotics-as-a-service (RaaS) business model is gaining traction around the world.
RaaS model offers highly adaptable professional robotic solutions to various customers to perform manifold tasks and options; robots can be rented or leased (on an hourly or monthly basis), or the RaaS provider will perform a specific task for the customer and then provide him with the data collected. RaaS model also includes upgrading, maintenance, and other basic services to end-users.
RaaS helps to improve productivity at minimal costs, focus employees on high-value tasks and enable a smarter business network. It has already proved to be efficient in a wide range of industries comprising manufacturing, healthcare, agriculture, to name a few; and the interest towards RaaS continues to gather momentum at a robust pace.
Top trends in the RaaS market:
surging demand from the hydrography and oceanography spheres;
remarkable upturn of precision agriculture;
increasing adoption of data analytics and operational intelligence;
etc.
The demand for RaaS is expected to soar in the next five years, thus, propelling growth in the world's RaaS market that is forecast to pick up at a CAGR of almost 20%.
© MarketPublishers.com, 2018