New Drugs to Make Breakthrough in Migraine Prevention
06 Feb 2018 • by Natalie Aster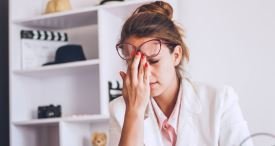 LONDON – Migraine is considered to be one of the 3 most prevalent diseases across the globe. The disease affects approximately 14% of the entire global population (more than epilepsy, asthma and diabetes). As of 2016, there were over 569.5 million prevalent cases of migraine in adults 20+ years worldwide. This figure is set to exceed 638.4 million through to 2025. Presently, the highest disease prevalence is registered in the Latin American and Caribbean regions – nearly 16.4%; whilst the North American region has the lowest prevalence rate of migraine – around 9.7%.
The world's migraine drugs market is witnessing stable, modest growth and is forecast to continue increasing at a healthy CAGR in the next 5 years. The major growth engines of this market include enhancing awareness of the disease and its treatment options, rising number of awareness programs, increasing migraine prevalence worldwide, rising investments in drugs R&D, and also high unmet needs in the market landscape.
The migraine drugs market is projected to see the highest growth rates in Asia-Pacific in the foreseeable future. This is majorly attributed to rising number of people suffering from migraine along with enhancing public awareness about this disease. The highest prevalence of migraine in the Asia-Pacific region is registered in China and India. Growth in the Asia-Pacific migraine drugs market will also be encouraged by high penetration of drug manufacturers and increasing focus on new product launches.
Triptans Hold Major Share of Global Migraine Drugs Market
Despite high prevalence of migraine advances in treatment have been very sluggish, the last remarkable was 30 years ago when triptans were introduced. Triptans were developed to constrict blood vessels in the brain (that expand during a migraine and press on nerve endings, causing pain) and thus relieve pain. However, this treatment option had rather mixed results with complete relief in some patients and, at the same time, minimal effects in others. Still, triptans command the major share of the overall migraine drug market. The list of drugs available in this segment comprise almotriptan, frovatriptan, eletriptan, naratriptan, sumatriptan, zolmitriptan and rizatriptan; these medications are available in different forms like injetions, tablets, nasal spray preparations, etc. In the coming years, growth prospects in the triptans segments are set to be augmented by expanding usage of the oral route of administration.
Will New Drugs Make Breakthrough in Migraine Treatment Landscape?
Some late-stage drug trials are demonstrating great promise for a completely new generation of drugs for migraine prevention, which could hit the market this year. For the millions people worldwide suffering from this disease this is the most welcome news, as currently available treatment options are limited, and there are no migraine-specific prevention drugs at all.
A recently developed, new class of drugs, calcitonin gene-related peptide inhibitors, may change the migraine treatment landscape. Levels of calcitonin gene-related peptide (CGRP), a neurotransmitter created by neurons in the brain, increase during migraine attacks; triptans are able to give just some relief of this symptoms. Furthermore, people suffering from migraines are more sensitive to CGRP levels, as high CGRP could trigger migraine like headaches in hours. This encouraged the investigation of 'blocking CGRP' as a new therapy option for migraine.
Monoclonal antibodies, a novel type of large molecule drug, targeting CGRP or its receptor will be the first treatment option for migraine to be introduced in a long time and the first ever existing for preventing migraine attacks. For instance, the recent late-stage trials have illustrated that injections of a drug called erenumab made every month block CGRP binding to its receptor, that reduced the number of migraine attacks by nearly 50% or even more in up to 50% of people (also, it hadn't showed any side effects).
Who Will Be the First to Launch New Migraine Drugs?
Today, some PharmaCos have monoclonal antibody drugs in their pipeline and are in fierce competition to become the first to launch their products and get them on shelves.
Collaborators Novartis and Amgen hope to get the approval of eremunab early this year. Hot on the heels follow Teva with fremanezumab and Eli Lilly with galcanezumab; both expect to get the approval from FDA by the end of 2018.
Follow this page at MarketPublishers.com to get access to a broad range of in-demand research reports available on this topic.
CONTACTS
The Market Publishers, Ltd.
Natalie Aster
Tel: +44 208 144 6009
Fax: +44 207 900 3970
[email protected]
MarketPublishers.com