Russia Telecoms Market was Worth EUR 29 Billion in 2011, Claims PMR
24 Dec 2012 • by Natalie Aster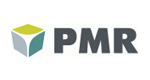 The Russian telecommunications market is growing fuelled by investments of mobile operators and broadband internet access services expansion. It is now expected to cross the value of €31bn in 2012. Further 3G-LTE development is outstripping WiMAX and CDMA.
According to the latest report "Telecommunications market in Russia 2012" by PMR, the value of the telecommunication services market in Russia increased by 3.3% y-o-y to approximately €29bn in 2011. The growth rate measured in local currency was almost the same and amounted to 3.4%. The market reached its maturity and mobile and fixed voice services, which had driven operators' sales growth in the past, entered a period of stagnation or decline. In 2011 the only growing market segments were fixed and mobile internet access and pay TV services. However, the growth of their sales and the value of these segments were insufficient to drive the entire telecommunications market in the country.
Report Details:
Telecommunications market in Russia 2012
Published: September, 2012
Pages: 181
Price: US$ 2,380.00
Value (€ bn) and growth rate (%) of the telecommunications market in Russia, 2004-2013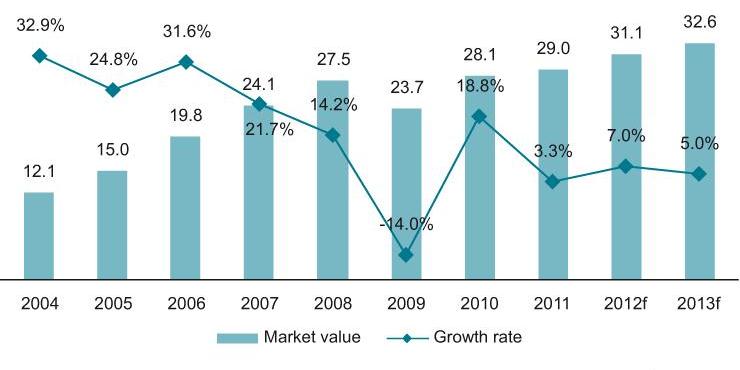 Mobile voice telephony accounts for the largest part of telecommunications spending in Russia. Its value share on the market increased from 34% in 2001 to 58% in 2011. However, the penetration of mobile telephony in the country has already reached its natural limit and, based on different sociological polls, approx. 90% of adult Russians actually used mobile phones in 2011 while the total number of registered SIM cards exceeded 159% of the total population.
Mobile internet – WiMAX outstripped by 3G-LTE
The Russian wireless internet access services market continued to expand dynamically in 2011 and H1 2012, driven mainly by the geographical expansion of 3G-UMTS networks. 3G operators introduced unlimited service packages already in H2 2011, reduced prices and improved the quality and speed of wireless internet access, facilitating the sales of their data services. As a result, last year the revenues of wireless internet access providers jumped by approx. 40% compared to 2010. In H1 2012 the value of the Russian wireless internet market grew by a further 45% y-o-y. In H1 2012 mobile operators' internet service packages generally offered a minimum 3GB monthly limit before they reduce the maximum possible connection speed. This also indicates that mobile access in Russia is becoming an alternative to fixed-line technology at least in terms of possible data consumption and in terms of connection speed in some Russian regions.
Over the last year or so the operators of 3G-UMTS networks continued to strengthen their position in mobile internet access market in the country. The "Big Three" group's combine shares (Megafon, VimpelCom and MTS, which are Russian UMTS operators) in the sales of mobile internet access services currently exceed 80%.
In 2011 and H1 2012 the Russian government launched two important tenders to facilitate the development of the Russian wireless internet access market and which will define its development path. First, in August 2011 a tender for WiMAX radio band in twenty-nine smaller towns in Russia was completed with TTK receiving this license (the company does not exclude conversion of WiMAX to LTE). In H1 2012 the government awarded four federal LTE licenses and this will make LTE a mainstream wireless internet access technology in the country.
There is no doubt that the Russian market is gradually changing its technological structure and will use 3G-UMTS technology and also later LTE instead of WiMAX and CDMA as a basis for service development. SkyLink received the permit to use its radio band for UMTS instead of CDMA and stopped the aggressive development of CDMA services. Yota, the main operator of WiMAX networks in Russia, stopped the expansion of its network in 2011 and started to re-orient it to LTE technology. Interestingly the company's network has already been opened on a wholesale basis to major mobile operators in Russia willing to offer LTE-based services. MTS also secured a permit to use its WiMAX network in the Moscow region for the development of LTE services and announced its conversion as of September 2012. Finally, Rostelecom, which obtained a radio band for the development of WiMAX networks in thirty-nine federal districts in Russia, had yet to launch any as of the middle of 2012 (this is explained by the difficulties to get an approval for the use of this radio range by army authorities).
Short-term forecasts
"The Russian telecommunications market will continue to grow over the next three years, triggered by the internet services provision market, IP TV, as well as content and value added services developed for mobile and fixed networks. Russian companies' investment plans support this forecast. All in all PMR now expects that the market value will cross €32.5bn in 2013" – concludes Pawel Olszynka, Head IT&Telecoms analyst at PMR.
Key macroeconomic indicators of Russia, 2006-2013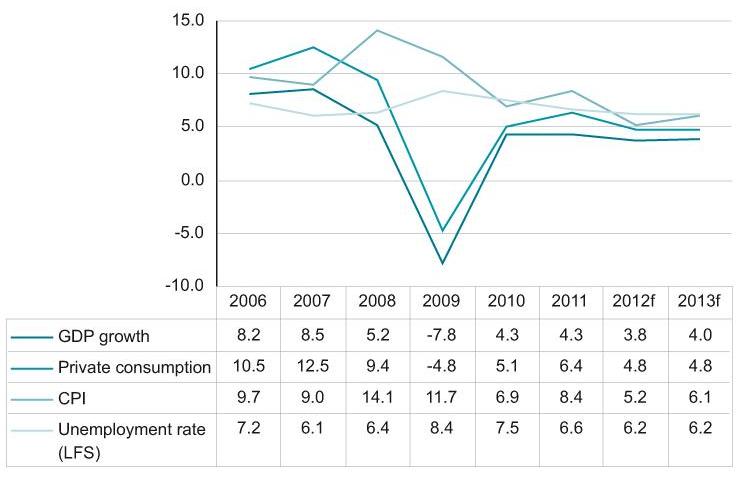 Overall, economic development in Russia last year was positive and provided a good background for business development and investments in telecommunications. It is expected that GDP will also increase by 3.5-4% y-o-y in 2012. This remains a good background for the business development and investments in telecommunications services and networks. At the same time, the uncertainty in the eurozone and in the global economy remains the main threat for economic development in the country.
More information can be found in the report "Telecommunications market in Russia 2012" by PMR.
To order the report or ask for sample pages contact ps@marketpublishers.com
Contacts
MarketPublishers, Ltd.
Tanya Rezler
Tel: +44 208 144 6009
Fax: +44 207 900 3970
ps@marketpublishers.com
MarketPublishers.com