Central Europe Telecoms Market to Decrease by 1.8% in 2012, According to PMR
04 Oct 2012 • by Natalie Aster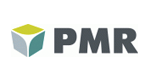 For the past three years, the value of the telecoms market in CE has been going down. The downward trend is chiefly a consequence of the maturity phase the market has already entered. An era of dynamic growth in the number of customers is over in all three key market segments. The market saturation adversely affects even the data transmission and ISPs segment. Moreover, regulator's actions reducing MTRs severely influenced mobile operators' revenues from the wholesale market and from the F2M segment.
Value (€ bn) and the Growth Rate (%) of Telecommunications Market in Central Europe, 2005-2012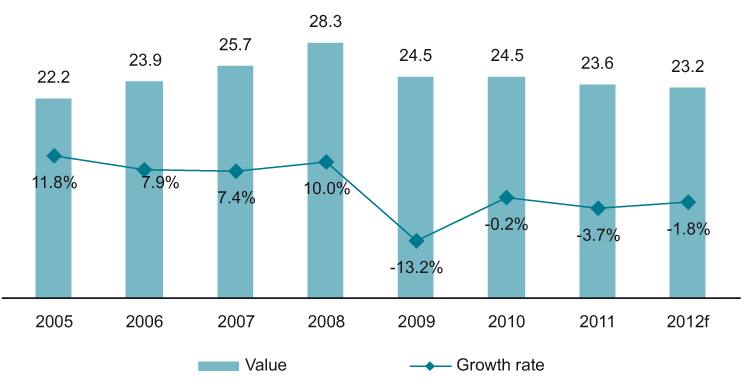 According to the latest report "Telecommunications market in Central Europe 2012" developed by PMR, the cumulative value of the telecommunications market in the Central European (CE) region amounted to €23.6bn in 2011, which meant a drop of 3.7% year on year. The worldwide economic slowdown and the ongoing problems within the Eurozone together with the regulatory policy aimed at cutting mobile termination rates negatively influenced the market value in 2009-2011. In 2009 the market itself, as measured in euro, slumped by 13.2%, and in 2010-2011 the negative trend maintained, however the pace of decline somewhat diminished. The market will maintain the tendency also in 2012, however it will decrease again, by 1.8% to approx. €23.2bn.
Report Details:
Telecommunications market in Central Europe 2012
Published: September, 2012
Pages: 385
Price: US$ 3.500,00
Mobile telephony is by far the largest segment of the market – last year it accounted for approximately two thirds of the telecommunications services spending in CE. Conversely, the share of fixed voice services declined and the value of the fixed-line segment was eventually outstripped by data transmission and ISP services. Interestingly in actually all CE countries the mobile voice services market has been negatively influenced by a wave of ongoing MTR cuts resulting in lower revenues in the wholesale area. Movement of voice traffic from fixed-line to mobile networks and accelerating take-up of broadband services in general and mobile broadband in particular remain the key trends. Besides, it should be noted that the internet is most commonly acquired as a part of a bundle. Therefore, visible growth in bundled offers is part of the general increase in households' internet usage.
Structure (%) of the telecommunication services market in Central Europe by key segments, 2012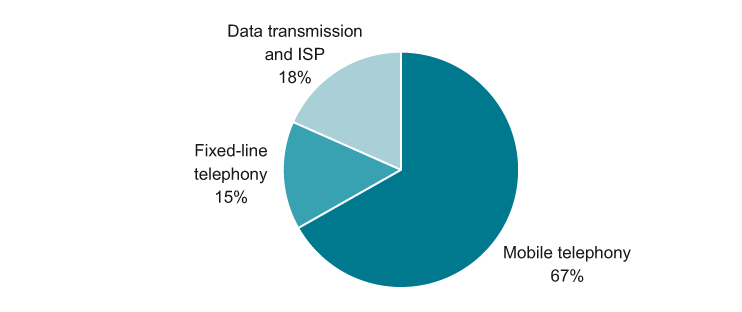 "The limited rates of growth which have recently characterised the telco markets in CE countries are also a consequence of the fact that these markets have become more mature and competitive and have faced constant price erosion, seen in practically every market area. The growth potential of the countries is now based mainly on the development of data transmission and broadband services, which still, however, represent a relatively low percentage of the total revenues from telecommunications services. Especially fixed broadband in EU countries has seen first serious signs of saturation" – comments Pawel Olszynka, a PMR analyst and one of the report authors.
Structure (%) of the telecommunications services market in Central Europe by countries (%), 2012

Total value of the CE telecommunications market is highly dependent on the situation on Polish telecommunications market as it accounts for about 40% of all revenues. Also Czech telecommunications market has a visible share as 18% of the CE telecoms market value is generated there. Even though this country is much less populous than Poland but its market seems to be more saturated and mature.
Some trends which are observed on the market are common for all CE countries. Fixed-line telephony is less competitive than mobile telephony and therefore more customers decide to substitute their lines with portable devices, not only with traditional mobile phones but also with tablets and smartphones, which enable their users to enjoy varied services and applications which are more tailor-made.
National regulators tend to make mobile telephony markets even more competitive as they try to introduce new operators to the market and cut MTR rates. Combination of these two activities has a strong impact on the decreasing retail prices which make mobile telephony more alluring. Gradually SIM cards penetration already well-exceeded 100% meaning that one person possesses statistically more than one SIM card. Every year about 2 million of new SIM cards are added on the CE market. Net annual additions are not so significant as they used to be because the market is close to saturation, but still there is a lot to gain for all the operators so they compete to attract not only new customers but also to make a dent in the subscribers base of their competitors.
The prevailing method of broadband access in the CE countries is ADSL, which is followed by CaTV-based access. In many cases it is bundled with TV or other services such as fixed-line (traditional telephony or VoIP) or mobile. As a consequence, a three- or four-play package offered by one provider is much more affordable than singular services provided by separate companies.
Moreover mobile internet appears to continuously gain new subscribers and providers perceive it as a niche which they want to fulfill since tablets and smartphones penetration increases together with the number of internet users and broadband subscribers. In 2011, about 3 million of new internet users were added and about 1 million new broadband subscribers decided to sign a contract in Central Europe. However, since 2008 limited growth in both categories indicating higher market penetration can be observed.
Net additions (m) of SIM cards, fixed-line subscribers, internet users and broadband subscribers in Central Europe, 2003-2011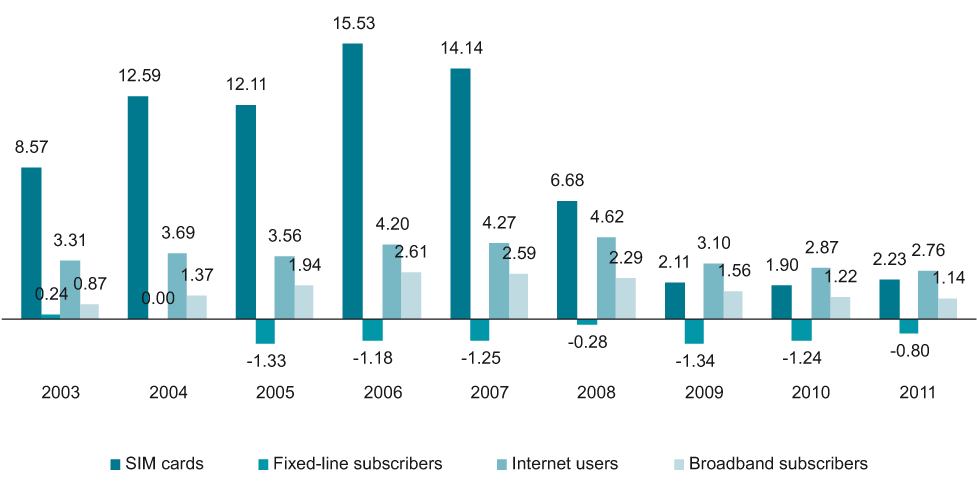 As a result of the substitution, fixed-line telephony has an adverse growth rate in the CEE countries. Since 2005 annual net additions have been negative. Competitive prices and a satisfactory coverage encourages people to replace traditional fixed-lines with mobile phones which are perceived as more convenient and better meet the needs. However, the flux within fixed-line subscribers is declining as less individuals possess fixed-lines and companies tend to rather maintain them in order to remain credible for their customers. Eventually, less customers and lower prices cause this market to shrink in terms of value.
More information can be found in the report "Telecommunications market in Central Europe 2012" by PMR.
To order the report or ask for sample pages contact [email protected]
Contacts
MarketPublishers, Ltd.
Tanya Rezler
Tel: +44 208 144 6009
Fax: +44 207 900 3970
[email protected]
MarketPublishers.com