Healthcare Facilities Construction in Russia Set to Grow by 2014, According to PMR
31 Jul 2012 • by Natalie Aster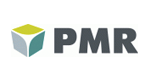 Most healthcare facilities in Russia were built in the Soviet era, and the notorious underinvestment since then has caused them to fall into disrepair. As of 2012 approximately 32% of hospitals and 30% of polyclinics require thorough modernisation. Many do not have central heating, running water and hot water, and about 57% of the equipment is obsolete. At the end of 2011, there were 58,600 healthcare facilities in total in Russia, and one-third of these was located in cities with populations in excess of one million.
As demonstrated in the findings of the analytical and research company PMR report entitled "Construction of Healthcare Facilities in Russia and Ukraine 2012", in the next five years it is expected that there will be a gradual reduction in the number of medical institutions in cities with populations in excess of one million, as a result of consolidation processes and improvements in clinics. This is because patients prefer to be able to use diverse medical services in one place.
In recent years in Russia fixed assets worth about RUB 160-170bn ($5.3-5.7bn) have been put into operation in healthcare every year. The total value of fixed assets in healthcare in Russia more than doubled between 2005 and 2011.
Fixed-Capital Investment in Healthcare in Russia (RUB Bn) and Y-O-Y Change (%), 2005-2011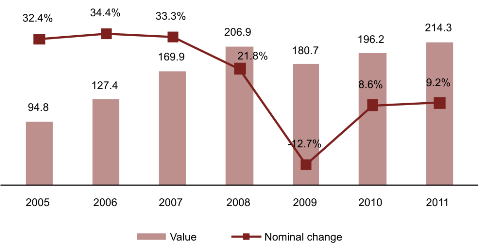 Of all fixed assets in the Russian healthcare sector, approximately 78% are owned by non-commercial healthcare organisations. Buildings and structures account for 56% of the total, whereas equipment accounts for 38%. The depreciation ratio for fixed assets in healthcare was 53.3% at the end of 2010, in comparison with the 35% reported in 2000, which means that Russian healthcare facilities are rapidly becoming obsolete and worn-out.
The government programme which will have the most substantial effect on healthcare investments in Russia, at least until the new healthcare modernisation programme between now and 2020 has been approved, is the Federal Targeted Investment Programme (FAIP), an integral instrument of the state's strategic management system which allows the systematic and integrated realisation of state priorities for various areas of social and economic development. The amount allocated to healthcare as part of the FAIP will fluctuate between RUB 80bn ($2.6bn) in 2012 and RUB 54bn ($1.8bn) in 2014. This will be spent on the construction and reconstruction of important healthcare facilities.
In accordance with the healthcare modernisation programme, 117 new healthcare facilities are to be built and about 4,000 hospitals and polyclinics are to be thoroughly modernised. The aim of the healthcare reform until 2020 is to reduce the number of people per one primary medical care facility to 1,200-1,500. At present the figure is 1,800-2,500 persons per one area (this is the official number, but the actual figure is approaching 4,000).
Report Details:
Construction of Healthcare Facilities in Russia and Ukraine 2012
Published: June, 2012
Pages: 71
Price: US$ 2.800,00
As in many developed countries, also in Russia healthcare and medical services are clearly becoming an increasingly attractive area for private investors. At present, in Russia about 15% of medical services are provided at non-state-owned healthcare institutions. However, as many as 64% of Russians use private clinics and other healthcare facilities. The on-going and proposed Russian PPP healthcare projects include the modernisation and construction of municipal children's hospitals in St. Petersburg and Vologda, with these two projects alone worth almost RUB 10bn ($333m).
More information can be found in the report "Construction of Healthcare Facilities in Russia and Ukraine 2012" by PMR.
To order the report or ask for sample pages contact [email protected]
Contacts
MarketPublishers, Ltd.
Tanya Rezler
Tel: +44 208 144 6009
Fax: +44 207 900 3970
[email protected]
MarketPublishers.com