Acetonitrile (CAS 75-05-8) Market Back on Growth Path Globally
17 May 2012 • by Natalie Aster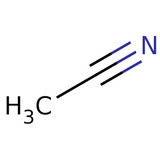 Acetonitrile (also called methyl cyanide, ethanenitrile, ethyl nitrile, etc.) is the simplest organic nitrile with the molecular formula of C2H3N. It is a clear, flammable liquid, melting and boiling at -45°C and 82°C respectively. Acetonitrile is miscible with water and with common organic solvents, but immiscible with many saturated hydrocarbons (alkanes).
Acetonitrile is produced by dehydration of acetamide or by the reaction of ethanol and ammonia in the presence of catalyst such as Ag, Cu, MoO3, and ZnS at moderate temperatures as well as a by-product from the manufacture of acrylonitrile. Acetonitrile can also obtained by the reaction of cyanogen chloride with methane, ketones, ethanol, alkylene epoxides, and paraffins.
Acetonitrile finds its greatest use as an extractive distillation solvent in the petrochemical industry for separating olefin-diolefin mixtures and for C4-hydrocarbons.
It is widely used in battery applications because of its relatively high dielectric constant and ability to dissolve electrolytes. It is a popular solvent in cyclic voltammetry and liquid chromatography.
Acetonitrile plays a key role as the dominant solvent used in the manufacture of DNA oligonucleotides from monomers.
Industrially, it is used as a solvent to produce pharmaceuticals and photographic film.
Acetonitrile is a common two-carbon building block in organic synthesis of many useful chemicals, including acetophene, thiamine, acetamidine, and ?-napthaleneacetic acid. Its reaction with cyanogen chloride affords malononitrile.
Following a period of so called "Great Acetonitrile Shortage", at the end of 2009 the market for acetonitrile returned to growth path, expected to increase at a CAGR of 4.9% on average with highest rates (7.5-8.2%) in China and India, where pharmaceutical industry is rapidly developing.
Acetonitrile market is covered in the study Acetonitrile (CAS 75-05-8) Market Research Report 2012. The report encompasses proper description of the product, unveils application areas, and briefly summarizes patents in the sphere. It overlooks acetonitrile market situation, names manufacturers, suppliers as well as users. The report also provides current acetonitrile prices in the market.
More information on the acetonitrile market can be found in the report "Acetonitrile (CAS 75-05-8) Market Research Report 2012".
Contacts
MarketPublishers, Ltd.
Tanya Rezler
Tel: +44 208 144 6009
Fax: +44 207 900 3970
[email protected]
MarketPublishers.com