Collagen Hydrolysate, Sodium Salt Solution (CAS 92113-31-0) is Deemed New Anti-Ageing Product
14 May 2012 • by Natalie Aster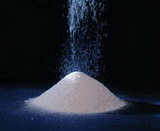 Collagen hydrolysate (also called hydrolyzed collagen, collagen peptide, gelatine, etc.) is a form of collagen. Collagen hydrolysate is commonly available as a hard, tasteless, brittle sheet that can appear yellow to honey in color. Commercially, it is ground into a granular powder.
Collagen hydrolysate is extracted from the bones, skin, and connective tissue of cows, fish, and pigs by enzymatic hydrolysis that involves breaking down the molecular bonds between individual collagen strands using heat and either acid or alkali solutions.
Collagen hydrolysate has been used as a food source for thousands of years; however, the earliest recorded commercial use of it did not occur until the mid 1650s. As a food additive, collagen hydrolysate is used as a thickening agent in sweets, salads and other foods requiring thickening agents.
Collagen hydrolysate contains 20 amino acids, mainly glycine, proline and hydroxyproline, which together represent around 50% of the total amino acid content. Collagen hydrolysate is the missing link in supplying amino acids like glycine, proline and lysine that are required by the body to build connective tissue to regulate cell growth.
Forming a film on the surface of the skin and hair, collagen hydrolysate contributes to its benefits. The mechanism of action of ingested hydrolyzed collagen on skin may be the increased density of collagen fibrils and the density of fibroblasts – the main cells of the dermis, producing collagen. It may also be that the peptides of ingested hydrolyzed collagen have chemotactic properties on fibroblasts or an influence on growth of fibroblasts.
A study conducted by American physician Dr. Ray Sahelian, M.D., showed that collagen has positive effects on joint health. In addition to increased range of motion, pain relief was also reported in 78% of the study group. Dr. Sahelian explained that CH-Alpha (collagen hydrolysate) has an amino acid composition very similar to material found naturally in the joints of the body.
Its high level of safety makes collagen hydrolysate attractive as an agent in the treatment of osteoarthritis and osteoporosis. According to several clinical studies, ingesting more than 10 grams of collagen hydrolysate per day helped reduce pain caused by osteoarthritis of the knee or hip, and it was also shown to stop collagen breakdown.
In cosmetics, collagen hydrolysate may be found in topical creams, acting as a product texture conditioner, and moisturizer.
Collagen hydrolysate market is covered in the study Collagen hydrolysate, sodium salt solution (CAS 92113-31-0) Market Research Report 2012. The report encompasses proper description of the product, unveils application areas, and briefly summarizes patents in the sphere. It overlooks collagen hydrolysate market situation, names manufacturers, suppliers as well as users. The report also provides current collagen hydrolysate prices in the market.
More information on the collagen hydrolysate market can be found in the report "Collagen hydrolysate, sodium salt solution (CAS 92113-31-0) Market Research Report 2012".
CONTACTS
The Market Publishers, Ltd.
Tanya Rezler
Tel: +44 208 144 6009
Fax: +44 207 900 3970