Extreme Technology Usage across Sectors is Boosting the GPS Market in India
04 Nov 2011 • by Natalie Aster

Mumbai, India – Netscribes (India) Pvt. Ltd., a knowledge consulting solutions company, announces the launch of the report "GPS Navigation and Tracking Market in India 2011".
The Global Positioning Systems (GPS) market was valued at INR 4.7 bn in 2009 and is expected to grow dynamically in the future. Tremendous increase in demand for tracking and navigation services from a wide spectrum of consumer segments is expected to drive the market. Domestic and foreign participation has been continuously increasing as they compete for a sizeable share in this market with high profit opportunities. Initiatives taken by the Indian Government is also expected to intensify the demand for GPS based solutions and services by a large extent.
Report Details:
GPS Navigation and Tracking Market in India 2011
Published: October 2011
Pages: 42
Price: US$ 600.00
Market Overview:
GPS market in India is expected to grow owing to an increased use of technology in fleet management, transport navigational systems and other areas;
Interest shown by the Government of India to modernize the country's basic infrastructure will further fuel growth in the market;
GPS market in India is expected to grow as demand for simple and low cost solution increases;
GPS market in India is at a nascent stage but is growing rapidly owing to an increased use of technology across various sectors;
Rapidly growing market of GPS enabled vehicles is the primary support for this market in India;
Emergence of GPS oriented services from telecom companies and easily affordable GPS enabled mobile phones are further fueling growth in the market;
Players like Black Berry have strategically targeted the corporate segment of the market;
Government of India is also playing a crucial part in boosting the market, with its pipeline projects of equipping airports with GPS;
It primarily finds its implementation across various sectors; some of the major sectors include logistics, sales, taxi and fleet management companies;
Many local and international GPS companies have entered the market and are competing to grab a share in this market, especially in logistics for tracking cargo and trucks across India.
Market Size and Growth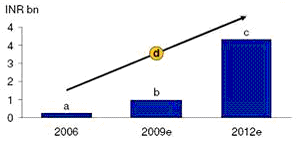 Estimated Segmented Share (20--)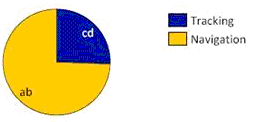 Growth in logistics sector has resulted in demand for vehicle tracking devices based on GPS technology.
Logistics service providers are now increasingly adopting vehicle-tracking system for better fleet management.
Courier service firms are tracking their shipments using GPS technology.
These systems continuously monitor shipment location and can provide information to the transporter directly in case of any change of plan.
Fleet managers are in a position to monitor all activities of workers, over speeding, route deviation etc. The driver in turn can access emergency service in case of sickness and accident.
Tracking and logging details of vehicles over large geographies such as cities, states or even across countries, is assimilated and analyzed via GIS.
Gati, one of Indias leading logistics players, already has more than hundred intercity trucks enabled with GPS, and it is planning to equip around 1,000 intercity fleet with GPS.
Work Model – GPS System:
Using its internal clock system, the GPS satellites constantly broadcast transmission signals to all the operating GPS receivers on earth.
Receivers after picking up the signals, store these signals and then calculate the actual distance between the satellite and itself. It retrieves the time taken by the transmission signals to reach earth from the orbit for this purpose.
Using a process called 'Trilateration' receivers estimates its exact position on the earth's surface. Receivers use a combination of minimum three satellites to calculate a two dimensional position (latitudes & longitudes only).
Calculation of a three dimensional location (including latitude, longitude and altitude) requires the combination of transmission signals of at least four satellites.
Drivers:
Growth in logistics vertical;
Growth in radio cabs;
Demand from BPO Sector;
Increasing penetration of high end phones;
Entry of mapping portals;
Increasing sales of luxury cars;
Government Initiatives.
Challenges:
Lack of awareness and consumer perception;
Fragmented logistics sector;
Operational issues.
Trends:
GPS device makers forging partnerships with automobile firms;
Mobile phone players providing free services;
New emerging applications.
More information can be found in the report "GPS Navigation and Tracking Market in India 2011" by Netscribes (India) Pvt. Ltd.
To order the report or ask for sample pages contact [email protected]
Contacts
MarketPublishers, Ltd.
Tanya Rezler
Tel: +44 208 144 6009
Fax: +44 207 900 3970
[email protected]
www.MarketPublishers.com