The Global Military Rotorcraft Market 2011–2021
28 Oct 2011 • by Natalie Aster

London – Over the forecast period, North America is expected to account for a share of 35.6% of the total global expenditure on military rotorcrafts. High demand in the region is primarily driven by the country's modernization plans due to maintenance issues regarding its military helicopter fleet after the Iraq and Afghanistan wars. Asia and Europe are also expected to account for a significant portion of the total global military rotorcraft market with shares of 30.8% and 18.4% respectively. This will be largely driven by the efforts of countries such as India, China and Russia who are anticipated to modernize their armed forces. The Middle East, Latin America and Africa account for 9.7%, 4.5% and 0.9% respectively of global military helicopter expenditure, according to the report "The Global Military Rotorcrafts Market 2011-2021" by iCD Research.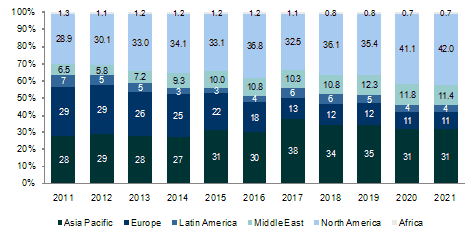 The global military rotorcraft market which comprises attack, multi-mission and rescue, transport, reconnaissance and observation and maritime helicopters, is expected to record growth over the forecast period. This is because significant markets such as the US and Europe are expected to modernize their existing fleets which were either exhausted or destroyed during the Afghanistan and Iraq wars. The market is expected to increase at a CAGR of 4.17% by 2021.
Report Details:
The Global Military Rotorcrafts Market 2011-2021
Published: October, 2011
Pages: 212
Price: US$ 4,800.00
Governments worldwide are increasingly following a procurement pattern that favors multi-mission and rescue helicopters. A prevalent trend of declining military budgets is being observed across various countries including major defense spenders such as the US, the UK, Germany, Spain and Italy. As a result, countries are increasingly adopting a strategy of acquiring multi-mission and rescue helicopters. Such helicopters can be used for a variety of purposes such as ground attack, air assault, cargo, surveillance, rescue operations, humanitarian aid and troop transport. Therefore, even though the market for transport helicopters is larger in cumulative terms, the market for multi-role helicopters is expected to grow at a faster rate of 10.2%.
South American countries are expected to modernize their helicopter fleets with countries such as Brazil, Chile, Venezuela and Colombia locked in an arms race to establish military supremacy in the region. Even though Brazil, Venezuela, Chile, Peru and Argentina are expected to procure military rotorcrafts, the market is expected to decline marginally by 2021. This is because the modernization programs for major markets in the region such as Brazil and Venezuela are expected to be finalized by 2018.
Recent defense budget cuts in countries such as the US, the world's largest defense spender, have resulted in the cancellation of large scale programs such as the country's contract with Bell Helicopter to build 500 small reconnaissance and attack helicopters. In 2009, the government also cancelled the contract for VH-71 presidential helicopters owing to overrunning costs. These cuts are not isolated to the US and are expected to adversely affect the demand for military rotorcraft globally.
Strong economic growth, territorial disputes, terrorist threats and modernization programs will create a significant demand for military helicopters in the Asia-Pacific region, which is expected to comprise 30.8% of the total military rotorcraft market by 2021.
The period of war in Iraq and Afghanistan resulted in many countries losing their existing fleet of helicopters either to maintenance issues or attacks from hostile forces. With the conflict on the verge of ending, many countries, such as the US and the UK, are now expected to increase their spending on replacing their fleets.
Global defense cuts, combined with a substantial increase in the cost of developing technologically superior weapons platforms, have encouraged collaboration between governments, services and industries. This has led to an increase in joint development and procurement programs, which are expected to continue over the next ten years. Similarly, technology agreements between countries manufacturing helicopters have been prevalent for many years and are expected to increase over the forecast period.
More information can be found in the report "The Global Military Rotorcrafts Market 2011-2021" by iCD Research.
To order the report or ask for sample pages contact ps@marketpublishers.com
Contacts
MarketPublishers, Ltd.
Tanya Rezler
Tel: +44 208 144 6009
Fax: +44 207 900 3970
ps@marketpublishers.com
www.MarketPublishers.com