Polish Road Construction Market to Grow Nearly 25% in 2011
19 Oct 2011 • by Natalie Aster

Activity in Polish road construction will peak in 2011 and 2012. Driven by substantial capital expenditure by the General Directorate for National Roads and Motorways (GDDKiA), the value of roadwork will exceed PLN 30bn (€7.5bn) already in 2011. Delays in the implementation of projects related to Euro 2012 and sustained investments in local roads will prepare the road market for the anticipated period of reduced spending on the construction of new motorways and expressways.
According to the report "Road Construction Sector in Poland 2011, Development Forecasts for 2011-2014" published by PMR, a market research company, following the growth exceeding 40% in H1 2011, the second half of the year will see a moderate slowdown in construction output generated by road and bridge projects. As a result, the value of roadwork projects in 2011 as a whole is expected to increase by nearly a quarter to just under PLN 31bn (€7.7bn).
The value (PNL bn) and change (%,y-o-y) in construction output generated by road and briidge construction in Poland, 2005-2011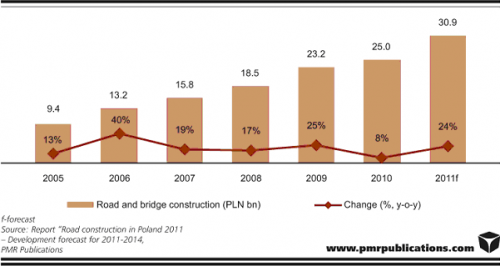 The value of projects completed by the road construction industry will peak in 2011 and the sector will report steady declines of several percent starting from 2012, which will be due to a lower number of motorway and expressway sections under construction. PMR researchers anticipate that the road construction sector will bottom out in 2014 when its output is expected to be a little more than PLN 19bn (€4.7bn). However, construction output generated by road projects can start to grow again from 2015, partly driven by the positive financial perspective for 2014-2020 benefitting Poland and at least one PPP motorway construction project planned around that date.
Due to numerous delays in the implementation of expressway and motorway construction projects, GDDKiA's plan providing for expenditure of PLN 33bn (€8.2bn) in 2011 is highly unfeasible. Accordingly, part of payments will be put off until 2012 and 2013. As a result of delays in the implementation of road projects, the road construction market will be less exposed to a shock resulting from a fall in the number of new large road construction contracts expected in 2013.
Report Details:
Road Construction Sector in Poland 2011, Development Forecasts for 2011-2014
Published: August 2011
Pages: 100
Price: US$ 2,846.00
According to PMR researchers, it is rather unlikely for expenditure on national road construction in Poland to fall back to levels recorded before 2007 when GDDKiA's spending was less than PLN 10bn (€2.5bn) annually, partly due to many legal incentives facilitating project preparation introduced ever since and more possibilities for obtaining EU funding. "Investment projects gained so much momentum in the last three years that there is hardly a way to stop them at this point", says Bartlomiej Sosna, Senior Construction Analyst at PMR and the author of the report.
In addition to GDDKiA's dwindling budget, in 2011 the road market will be adversely affected by investment projects undertaken by licencees, which will fall to virtually zero in 2012 (two large PPP projects are scheduled for completion by the end of 2011). New projects by private licencees will not start earlier than 2014, depending on the success of negotiations concerning the construction of a 140 km Tuszyn-Pyrzowice section of the A1 motorway.
Since spending on national road investment projects is anticipated to fall after 2012, funds expended under the local road reconstruction programme, which will be continued in 2012-2015, will gain more significance as a source of funding for road projects. The fact that the programme will go on is very good news, especially given the anticipated reduction in the number of large road construction contracts. It is possible that local contracts will increasingly attract large construction companies which have access to free capacity in a given region.
"We are also of the opinion that the standing of smaller companies involved in road work can improve on the back of the expected increase in investment spending in the power construction industry, which is expected to be the key growth driver for the civil engineering construction market in Poland in the future. A large number of power construction projects scheduled after 2013 would greatly enhance books of orders of the major civil engineering construction companies. As a result, these companies would be able to employ medium-sized providers of road construction services as subcontractors in future road work contracts. However, if power projects are not launched or if there are any delays in their implementation, the large contractors will perform nearly all future road work contracts exclusively using their internal resources, as they will have to face thinner books of orders and maintain workforce numbers. Were this scenario reality, it would be put an end to many medium-sized companies operating in the road construction market", adds Bartlomiej Sosna, Senior Construction Analyst at PMR and the author of the report.
More information can be found in the report "Road Construction Sector in Poland 2011, Development Forecasts for 2011-2014" by PMR.
To order the report or ask for sample pages contact ps@marketpublishers.com
Contacts
MarketPublishers, Ltd.
Tanya Rezler
Tel: +44 208 144 6009
Fax: +44 207 900 3970
ps@marketpublishers.com
www.marketpublishers.com