Mobile Payment: Operator Strategies, Opportunities and Challenges Report 2011
11 Oct 2011 • by Natalie Aster

The success of any technology or system is dependent on a number of factors. Among them, for example, are the needs and demand for the proposition in the market, the benefits offered to consumers, investment in further innovation and harmonisation to prepare for mass adoption, and the way it is marketed to varying market segments. The capability to support and compliment existing technologies is also important to make a new technology a success. M-payment has been in the market for a while now, and is implemented in different forms and methods worldwide. A number of trials and studies, cited in the report "Mobile Payment: Operator Strategies, Opportunities and Challenges Report 2011" by Visiongain have shown that m-payment is working successfully and will be adopted by mass adoption.
Report Details:
Mobile Payment: Operator Strategies, Opportunities and Challenges Report 2011
Published: August 2011
Pages: 124
Price: US$ 2,461.00
Report Sample Abstract
M-payment Revenue Growth
Visiongain believes the m-payment market is set grow rapidly from 2011 to 2016. The global m-payment volumes are expected to reach $ 556 billion by the year 2016. The growth in m-payment transaction volumes is owed to the ever increasing number of mobile subscribers which is expected to reach 6.4 billion by the year 2016. The number of m-payment users is expected to grow from 140 million by the end of 2011 to 750 million by 2016.
Repeated studies have proven that there is a considerable consumer demand, potential for consumption, conducive industrial environment and the commitment on part of its stakeholders to make this growth happen. The issues which need urgent attention and redressal at this point by the industry are the lack of standardisation and guaranteed security solutions.
While on analysing the regional growth of the m-payments market, it can be seen that Western Europe will grow the most rapidly at 37.3% per annum from 2011 to 2016 closely followed by Asia Pacific at 31.3% CAGR which occupy the largest market share in the global m-payments market (50%). Developed m-payments markets of Asia Pacific like Japan, South Korea and Taiwan and upcoming markets like China and India are responsible for the fast growth of the region in m-payments. In 2010, 50 million Japanese consumers adopted NFC technology on their handsets for varied payment options. It is expected that India and China's largest mobile subscriber base (China's 859 million and India's 800 million in 2010) will result in mass scale adoption of this technology.
Where will this growth come from?
The growth projections for the m-payments market are a very conservative estimate of the global m-payment market. The true potential of the technology will be revealed after its adoption in different parts of the world. Since the m-payments technology is still in its nascent stages, wide scale adoption will reveal the true potential of this industry. As is true with any technology, once the adoption of a technology begins, it hardly takes time to explode throughout the world. A similar phenomenon was observed when the mobile phones were first launched into the market. Another example good example is SMS banking which has been implemented for the greater part of the last decade, and almost all banks in regions such as the Asia Pacific employ this method of interaction with their customers.
NFC Technology – In the Lead
NFC has been very popular mobile payment technology so far and it continues to be the most discussed. Companies like Apple and Google have shown interest in implementing NFC for mobile payments in 2011. Apple is said to be planning on integrating NFC into iPhone 5, and that Google will begin testing NFC technologies in New York and San Francisco this year. Many restaurants and big-box retailers including McDonalds, Starbucks and Wal-Mart, have already implemented NFC point-of-sale (POS) terminals.
A key advantage of NFC lies in its security benefits. Data exchanged between two NFC-enabled devices can be encrypted using Advanced Encryption Standards (AES). This is especially important in terms of a mobile wallet, due to the exchange of personal financial information. Many NFC systems also use time-based tokens for security, meaning that the credit card number changes every few seconds. Chart 6.2 below shows forecasts of mobile NFC transaction value.
Mobile MFC Transaction Vaiue Forecost 2010-2016 (US$ Billions)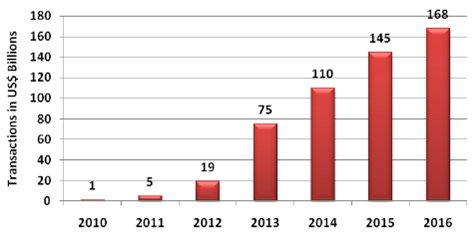 Source: Visiongain
More information can be found in the report "Mobile Payment: Operator Strategies, Opportunities and Challenges Report 2011" by Visiongain.
To order the report or ask for sample pages contact ps@marketpublishers.com
Contacts
MarketPublishers, Ltd.
Tanya Rezler
Tel: +44 208 144 6009
Fax: +44 207 900 3970
ps@marketpublishers.com
www.MarketPublishers.com