Semiannual IPTV Global Forecast Shows Robust Growth to 2015 Using Multi-Screen Services
01 Sep 2011 • by Natalie Aster

San Jose, CA — MRG Multimedia Research Group, Inc. reports that the global IPTV market will grow to US$49 billion in service revenues and 113 million subscribers in 2015—as multi-screen video usage drives wireless services to new highs. Systems revenue for the 7 key CapEx IPTV products analyzed will grow to US$4.8 billion in 2015, with STBs (set-top boxes) representing about 60%.
As consumers add Wi-Fi for using smart devices within their homes, market growth continues largely due to trends toward mobile lifestyle habits of 18-55-year-olds.
Based on semiannual updates of major global Operators and their differentiating services and updated subscriber counts, Europe remains ahead of Asia in 2015 in IPTV subscribers, partially due to continued regulatory confusion in Asia. By 2015 worldwide, at least 25 IPTV Operators will have over 1 million subscribers, with 9 having over 3 million, the U.S. having 2 Operators with over 7.5 million each and Europe having 12 IPTV Operators with over 1 million each. In a country-by-country analysis, Eastern Europe shows noteworthy resilience and innovation as illustrated by Romania's 141% subscriber growth over one year ago.
Smart TVs are still not impacting overall STB penetration, due to difficulty of TV makers in getting enough content-rights and due to the slow replacement cycle of TVs in most parts of the world (making Smart TVs obsolete for new services). Generally IPTV Operators are using integrated hybrid services (merging Satellite, DTT [Digital Terrestrial], IPTV and OTT [Streaming Video]) both defensively and offensively, often using a combination of these to supplement their IPTV services in an integrated EPG. By offering integrated hybrid services, IPTV Operators are able to offer additional integrated services not available on Smart TVs. Vodafone Germany, for example, is offering IPTV and Satellite, while using Broadband to offer VOD. In Australia, Telstra is using DTT for linear TV and the customers' Broadband service to deliver (streaming) movies from its BigPond service.
The report "IPTV Global Forecast: 2011 to 2015" by MRG Multimedia Research Group, Inc. incorporates the most recent information on current IPTV deployments around the world, as well a forecast for IPTV subscribers, service revenue, and system revenue from 2011 to 2015. Also included are trend analyses and updates on key Operators in the four geographic regions covered.
The report breaks down the IPTV ecosystem into nine industry segments: DSL Subscribers, IPTV Subscribers, Access Systems, Video Headend Encoder Systems, Video-on-Demand Server Software Licenses, Set-top Boxes, Middleware Software Licenses, Content Protection/Digital Rights Management (CP/DRM) Software Licenses, and System Integration and Professional Services.
Report Details:
IPTV Global Forecast: 2011 to 2015
Published: August 2011
Pages: 129
Price: US$ 5,200.00
Report Sample Abstract
Figure 1-1: Global IPTV Subscriber Forecast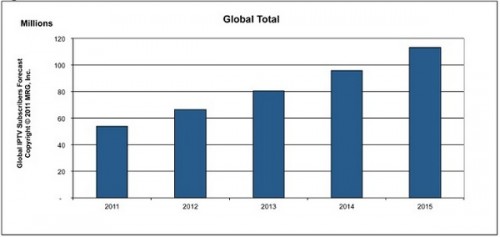 Source: Copyright© 2011 MRG, Inc.
In summary, the number of global IPTV subscribers will grow from 54 million at the end of 2011 to 113 million in 2015, a compound annual growth rate of 20.3%.
This forecast contains the latest data on worldwide IPTV subscribers as of Q1/2011, which reflects the Q4/2010 numbers. As such, the 2011 numbers are forecasted based on recent subscriber growth, or actual IPTV usage. Many Service Providers have seen very good growth, especially those that have been in business for a number of years and have millions of subscribers. In addition, countries like Canada and Australia officially began their IPTV services in the last year, and other smaller providers in Eastern Europe and Rest-of-the-World have begun to see some growth as well. The worst of the worldwide financial crises seems to be over, but it did dampen the growth of subscribers from 2008 into 2010. However, as the world recovers from the struggling economy, Service Providers are still showing impressive financial results and commitment to building out Broadband and IPTV services. Because the forecast looks at very detailed regional and country-based analysis of individual Service Providers, the forecast continues to be both conservative and reflective of current market conditions.
For worldwide DSL subscribers, this report is forecasting that the number will grow from 328 million in 2011 to 367 million in 2015, a compounded annual growth rate of 2.8%. These DSL subscribers are part of the main foundation for the IPTV subscribers in Figure 1-1. DSL growth projections have decreased slightly for this report, in order to align with recently reported DSL rates around the world. In general, the growth of Fiber connections globally is acting as a driver for video services.
Overall, the service revenue forecast for the global IPTV market, as shown in Figure 1-2, is US$22.4 billion in 2011 and is forecasted to grow to US$49 billion in 2015, a compound annual growth rate of 21.7%.
Figure 1-2: Global IPTV Service Revenue Forecast (US$)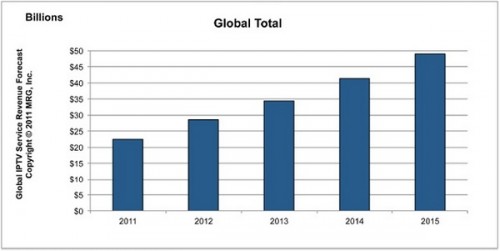 Source: Copyright© 2011 MRG, Inc.
The IPTV-related CapEx items tracked by this report are forecasted to grow from US$3.2 billion in 2011 to US$4.8 billion in 2015. Additional related (un-tracked) CapEX items are estimated at least $3 to $5 billion additional per year for the same period.
More information can be found in the report "IPTV Global Forecast: 2011 to 2015" by MRG Multimedia Research Group, Inc.
To order the report or ask for sample pages contact ps@marketpublishers.com
Contacts
MarketPublishers, Ltd.
Tanya Rezler
Tel: +44 208 144 6009
Fax: +44 207 900 3970