Smartphone OS Reviewed in New Market Analysis Published at MarketPublishers.com
15 Aug 2011 • by Natalie Aster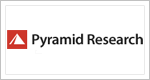 Back in April, when we suggested that the sell-through of NFC-enabled smartphones would reach only 11.5m in 2011, our projection was considered conservative. At the time, it was 10 times lower than that of NXP's NFC phones shipments estimate. Several days ago, NXP decreased its initial projection of 70m-100m units to 40m (or "slightly" less).
We're still not seeing the handsets, though, so even 40m sounds too optimistic. The Samsung Galaxy S II was initially supposed to ship as NFC-enabled, and it ended up being shipped without this functionality (we'll see the NFC version later this year). And although RIM has said that most of its new phones this year would be NFC-enabled, it seems that only the Bold 9900 will ship with NFC functionality from the start, at the end of August.
In our Q2 projections, we increased our initial 11.5m NFC-enabled smartphone unit sell-through to a still very cautious 17.5m for 2011 (see Exhibit) Most of that adjustment is due to our overall upward adjustment of total smartphone sales globally, based on Q2 reports from some of the largest OEMs and MNOs. Some of the increase can be attributed to a few recent events that can be interpreted as positive signs when it comes to the NFC-enabled smartphone market — e.g., Sprint started offering the Nexus S 4G for $99 on a two-year postpaid plan, and it seems that the US market will see a Galaxy S II model with NFC chip installed (not enabled though) later in August.
Projected sell-through of NFC-enabled smartphones, 2011-2015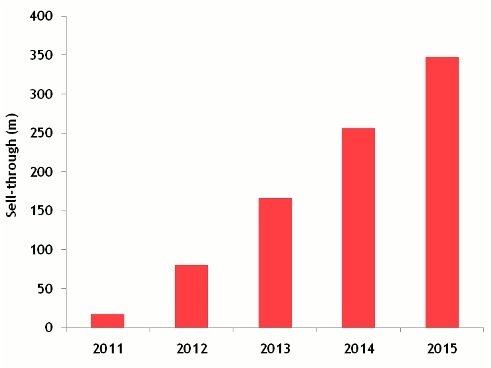 Source: Pyramid Research Smartphone Forecast Q2 2011
So, why exactly are we seeing this reluctance on behalf of OEMs to ship smartphones with NFC chips installed? The answer is simple: Nobody is ordering them. While there is still much ado about NFC services in the mobile world, particularly after the launch of Google Wallet in the US and the announcement that it would be launched in Europe in 2012, mobile service providers are not yet sure where the money will come from if they start offering NFC-enabled services and, more importantly, how much they will earn from these services. In other words, whether NFC services will be a revenue generator or just a necessary part of MNOs' service portfolio for bare survival is still an unknown.
In this murky situation, and given the stringent budget constraints under which service providers are operating these days, the NFC market has come to a standstill. Operators cannot launch the services unless they have attractive devices to support them, but they can't order the devices from OEMs because their return on investment from launching the services is uncertain. This catch-22 is causing a lot of internal turmoil for mobile service providers. The heads of handsets and heads of NFC/mobile commerce/innovative services (call them what you want) are not likely to be on good terms these days. Our advice for them is: Shake hands, guys, and hurry up. The almighty Google is coming!
Related resources:
Smartphone Operating Systems: Ecosystem Analysis and Trends Shaping the Future of the Global Smartphone Market
Research Report published June 2011
In this report, Pyramid Research analyzes the current state of the smartphone market segment, focusing specifically on the developments taking place in the OS arena.
Mobile App Stores: A New Mobile Web
Research Report published June 2010
Provides in-depth, up-to-the-moment analysis of the mobile content marketplace, focusing on the app stores of major market players such as Apple, Nokia, Research In Motion (BlackBerry), and Microsoft, as well as operator app stores.
To order the report or ask for sample pages contact ps@marketpublishers.com
Contacts
MarketPublishers, Ltd.
Tanya Rezler
Tel: +44 208 144 6009
Fax: +44 207 900 3970