Trends in Weight Management 2011
14 Jul 2011 • by Natalie Aster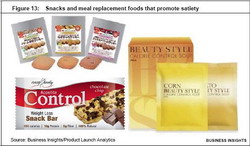 "The growth of obesity in has increased significantly from 15% in 1980 to 46% in 2010 in the US and from 7% to 15.5% in 2010 in the EU. This equates to 150 million adults and 15 million children in the EU expected to be obese by 2010 according the WHO. The US and France have the highest populations of overweight men, and the US of overweight women."
The report "Trends in Weight Management 2011" by Business Insights considers global obesity and overweight statistics and considers how different products and diets affect the body's natural weight control mechanism. The report also examines current health claims regulation for food and drinks and explores recent developments in diet brands, key innovations in functional foods and other strategies such as novel delivery methods and using social media.
Of the total number of claims assessed by EFSA, weight management represents around 4%. About 35% of the 200 weight management claims have been assessed; 92% of these assessed claims have been given a negative opinion by EFSA on grounds of characterization or of substantiation related to the claim of a cause and effect relationship.
With more stringent regulations in the US and EU there is a decline in real innovation. Opportunities for weight management plans and diet systems are becoming apparent as regulations seem to be real less restrictive when exercise and sensible diet plans with realistic weight loss claims are marketed as part of the total weight management solution.
Report Details:
Trends in Weight Management 2011
Published: June 2011
Pages: 118
Price: US$ 4,795.00
Report Sample Abstract
As in Europe there are typically 4 types of claims related to health and nutrition labeling including dietary guidance; nutrient content claims; structure/function claims, and health claims. The most widely utilized in the weight management category are structure / function claims. These are claims, which describe the role of substances that affect the normal structure or function in humans such as "calcium supports strong bones and teeth".
Health claims can be made on foods (including dietary supplements) as long as they are backed by science and based on reduction of disease risk. All claims must not suggest the treatment, mitigations or curing of a disease otherwise they would be classified as a drug. The FDA exercises its oversight on health claims in three ways:
The FDA issues a regulation for claims, which involve significant scientific agreement (SSA). If the strength of the relationship between the substance and decreased risk of a disease reaches the level of significant scientific agreement (SSA), the Nutrition Labeling and Education Act of 1990 (NLEA) 24 provides for the FDA to issue regulations authorizing health claims 25.
The FDA prohibits or modifies, by regulation, a health claim that is submitted based on an authoritative statement from a scientific body of the US government or the National Academy of Sciences.
The FDA issues a letter of enforcement discretion for qualified health claims26.
Food and drinks products targeting weight management
Apart from new product development utilizing specific branded ingredients, or employing novel applications of ingredients for weight management, there were a number of launches of food and drinks products that claim to help consumers manage their weight through biological mechanisms such as satiety, thermogenesis, absorption, stimulation, or metabolism. In particular, there were trends towards more convenient and easily accessible weight management products, with simple, easy-to-understand benefits.
HABA Laboratories Inc Haba Lohas Club Cookie low-calorie diet support cookies have been jointly developed by HABA and Lohas Club, an organization aiming to encourage a sustainable lifestyle. The cookies are made with whole soy flour, dietary fiber derived from soybeans, and organic palm oil which contains zero fatty acids, as well as with various fruit and vegetable additions, depending on variety. It is recommended that the cookies are consumed with a drink because dietary fiber can absorb liquid and expand in the stomach, which provides a satiety effect.
Another innovation is a low calorie food that is eaten before a meal to inhibit appetite and hence reduce the amount of calories taken from the meal. The "FullBar", which is recommended to be eaten 30 minutes before every major meal, has been launched in the US. It was created by bariatric surgeon Michael Synder and claims to be "inspired by weight loss surgery principles". During bariatric or lap band surgery, a device is installed to constrict the stomach. The result is that when food is ingested, it stretches out the upper part of the stomach, telling the brain that enough food has been consumed. The principle is that when using FullBar products, the stomach fills up on less food, resulting in a feeling of satisfaction with smaller amounts of food.
Key trends in diet plans
Licensed products have long been a core strategy for diet plan brands, and branded diet varieties of ready meals, sweet and savory snacks, desserts, cereals, and drinks, as well as other food items have long been available and continue to enjoy incremental new product development, mostly in terms of new flavor varieties. For example, licensed products form a significant part of Weight Watchers International's revenue (their 2010 Annual Report attributes $88.6 million in revenue sources to Licensing, franchise royalties, and other revenue streams), and are commonly found in supermarkets worldwide alongside regular products.
Within the licensed product space, innovations in convenience and snacking is a particularly significant trend in weight management, and there has also been some recent innovation in meal replacement products. The use of consumer technology to offer consumers a range of weight management tools to complement their diet plan is a key trend that is driving loyalty and uptake of branded diet plans, and there is continued innovation of diet products and diet plans endorsed by celebrities.
More information can be found in the report "Trends in Weight Management 2011" by Business Insights.
To order the report or ask for sample pages contact ps@marketpublishers.com
Contacts
MarketPublishers, Ltd.
Tanya Rezler
Tel: +44 208 144 6009
Fax: +44 207 900 3970