ROAD CONSTRUCTION: Dutch Expat Brings Sec0ndhand Asphalt to Baltics
20 Jun 2011 • by Natalie Aster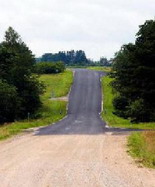 What do you do if you have a booming business in Dubai – only to see it hit hard by the recession? Dutch expat Piet Duivenvoorde has a somewhat unusual answer: sell it and start a new business in Latvia. And, even though he started in the very height of recession, his business is now picking up speed.
Duivenvoorde's business is somewhat unusual, too. His company BME Trading brings secondhand asphalt from the Netherlands to the Baltics, selling it as a cheap construction material.
"The Netherlands is upgrading its roads to a new material: open asphalt concrete," says Duivenvoorde to news2biz. "When it rains, the water goes out between the stones, so when you drive on it, it is not slippery. To put on the new material, they have to take off the old one. Or, when they repair the roads, they still have to remove the surface. This is what we buy and later re-sell in the Baltics."
"Normally, road construction materials cost about seven to ten euros per metric ton," he says. "We have a price from two euros a metric ton, so customers are very interested to buy our material – it is very cheap, but the quality is comparable to what Latvia has here."
The asphalt is brought to the Baltics by ship, and, given the weight and the bulky nature of the material, Duivenvoorde points out that there is really no other way how to do it. "I work with shipping companies who bring cargo from the Baltics to the Netherlands. Now, they do not go back empty; they carry the asphalt. This way, it is really cheap to bring the material here, so we can sell it at a low price."
Empty niche
The company entered the Baltic market in the peak of recession, back in 2009. "When I came to Riga and talked to a businessman who wanted to sell his port, I saw that it is simply a sand construction, with no concrete covering," explains Duivenvoorde. "So I asked: do you want to sell this sand construction? He replied: yeah, it just costs too much to cover it. I remembered that there is this material in Holland, so I started acting on it. It took me nine months to get all licences – both from the Dutch government and the Latvian."
There have been numerous horror tales about the perils of Latvian bureaucracy, but Duivenvoorde says that his experience has been pretty straight-forward. "I had very good experience with the state institutions. We informed them what we plan to do, which European rule covers it and also explained that this material is licenced for use within the European Union. As Latvia is bound by the same regulations, everything was really done for them. All I really needed was just some stamps and a licence."
After the initial paperwork and the first site, Duivenvoorde claims, the business really took off. "When we had finished our first project, people saw it and asked – where did you get this material? Our clients referred them to us, and that is how the word spread."
BME Trading's other projects include the Port of Salacgriva, which bought some 50,000 tonnes of the material. The new covering has significantly improved the port's storage facilities, and, seeing the results, the Salacgriva municipality has decided to use the material on some of its roads.
Of course, the business idea sounds so lucrative that one just has to ask about competitors. Says Duivenvoorde: "Yes, I do have competitors – and they are my previous clients. I first signed contracts with my clients, but then they went – behind my back – to Holland, to meet my supplier. There are some Latvian companies who now deal with the Dutch suppliers directly."
"Now, I am a foreigner, so Latvians are more inclined to do business with other Latvians," he explains the peculiarities of the Latvian business environment. "On the other hand, they do not do everything by the book. I know the laws of Holland, they do not; this means that they can eventually be shut down."
BME Trading sold about one million tonnes of the material throughout the Baltics in 2009. In 2010, the figure had risen to two million. So far in 2011, the sales reach 0.5m tonnes.
The above news abstract has been taken from a bi-weekly newsletter to professionals doing business in Latvia "news2biz – Latvia".
To apply for the subscription or get more information please contact ps@marketpublishers.com
Contacts
MarketPublishers, Ltd.
Tanya Rezler
Tel: +44 208 144 6009
Fax: +44 207 900 3970