ENERGY & ENVIRONMENT - RENEWABLE ENERGY. Doranova Builds 4.7m cb.m Biogas Collection in Tartu
08 Jun 2011 • by Natalie Aster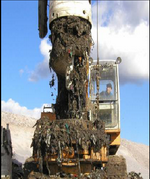 Doranova Baltic, a joint enterprise of the Finnish biotechnologies firm Doranova and the Estonian investor Mainor, builds to the closed Aardlapalu landfill near Tartu a biogas collection system that is able to produce 4.7m cb.m gas a year.
"Half of shafts are already drilled and we just started the installation of pipes," says Margus Nolvak, CEO of Doranova Baltic, to news2biz. "We expect the collection network to be ready in the end of July. At the same time, we start to install the gas compressing station."
The launch date of the biogas production system is early 2012, but according to Nolvak, it is possible that the system will be operational already before that date.
The biogas collection and production system is part of a EUR 6.5m project of closing down the Aardlapalu landfill. The works comprise compacting the landfill, constructing the gas and water collection systems, covering and greening the site, etc., and are in majority financed by the EU. The main contractor in landfill closing works is the Tallinn-listed builder Merko Ehitus.
According to the recent study made by Doranova Baltic, the estimated gas production of Aardlapalu landfill reaches 533 cb.m per hour – that is 4.7m cb.m a year.
"The gas can be used to power a co-production plant or biogas-fueled city transportation, for instance," says Nolvak. "Our task is to set up the system and launch it. Then, it is up to the Tartu city government, how and when the utilization of this gas source starts."
The Tartu city government has already started introduction of compressed natural gas (CNG)-fueled buses; five such vehicles hit the streets of Tartu in March. According to Doranova's calculations, Aardlapalu's gas production is sufficient to fuel 20 gas-powered buses.
In addition to the Aardlapalu project, Doranova is also building similar gas collection system in the closed Raama landfill in the county of Parnumaa.
"In fact, there are not many closed or operating dump sites in Estonia large enough to support commercial landfill gas production, and most of them have already installed the system or are in the middle of installing it," says Nolvak. "Installation of commercial gas producing systems in sites with the gas output of less than 100 cb.m per hour is not viable economically, for now."
Thus, Doranova Baltic sees a wider market for biogas production systems in the agriculture sector. Such systems can be installed next to large farms, and powered by manure, for example.
"In general, utilization of biogas in Estonia lags behind Western Europe, where such installations are a common sighting," says Nolvak. "In recent years, developers have been more active in launching wind farms. Operation of a biogas site is also a bit more complicated compared to the wind farm. Still, we expect biogas production to become more popular in the future."
Doranova, the Finnish parent of Doranova Baltic, was established in 1995. The environmental technology company turned over EUR 1.5m in 2009.
Doranova has also a subsidiary in Latvia. "We have participated in some procurement bids in Latvia, but without significant success," says Nolvak. "In fact, the sector is even more underdeveloped in Latvia than in Estonia at the moment. At the same time, Latvian renewable energy production subsidies are quite attractive."
The above news abstract has been taken from a bi-weekly newsletter to professionals doing business in Eastern Europe "news2biz - Energy and Environment".
To apply for the subscription or get more information please contact ps@marketpublishers.com
Contacts
MarketPublishers, Ltd.
Tanya Rezler
Tel: +44 208 144 6009
Fax: +44 207 900 3970