Iran and Saudi Arabia to Increase Caustic Soda Exports by 2013 According to Merchant Research & Consulting Ltd.
24 May 2011 • by Natalie Aster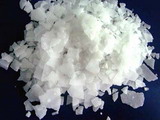 LONDON – Since several major producers in northeast Asia would not be providing caustic soda at the moment due to focusing on booming domestic market cargo availabilities are expected to be limited. That might tighten situation for some countries caustic soda market supply.
By 2013 the US would experience 23% decline in net exports. Most of the increase in net imports to South America has been satisfied by Northeast Asia. Exports from the Middle East are expected to increase by 2013 due to new chlor-alkali capacity in Iran and Saudi Arabia.
Detailed review and forecast on global, regional and country markets of caustic soda can be found in the new market research report "Caustic Soda: 2011 World Market Outlook And Forecast" that covers present situation, historical background and future forecast and addresses comprehensive data showing caustic soda capacities, production, consumption, trade statistics, and prices in the recent years are provided (globally, regionally and by country).
Report Details:
Caustic Soda: 2011 World Market Outlook And Forecast
Published: January, 2011
Pages: 630

The report indicates a wealth of information on caustic soda producers and suppliers, covers caustic soda production in the respective country, major caustic soda producers, caustic soda consumption in the country market, caustic soda trade in the country, caustic soda prices. Caustic soda market forecast for next five years, including market volumes and prices is also provided.
The study on Caustic soda has been completed by Merchant Research & Consulting Ltd, an internationally recognized market research agency, specializing in chemical industry. "Caustic Soda: 2011 World Market Outlook And Forecast" is included into the catalogue "Inorganics", which also highlights Ammonia, Ammonium Nitrate, Ammonium Sulphate, Carbon Black (BC), Chlorine, Potassium Hydroxide, Soda Ash, Sodium Chlorate, Sodium Sulphate, Titanium Dioxide, Urea markets.
Monthly report updates for "Caustic Soda: 2011 World Market Outlook And Forecast" are available at http://mcgroup.co.uk/periodicals/monthly
CONTACTS
Merchant Research & Consulting Ltd.
Julia Hill, Sales Manager
Tel: +44 20 7558 8740
Fax: +44 (20) 7900-3970
E-mail: j.hill@mcgroup.co.uk