Romania's IT market demonstrates growth in 2012

Report highlights expansion and opportunity; forecasts development 2013-2017.

The IT industry in Romania was profoundly affected by the economic crisis in 2009-2010. Since that time, it has rebounded and is on the upswing, offering opportunities to foreign and domestic investors, hardware and software providers, and suppliers of IT services. Interested businesses are in need of comprehensive and detailed coverage of the market, its major segments and the leading companies and their consumer and business oriented IT operations.

The professionals at PMR have prepared a document that includes recent data, in depth analysis and insightful forecasts for development of this market over the next few years. IT market in Romania 2013, Development forecasts for 2013-2017 describes market value, recent growth, and development trends that are currently in force, and examines the status and activities of 30 of the top IT companies.

This publication uses business models and case studies to illustrate successful business practices and strategic operations. It uses trusted news sources to provide coverage of significant events in the market that indicate growth and point to specific areas for business and investment opportunity in the market's three key segments: hardware, software and IT services provision. The market intelligence collected and presented in this document is essential to a wide variety of business activities, including new business development, M&A transactions, potential investment assessment, and planning a successful corporate strategy for the years ahead.

The report includes rankings of the top 100 IT companies active in the market, along with the 30 largest IT services providers, software developers and domestic hardware retailers and distributors. It addresses topics such as degree of observed recovery in each segment, sales of popular notebook brands, labour market issues (wage trends and employment) and expected public sector investment in Romania during the forecast period.

Forecast topics for the period 2013-2017 include development by segment, observations of experienced analysts familiar with this market, IT spending increases and the effects of current and emerging trends on Romanian IT in the future. The format of this report is comparable to that of other available PMR IT market publications covering countries such as Poland, Russia and Ukraine enabling side-by-side analysis of conditions throughout the region.

This document is a must-have resource for IT industry professionals engaged in the manufacture and distribution of computer systems hardware, software development and sales, telecommunications and networking services and equipment providers, and businesses supplying products and services in support of IT enterprises. Business services providers, such as consultants, analysts, research and academic professionals, as well as financial services specialists and government and trade analysts will also appreciate the convenience, reliability and comprehensiveness of this valuable publication.
I. METHODOLOGY

II. EXECUTIVE SUMMARY

III. OVERVIEW OF THE IT MARKET IN ROMANIA

IV. IT HARDWARE MARKET

V. IT SERVICES MARKET

VI. SOFTWARE MARKET

VII. LIST OF GRAPHS

VIII. LIST OF TABLES

IX. ABOUT PMR

In recent few years Romanian IT branch has been strongly affected by the poor macroeconomic situation in the country. The sector only slightly recovered after a dramatic slump in 2009 due to the financial crisis. IT outsourcing, software development and other IT export-related services, which have always been a strong point of Romanian IT companies and allowed them to report healthy results, have recently become even more important.
According to PMR, a market research and consulting company, the total value of the Romanian IT market as measured by the sum of domestic and foreign IT spending saw an increase of 6.6% in 2012. A year earlier the market had gone up by 7.5%. In 2013 we expect the growth rate of 4.8%, what would bring the value of the market above €2bn. Overall however, since 2008, when the market peaked at almost €2.5bn, domestic IT spending in Romania dropped by more than 40% and IT exports declined by almost 20% in 2009 due to the financial crisis that strongly impacted both public and private companies. In the consumer segment, IT expenses were among the first to be reduced, while companies also cut IT spending in an attempt to reorganise their business.
Total value (€ bn) and growth rate (%) of the domestic IT market and IT exports in Romania, 2007-2013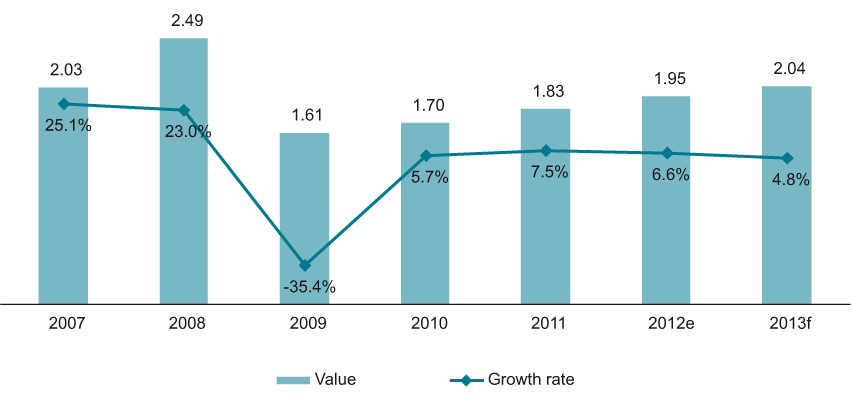 It is worth noting the Romanian IT market was highly affected by the dramatic decrease in direct foreign investments in the country, an obvious phenomenon that did great damage to the Romanian economy in the past couple of years. After five years of uninterrupted, consecutive growth in direct foreign investments, 2009 was the first year that saw a negative trend in this area. The total value of such investments in Romania plunged by 63% that year to an estimated €3.5bn and has been on a downward spiral ever since, as it decreased by 36% in 2010 and 14% in 2011, when the figure was five times smaller than the peak in 2008. This trend had a great impact on the IT market, one of the most attractive industries in the Romanian economy for foreign investors.
Key trends and events
Overall, the IT market was stagnant in 2011-2012, with only few companies, mostly among the largest players in the sector, recording growth in 2012. The decline in computer hardware sales continued to damage the business of IT distributors and retailers, diminishing expected growth due to growing sales in other segments of the market.
Several IT distribution companies went through turmoil as their businesses were temporarily shut down at the beginning of 2012 when they were suspected of tax fraud. Scop Computers, R.H.S Company and CNDPI Romsoft had their bank accounts and operations blocked by Romanian authorities for almost a month and while the first two managed to continue their business after this incident, the third distributor went bankrupt and disappeared from the market. The companies are still under investigation.
On a positive note smartphone and tablet sales exploded on the Romanian IT market as there was a significant gap in previous years and consumers that had previously postponed such purchases decided to make them in 2012. One important factor that needs to be taken into consideration is the fact that local producers entered this market with low-cost devices that sustained a big part of the growth recorded in this market segment. More than 150,000 tablets were sold on the market last year, while smartphone sales reached one million units, 70% higher compared to the previous year. PMR forecasts that in general portable computer sales will drive the domestic IT market in the next few years, although 2013 is still considered a difficult year for all market segments, as the public sector – the main spender on the market – still reduces its level of spending, a situation expected to change over the next few years. Between 2013 and 2017, the portables sector will have a CAGR of 7.5%, the highest in the entire industry, on account of the higher demand among consumers. By 2017, more than half of all revenues generated on the IT hardware market will be accounted for by portable computers, compared to 47% last year.
Last but not least, the IT industry saw several transactions last year, most of them on account of foreign investors' strategies to enter the Romanian market. The most important was the acquisition of 70% of the largest online retailer in the country, eMAG, by the South-African investment fund Naspers for an estimated €60m. Besides other assets Naspers also controls Allegro.pl, by far the largest online auction platform in Poland.
IT exports
Share (%) of domestic IT spending and IT exports in the total value of the IT market in Romania, 2007-2013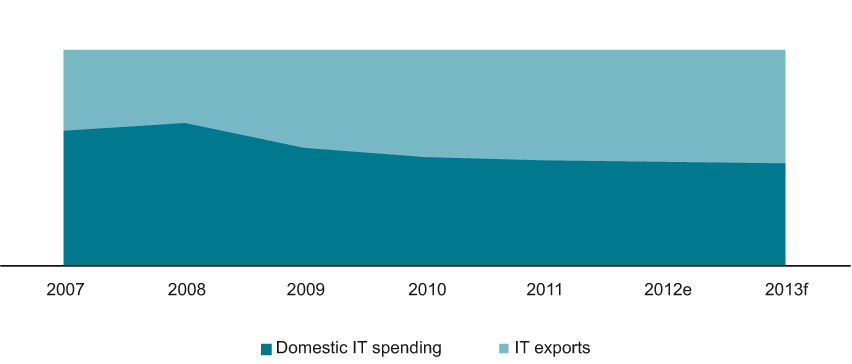 The software market in Romania still represents a small part of the local IT industry. Both corporate and public administration still allocate the most important part of their IT budgets to hardware components and infrastructure, while leaving software last on their list of priorities. Not surprisingly Romanian software and IT services providers seek for opportunities to sell its products and services abroad. Overall, IT exports in Romania surpassed €1bn in 2012, according to estimates from the Association of the Software and Services Industry in Romania (ANIS), a value that includes revenues associated with all types of IT services, among which are outsourcing services, call centre services, software development services or different support services related to IT. Export sales of software development outsourcing were about €150m last year, while export sales of IT outsourcing services crossed €850m.
The material was prepared in July, 2013.
Skip to top
Ask Your Question
IT Market in Romania 2013