Interest in Russia's IT market increases, keeping pace with recent growth.

New publication evaluates key segments; forecasts market development for 2014-2019.

Total sales of IT products and services in Russia were worth RUB 711.6bn (€16.8bn) in 2013. Last year we observed a qualitative change in market development. Short term projects dominated the corporate sector, and cost optimisation remained among the key business objectives. Russian business customers reduced purchases of new hardware and software licences and increased their spending on IT support and outsourcing solutions.

PMR has published IT market in Russia 2014, development forecasts for 2014-2019 to provide direction for businesspeople interested in this market. The report examines market value and the value of each key segment - hardware, software and IT services, forecasts growth for the next six years and tracks planned expenditures for the largest business and governmental entities.

This innovative publication describes the impact of influential trends upon market development, and examines the future potential of each major segment. It reviews investment opportunities and presents breakdown of IT spending by vertical sectors and industries.

The report also contains lists of companies that furnish hardware, software and IT services for Russian customers, with the breakdown as follows: 20 of the top software developers and vendors; 20 leading hardware manufacturers and distributors, 30 top outsourcing and IT services delivery companies and 100 of the most widely recognized IT companies active on the Russian market.

This document includes a wealth of useful statistical data and KPI that describes the market and key segments accurately in terms of value, size, current level of IT expenditure, top selling IT hardware products, software innovations and service offerings. It follows through with extensive analysis and reveals growth forecasts for each segment of the market that indicate which segments will surpass the others in terms of value.

Companies that are currently active in the IT market in Russia, such as distributors and manufacturers of hardware, software solutions development specialists and telecommunications services providers will benefit from reviewing this document, as will a variety of academic, research and business consultancy professionals. It is also extremely useful to companies that invest heavily in IT products and services in order to successfully conduct their own business operations.

IT market in Russia 2014, development forecasts for 2014-2019 is especially helpful when conducting a comparative analysis between the Russian IT market and neighboring markets in Central and Eastern Europe. The report was created with businesspeople in mind and is also a handy source of useful information when estimating the growth potential of the market and its various segments, preparing budgets for IT expenditure and forecasting demand for various types of business process software and hardware.

Don't miss out on this unique and innovative publication – order your copy now!
Methodology
Executive summary
Overview of the IT market
IT hardware market
IT services market
Software market132
List of graphs
List of tables
About PMR
In line with our forecasts presented in mid-2012, last year was the third consecutive period when the Russian IT market recorded a healthy double-digit growth rate. The market will slow down somewhat in 2013, but it is far from being stagnant.
IT market development and structure
The sales of IT products and services in Russia increased to RUB 678bn in 2012, which is 13.9% more than in the preceding year. The majority of the leading vendors, distributors and system integrators reported growth in their sales revenues in the country last year. The devaluation of the Russian rouble towards U.S. dollar is accountable for about half of the market growth. The Russian IT market depends on imported hardware and software, and IT project budgets are often composed to take into account the exchange rate with the U.S. dollar. Interestingly conversely when measured in the euro, the Russian IT market in 2012 almost reached €17bn, which meant a growth of as much as 16.4%.
Growth Rates (%) of the IT Market in Russia as Measured in €, $ and RUB, 2010-2013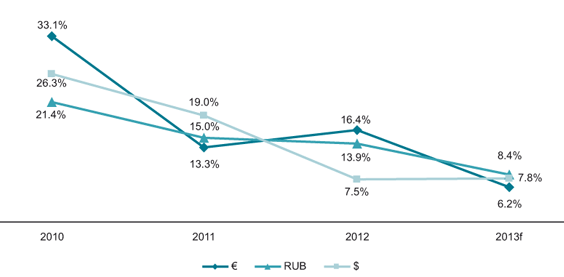 "We consider the Russian IT market to have been more balanced in 2012. The growth in the sales of IT services, software and hardware were comparable, and there were no sharp variations as we had observed in the past. We explained this balance by the fact that the Russian IT market is more mature and there is less space remaining for booming growth of sales in any segment. The positive expectations of consumers and businesses along with IT investments by the Russian government have an impact on the markets for specific IT solutions; however, none is able to boost sales by more than 10-15%" – comments Pawel Olszynka, Head ICT Market Analyst at PMR.
Value (RUB bn) of the IT Market in Russia Segments, 2005-2013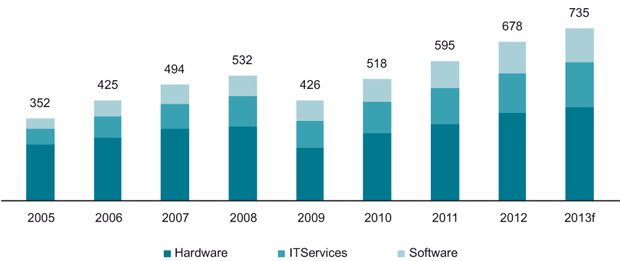 PMR considers that in 2012 the Russian IT market completed its post-crisis development cycle. Russian companies that had almost stopped investments in IT in 2009 then recovered in the second half of 2010 finalised their one-and-a-half to two-year IT investment programmes by the end of 2012. The projects launched by the government in 2010 also passed their development peak in the second half of 2011 and first half of 2012. As a result, in the second half of 2012 PMR observed a reduction in the growth rate and increasing uncertainty.
Last year, sales of IT outsourcing, support and maintenance services were quickly growing, driving the overall growth of the IT services share of the market. The forecast for outsourcing remains quite positive. On the other hand, the Russian IT hardware market is approaching maturity and system integrators see the development of outsourcing and support as a strategy for further business growth.
It is worth noting the Russian government has started to pay more attention to the development of the IT industry in the country. A measures to facilitate high-tech business in the country includes a reduction in the social tax for IT companies to 14% of gross salary (compared to 30% for other industries; the tax facilitations are planned to be in place until 2021) and financing technology parks. The financing includes primarily building new premises and infrastructure to host start-up companies. The tax facilitations are used by more than one third of Russian IT companies.
Macroeconomic situation impacts IT spending
One of the key factors that impacted economic development in Russia in 2011-2012 was the stability of oil prices. The average annual price of Ural brand oil was $110.5 per barrel in 2012 ($109.4 in 2011 and $78.2 in 2010). This strengthened the financial shape of the oil and gas companies and also increased revenues to the federal budget. However, the Russian domestic consumer market still has sufficient space for development, which attracts investments and drives the growth of local production. In 2012, industrial production in the country grew by 2.6% year on year. Agricultural production declined due to bad weather conditions in 2012. In 2012, the investments in the Russian economy increased by 6.6% year on year to the 2011 level and reached RUB 12.6tr (€315bn), or about 20% of GDP (including $27bn [€21bn] of foreign direct investments). Russia's foreign trade balance remains positive and was even growing last year, with $531bn in exports and $335bn in imports in 2012.
Key Economic Indicators in Russia – GDP Growth Rate (%, y-o-y), CPI (%, y-o-y), Unemployment Rate (%, end of the Year), 2003-2013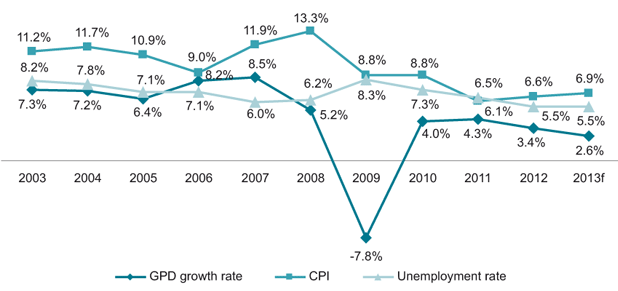 In 2011, economic growth in the country hit 4.3%, and in 2012 real GDP in Russia increased by 3.4% year on year. However, in 2013 the growth rate of the Russian economy declined. From January to April this year, real GDP increased by only 1.8% year on year compared to the corresponding period of the previous year and the forecast for 2013 does not exceed 3% year on year. In this situation, businesses in the country try to be accurate with their investment decisions, and that impacts the sales of IT solutions.
The material was prepared in October, 2013.
Skip to top
Ask Your Question
IT market in Russia 2014. Development forecasts for 2014-2019.