Explore growth potential in Polish VAS and multimedia services.

Report highlights top services, providers and predicts development to 2017.

Service providers need a reliable informational compass to guide them to success within the complex structure of this market. They seek data on value, structural mapping of the top-selling services and forecasts for market growth and expansion.

Professionals with interests in the Polish telecommunications market, in particular the VAS and multimedia service segments, will welcome the release of Value added and multimedia services in Poland 2013. Development forecasts for 2013-2017. This valuable compendium of market intelligence was prepared by PMR to help clients achieve a clear understanding of the market and perform a variety of business tasks quickly and accurately.

This publication provides reliable data on the value of the overall market and its numerous segments and a complete market analysis organised according to service segment: mobile Internet and marketing, interactivity, SMS payment services, applications, graphics, music and communities. It examines the current market share of Polish telecommunications occupied by VAS and multimedia and predicts expected changes for the next five years. Historical data on value and share enhance market understanding and supply a basis for reliable growth forecasts for each of the most popular service segments.

The report also investigates the pay TV segment in Poland, establishing the size of the subscriber base and providing exclusive forecasts for market growth as defined by access technology.

This document also focuses on leading service providers in the market by providing in depth profiles that reveal revenue totals as well as product offerings and other valuable information necessary to conduct reliable competition research.

Who will benefit most from the information provided in this exceptional publication? It was prepared with professionals involved in the Polish telecommunications market in mind, specifically those with interests in value added and/or multimedia services segments. Executives, marketers and managers of companies providing cable TV and ICT products and services will find it a valuable reference tool as they create business strategy, begin or expand operations and develop new product collections for offer to potential consumer and business customers.

Value added and multimedia services in Poland 2013. Development forecasts for 2013-2017 is also the perfect complement to the works of research and consulting professionals, academic and financial services specialists and industry-specific organisations that disseminate trade and commerce information to public and government entities and consumers.
I. METHODOLOGY

II. EXECUTIVE SUMMARY

III. OVERVIEW OF THE VALUE-ADDED AND MULTIMEDIA SERVICES MARKET IN POLAND

IV. MOBILE VALUE-ADDED SERVICES MARKET

V. FIXED-LINE VALUE-ADDED SERVICES MARKET

VI. MOBILE INTERNET MARKET

VII. PAY TELEVISION MARKET

VIII. LIST OF GRAPHS

IX. LIST OF TABLES

X. ABOUT PMR
In connection with the stagnation on the market of telecommunications services in Poland operators are focusing increasingly on the value-added and multimedia segment. Their action centres around the payTV segment and various types of value-added services in mobile telephony, including mobile internet.
In 2012 the value-added and multimedia services market in Poland saw a continuation of the growth trends it enjoyed in previous years. According to the PMR report "The value-added ad multimedia services market in Poland 2013. Development forecasts for the years 2013-2017", in 2012 operators' revenues from value-added services in mobile and fixed-line telephony and the mobile internet and payTV segment were 7% higher than a year previously, which took them over the PLN 10 billion mark.
Value (PLN m) and change (%) on the market of value-added and multimedia services in Poland, 2007-2012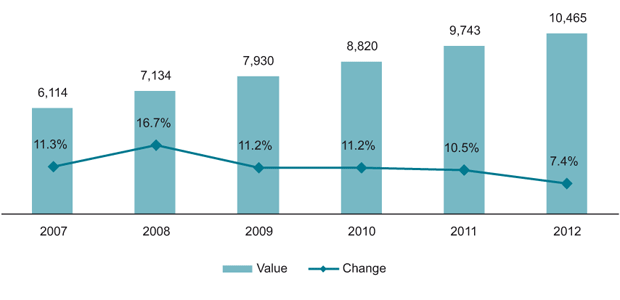 The biggest segment of the value-added and multimedia services market in Poland is the payTV segment. In 2012 this accounted for around two-thirds of the whole value-added and multimedia services market, and as such, of all such services, the impact of the performance of this segment on the wider telecoms market in Poland is the greatest. "There is a significant disproportion between the speed of growth in value of the telecoms services and the payTV markets. The value of payTV services is consistently rising robustly, while the telecommunications services market, following a slump in 2009, has spent the last three years mired in stagnation. This has meant that the payTV market has had a positive influence on the three major segments of the telecommunications market in Poland – internet, mobile telephony, and fixed-line telephony," says Zoran Vuckovic, one of the authors of the report.
Growth rate (%) of the telecommunications services and pay television market in Poland, 2006-2012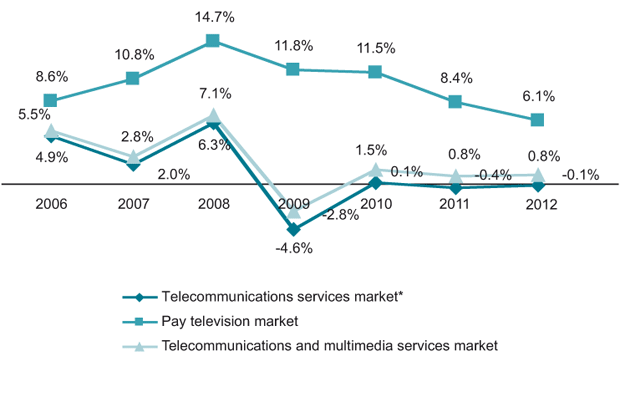 Unlike the telecoms services segment, the payTV market resisted the shrinkage even of the crisis year 2009, when it notched up almost an 12% increase in value. As such, then, the significant and steadily growing interest among telecoms operators in this segment is hardly surprising. Market integration is a two-way process. On the one hand telecommunications operators add payTV services to their product portfolios, while on the other, companies offering payTV services expand their product mixes to include services such as internet access, mobile telephony, and VoIP. This integration of the payTV and telecoms services market has grown into a major trend over the past few years. The telecommunications and multimedia services markets are growing closer and closer together, giving rise to a broader umbrella category that also includes payTV services.
The market for value-added and multimedia services does not stop with payTV, however. Another segment, which has been growing steadily for a number of years now and is having an increasingly strong impact on mobile operators' revenues (in the situation of falling MTR rates), is mobile internet. Importantly, though, owing to the shrinking prices of services in 2012, the value growth of this segment proved much lower than a year previously, in spite of steady growth in numbers of new users. Another major source of revenues for mobile operators is value-added services of various types, such as mobile music and GPS apps, and payment by mobile.
The material was prepared in November, 2013.
Skip to top
Ask Your Question
Value Added and Multimedia Services in Poland 2013