Colombia Defense Market - Attractiveness, Competitive Landscape and Forecasts to 2025
Colombia Defense Market - Attractiveness, Competitive Landscape and Forecasts to 2025
SUMMARY
Colombia Defense Market - Attractiveness, Competitive Landscape and Forecasts to 2025 report provides the market size forecast and the projected Compound Annual Growth Rate (CAGR) for the next five years. The report covers the industry analysis including the key market drivers, emerging technology trends, and major challenges faced by market participants. It also offers insights regarding key factors and government programs that are expected to influence the demand for maritime and border security market over the forecast period.
This report offers detailed analysis of the Colombian defense market with market size forecasts covering the next five years. This report will also analyze factors that influence demand for the industry, key market trends, and challenges faced by industry participants.
During the historic period, the Colombian government allocated an average of 3.7% of its defense budget to capital expenditure, which includes both the purchase of new equipment and upgrade programs for existing equipment. The rest of the budget was allocated to revenue expenditure, which includes salaries, planning, administration and training expenditure.
Military capital expenditure, on a cumulative basis, is anticipated to bewhich is anticipated to value US$2.2 billion over the forecast period. which is higher than the US$1.9 billion spent during the historic period.
Over the forecast period, the country is expected to invest in transport aircraft and multi-role aircraft, border security, infantry fighting vehicles, main battle tanks, self-propeleld howitzers, and frigates.
Over the forecast period, the Colombian defense expenditure is anticipated to increase at a CAGR of 4.58% to value US$12 billion in 2025.
The Colombian defense market has three major sectors: Multirole fighter Aircraft, Frigates and Military Aerospace MRO among others.
Over the forecast period, on a cumulative basis, Colombia is anticipated to spend US$2.2 billion on defense capital expenditure. In the coming years, demand for equipment is expected to mainly revolve around the procurement of multirole aircraft, naval vessels, transport aircraft, and the modernization of armored vehicles capabilities.
SCOPE
In particular, it provides an in-depth analysis of the following -
The Colombian defense industry market size and drivers: detailed analysis of the Colombia's defense industry during 2021-2025, including highlights of the demand drivers and growth stimulators for the industry. It also provides a snapshot of the country's expenditure and modernization patterns
Budget allocation and key challenges: insights into procurement schedules formulated within the country and a breakdown of the defense budget with respect to capital expenditure and revenue expenditure. It also details the key challenges faced by defense market participants within the country
Import and Export Dynamics: analysis of prevalent trends in the country's imports and exports over the last five years
Market opportunities:list of the top ten defense investment opportunities over the next 5 years
Competitive landscape and strategic insights: analysis of the competitive landscape of the Colombia's defense industry.
REASONS TO BUY
Determine prospective investment areas based on a detailed trend analysis of the Colombian defense market over the next five years
Gain in-depth understanding about the underlying factors driving demand for different defense and internal security segments in the Colombian market and identify the opportunities offered.
Strengthen your understanding of the market in terms of demand drivers, market trends, and the latest technological developments, among others
Identify the major threats that are driving the Colombian defense market providing a clear picture about future opportunities that can be tapped, resulting in revenue expansion
Channelize resources by focusing on the ongoing programs that are being undertaken by the Colombian government
Make correct business decisions based on in-depth analysis of the competitive landscape consisting of detailed profiles of the top defense equipment providers in the country.
The company profiles also includes information about the key products, alliances, recent contract awarded, and financial analysis, wherever available
1. INTRODUCTION

1.1. What is this Report About?
1.2. Definitions
1.3. Summary Methodology
1.4. About GlobalData

2. EXECUTIVE SUMMARY

3. MARKET ATTRACTIVENESS AND EMERGING OPPORTUNITIES

3.1. Current Market Scenario
3.1.1. Procurement Programs
3.1.2. Key Drivers and Challenges
3.2. Defense Market Size Historical and Forecast
3.2.1. Colombian aggregate defense expenditure, inclusive of US military aid, is anticipated to post a CAGR of 4.58% over the forecast period.
3.2.2. Defense and police expenditure excluding US aid is expected to increase over the forecast period
3.2.3. Equipment procurement plans and joint operations expected to drive defense expenditure over the forecast period
3.2.4. Colombian defense expenditure as a percentage of GDP anticipated to increase
3.3. Analysis of Defense Budget Allocation
3.3.1. Majority of defense budget allocated to revenue expenditure
3.3.2. Capital expenditure expected to increase over the forecast period
3.3.3. Key Trends and Market Insights
3.3.4. Per capita defense expenditure set to increase over the forecast period
3.4. Benchmarking with Key Global Markets
3.4.1. Colombia's defense budget isexpected to increase at a CAGR of 15.14% over the forecast period
3.4.2. Colombia's defense expenditure is low compared to European and other Latin American nations
3.4.3. Colombia allocates a significantlyhigh proportion of its GDP todefense
3.5. Market Opportunities: Key Trends and Growth Stimulators
3.5.1. Top 10 Defense Market Sectors by Value (US$ Million) - Projections over 2020-2025

4. DEFENSE PROCUREMENT MARKET DYNAMICS

4.1. Import Market Dynamics
4.1.1. Defense imports are expected to recover over the forecast period
4.1.2. Colombia sourced most its arms imports from Germany and the US
4.1.3. Naval vessels and aircraftdominated the country's military hardware imports
4.2. Export Market Dynamics
4.2.1. Arms exportsare low due to the under-developed domestic defense industry
4.2.2. Colombiaexported most its arms to Honduras and Guatemala

5. MARKET ENTRY STRATEGY

5.1. Market Regulation
5.1.1. Offset policy aids development of domestic defense industry
5.1.2. Colombia does not permit FDI in the defense industry
5.2. Market Entry Route
5.2.1. Direct selling is the preferred route for foreign distributors

6. COMPETITIVE LANDSCAPE AND STRATEGIC INSIGHTS

6.1. Competitive Landscape Overview
6.1.1. Colombian market share analysis

7. BUSINESS ENVIRONMENT AND COUNTRY RISK

7.1. Economic Performance
7.1.1. Gross Domestic per Capita
7.1.2. Consumer Price Inflation
7.1.3. Real GDP Growth Rate (%)
7.1.4. Government Budget Surplus/Deficit as a Percentage of GDP
7.1.5. Unemployment Rate as a Percentage of the Total Labor Force

8. APPENDIX

8.1. About GlobalData
8.2. Disclaimer


LIST OF TABLES

Table 1: Colombia's Ongoing Development and Procurement Programs, 2020
Table 2: Colombia's Future Procurement Programs, 2020
Table 3: Colombia's Defense Expenditure Including US Aid, 2016-2025
Table 4: Colombia's Defense and Police Expenditure Excluding US Aid (COP Trillion and US$ Billion), 2015-2025
Table 5: Colombian GDP Growth vs Defense Expenditure as a Percentage of GDP, 2016-2025
Table 6: Colombia's Defense Budget Allocation for Capital and Revenue Expenditure (%), 2016-2025
Table 7: Colombian's Defense Capital Expenditure, Excluding US Aid (COPTrillion and US$ Billion), 2016-2025
Table 8: Colombian's PerCapita Defense Expenditure (US$), 2016-2025
Table 9: Benchmarking with Key Markets, 2016-2020 vs 2021-2025
Table 10: Top 10 Colombian Defense Market Sectors by Value (US$ Million), 2020-2025
Table 11: Offset Regulations in Colombia
Table 12: Competitive Landscape of the Colombian Defense Industry
Table 13: Top Defense Suppliers in the Colombian Defense Industry By Value (US$ Million),2020-2025


Colombia's defense and security spending is set to reach US$12bn by 2025 as the country plans to maintain its core combat capabilities in response to the fragmented commands of insurgent groups, which have resulted in an ineffective enforcement of the peace, according to GlobalData, a leading data and analytics company.
GlobalData's latest report, 'The Colombian Defense Market - Attractiveness, Competitive Landscape and Forecasts to 2025' states that a large part of the planned funding is anticipated to be allocated to defense modernization, which is anticipated to spur defense spending at a compound annual growth rate (CAGR) of 4.58%.
Colombian Defence Expenditure (US$ Bn), 2016-2025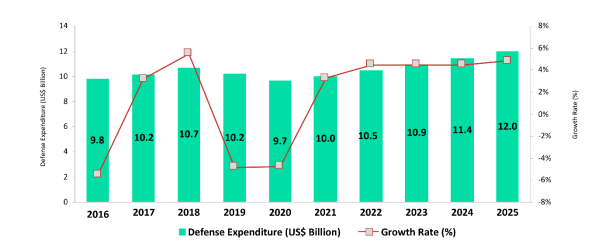 Abhijit Apsingikar, Aerospace & Defense Analyst at GlobalData, comments: "Colombia's defense and security spending has been traditionally driven by the need to curtail the influence of left-wing insurgent groups such as the ELN and FARC. However, with persistent reports of former rebels increasingly taking up arms again and resorting to drug trafficking, it is only prudent on behalf of Colombia's military to invest in the retention of combat capability."
Although the country's 2021 proposal elicits the government plan to increase spending by 13.4% to a value of around U$84.39bn (COP314 trillion), Colombia's defense & security spending, excluding US aid, is anticipated to remain relatively modest at approximately US$10bn, which is marginally higher than US$9.7bn recorded in 2020. Amid the COVID-19 crisis, rescuing the country's healthcare infrastructure takes precedence and the Colombian Government has already decreed to reassign up to US$26.9m (COP100bn) from the defense and security budget to the healthcare budget.
Abhijit adds: "There are several high priority programs that Colombia can be expected to take up soon. The FAC have aging KIFR fighters that are in dire need of replacement, the EC has relegated its M3 Stuart tanks to gate keeping duties and a new MBT is essential along with its plan to modernize artillery. It is expected the EC will focus on the induction of the Joya SAA-1 wheeled SPH, while the Navy will seek to upgrade its vessels as its frigates and corvettes reach end of service life."
---
---
More Publications