Assess the status of Russia's construction sector as of H1 2014.

Report describes new projects, top contractors; forecasts development to 2019.

What is the value of the Russian construction sector? How much is each of its key segments worth – residential, non-residential and civil engineering? Which of the country's federal districts will witness the most transport infrastructure development? How will upcoming regulatory modifications affect the industry? How many residential units will be completed by 2019? Which are the leading contracting companies at work in Russia? Which producers of building materials and construction machinery lead the field?

Construction sector in Russia H1 2014, development forecasts for 2014-2019, compiles the answers to these important market questions, plus many more, into a single, easy-to-access document that should be part of the research libraries of all professionals with interests in the large and complex Russian construction industry.

This timely report includes a comprehensive examination of the overall sector, its current and forecast values, employment, wages and prices, cement production, the competitive situation and the projects currently making market news and creating demand for the building materials manufacturers and construction machinery producers serving the industry.

The document examines the civil engineering segment of Russian construction, providing data on value and recent and upcoming ventures in transport and road construction, participating contractors and infrastructure development planned for the future and supported by government subsidies.

A section of the publication describes activity in the non-residential segment, including details about the projects and companies involved in the planning and construction of new retail, industrial and office space. Segment value data is also presented, along with forecasts for additional market growth during the period from 2014-2019.

The residential construction segment in Russia is also included in the evaluation and analysis, which presents the number of housing units scheduled for addition to the country's supply by 2019.

The report also provides two essential resources for construction industry professionals. Furnished in Excel format, Top 100 contractors in Russia provides the names, addresses, contact information, revenue and profit/loss details for the most prominent contracting businesses competing for projects in all federal districts of the country. The second resource, Top 200 planned construction projects in Russia, is also included with the purchase of this timely report. It offers an Excel data presentation of substantial projects planned for all major segments of the market, and provides project investor and contact data as well as details on project size and value and completion status.

Construction sector in Russia H1 2014, Development forecasts for 2014-2019 contains data, analysis and forecasts sought after by contractors, building materials, equipment and machinery manufacturers and distributors, designers and project managers, academics and professionals researchers and analysts and financial and investment specialists with interests in the Russian construction sector.

Purchase your copy of this valuable publication now, and base your decision making on market information you can trust.
Methodology
Executive summary
Construction overview
Non-residential construction
Residential construction
List of graphs
List of tables
About PMR
The Russian construction industry has recorded a strong slowdown in the last couple of years. According to preliminary data, Russian construction output contracted by 1.5% year on year in 2013, after a 2.4% expansion achieved a year before. It should be mentioned that during 2010-2011 the Russian construction sector posted at least 5% growth every year.
In 2013 the industry's growth performance deteriorated significantly. According to PMR, the key factors contributing to the decline in construction activity were:
poor economic growth performance, with GDP growth rate easing to 1.3% in 2013 from 3.4% a year earlier
lack of growth in fixed capital investments, which recorded a marginal 0.3% decline year on year
high base set after the strong recovery in 2010 and 2011.
Construction output in Russia (RUB bn) and real change (%, y-o-y), 2006-2013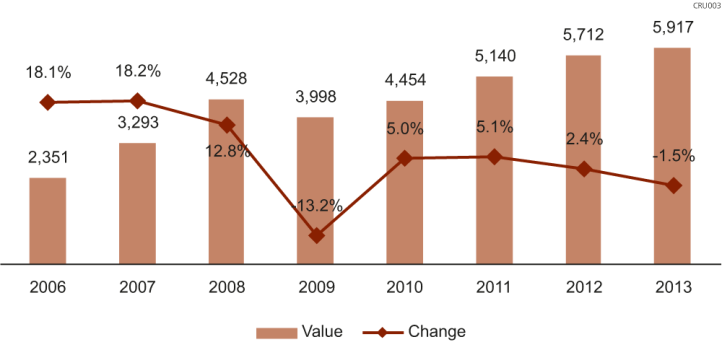 According to PMR, in 2013 the construction industry was dragged down solely by the civil engineering construction sector. Many new developments have been postponed, which has ultimately delayed the expansion of Russia's still struggling construction industry. A large share of civil engineering construction output is generated by state-funded transport infrastructure construction projects, as well as by incentives rolled out by companies in the oil and gas as well as in mining and metallurgical sectors. In 2013 about RUB 596bn (€14bn) was disbursed on the implementation of the 2010-2020 Transport System Development Programme, 0.1% less than what was allocated in 2012. However, the construction and assembly work price index amounted to 5.6% last year. Furthermore, the construction output in the Urals Federal District plummeted 13%, which is most likely due to a reduction in investments in oil and gas as well as metallurgy infrastructure-related projects.
The government-targeted programmes aimed at modernising the country's transport, energy and social infrastructure have played an important part in the construction industry's evolution in recent years. In addition, multi-billion projects implemented as part of the preparations for the 2014 Sochi Winter Olympics provided an additional boost to the market. In addition, a steady increase in real disposable personal incomes has supported a solid uptrend in the residential construction segment and in retail sales, which ultimately fuelled construction activity in the retail and service sector.
In 2013, 35 of Russia's 83 administrative regions recorded a decline in construction activity, whereas a year earlier the number of underperformers totalled only 25. The three most significant increases were recorded by Astrakhan Province (+210%), the Republic of Ingushetia (124%) and the Nenets Autonomous District (+62%), whereas the Republic of Chechnya (-55%), Chukotka Autonomous District (-50%) and Tver Province (-32%) were the least productive underperformers.
The slowdown in economic growth has accelerated in Russia since 2012, even though oil prices have been close to record highs and uncertainty over the prospect of the global economy, particularly over the European economy, has eased. Among the key factors inhibiting a more dynamic economic progress are poor transport infrastructure and a deficient power sector. In 2013 the World Economic Forum's 2013-2014 Global Competitiveness Report ranked Russia 93rd in terms of the quality of overall infrastructure.
Russia's positioning in the Global Competitiveness Report 2013-2014, by indicator

A programme published by the Ministry of Economy in Q3 2013 forecasting the social and economic development of the Russian Federation during 2014-2016 envisages its spending 2.5% of GDP on transport infrastructure in 2013. This figure is to remain unchanged in 2014 and 2015, and to be reduced to 2.4% in 2016. It seems to be a challenging target to achieve, taking into consideration recent performances. According to the OECD, investment in transport infrastructure projects in Russia accounted for somewhere between 1.1% and 1.5% of GDP every year during 2002-2011, except for in 2008, when this share stood at 1.7%. In addition, the projected spending on transport infrastructure for the period 2014-2016 was based on GDP growth rates of over 3%. Current projections envisage economic growth in Russia at below 3% during the next three years.
Revision of many state-funded infrastructure development programmes in the last couple of years have delayed implementation of an important number of transport and energy infrastructure projects planned for 2013. In addition, economic slowdown that has accelerated since 2012 has pressed many private investors to postpone or reduce projects planned for 2013. According to PMR, the civil engineering construction output is projected to post a marginal decline (-0.2%) in 2014, after a 4.1% contraction last year.
In 2013, the most notable performance was achieved in the residential construction sector. According to preliminary data, the number of new homes activated in 2013 increased by 10.3% year on year to 912,100, the largest amount in more than twenty years. In terms of floor space put into use in 2013, there was an increase of 5.6% to 69.4 million m², again the highest figure since 1989. It is worth noting that the highest yearly housing completion figure ever recorded in Russia was in 1987 (72.8 million m²). Still, Russia's population has fallen since then by nearly 2 million people.
The material was prepared in April, 2014.
Skip to top
Ask Your Question
Construction sector in Russia H1 2014. Development forecasts for 2014-2019.