Explore the prospects in Central Europe's clothing and footwear retail sector.

Report offers comprehensive market analysis and forecasts for development in 2015-2020.

What is the growth potential of the clothing and footwear retail markets in each of these countries - Bulgaria, Hungary, the Czech Republic, Poland, Romania and Slovakia? Which of these markets appear to be the most highly saturated? What trends are exerting the most influence on clothing and retail markets in Central Europe? Which international clothing retailers have been most successful on this market? Which are the largest local retailers? What is the current value of the CE retail market for clothing and footwear?

Clothing and footwear retail market in Central Europe 2015, market analysis and development forecasts for 2015-2020 delivers answers to all of these questions and more. This essential business information resource describes the top trends in clothing and footwear retail and provides expert analysis of their current and predicted impacts on the growth and value of the overall regional market as well as on markets in each of six countries.

The report also reviews the latest macroeconomic and demographic information, investigates forecasts, and evaluates the market in terms of key segments that are determined by merchandise price ranges. It furnishes news about the latest developments and events on the Central European clothing and footwear retail markets and analysis of the potential for expansion demonstrated in each country and each market segment.

Readers will benefit from the latest insight on the commercial real estate markets in each country and updates on current and upcoming projects that will result in the availability of new retail spaces. They will also appreciate the detailed profiles of top local, international and chain clothing and footwear retailers in Central Europe furnished by the report. These include data that describes company size, value and plans for expansion in the years ahead.

Clothing and footwear retail market in Central Europe 2015, market analysis and development forecasts for 2015-2020 is an all purpose information source that brings together data describing the current value, macroeconomic conditions and top distribution channels in this market, combines it with analysis of the prospects for growth and detailed forecasts and delivers it as a complete unit, directly to the reader's desktop.

Order your copy of this convenient and valuable document now!
Methodology
Executive summary
Macroeconomic overview
Clothing and footwear retail market in Central Europe
List of graphs
List of tables
About PMR
Continuing poor economic performance and growing uncertainty turned consumers' attentions in the region to different ways of saving on clothing and footwear. This poses a challenge for some, but creates opportunities for others, as reflected in the expansion of discounters, that extended their presence by over 60% in the region in the previous three years. Other trends on the market include the spreading of outlets and second-hand shops, as well as the increased focus on promotions and race-to-the-bottom pricing policies adopted by clothing and footwear (C&F) retailers. These are some of the conclusions of PMR's new report, Clothing and footwear retail market report in Central Europe 2013.
Central Europe is a heterogeneous region with regard to the clothing and footwear segment, but some trends remain similar, among others the crisis-driven aspiration of many consumers to cut back on spending, especially on such non-essential products as clothing and footwear. Many people simply postponed or cancelled their C&F purchases, which is mirrored clearly in volume growth statistics. Sometimes, however, refraining from buying is simply not an option, and in instances such as these consumers look for ways to save money. Fortunately, they have a variety of ways to do that.
Firstly, they may shop in clothing discounters. Such chains usually rely on a vast network of stores, offering low-priced but still acceptable quality assortments. Many of them design their own products and follow fashion trends. Then there are ways for those, who do not intend to give up on their trusted brands, as monobrand outlet stores offer branded products for lower prices. Even retailers, that do not wish to use any of the above mentioned distribution channels, are forced to compete with lower prices, which pushes them towards longer promotions with deeper price-cuts. Finally, there are second-hand shops, that collect and redistribute used, high quality, branded products from Western-Europe, the US or even Australia. This format is gaining popularity among more affluent customers as well, as they can find items there that otherwise would not be marketed in the CE region. These trends are present in all of the CE countries, but their respective popularity depends on the tastes of the local customers.
In Poland, for example, a rapid development of discount chains is observable in recent years. As a reaction to the growing consumer demand, the two largest players – South-African-based Pepco and local chain Textilmarket – increased the number of their stores very aggressively in the previous year. The two chains have already become the largest clothing networks in the country in terms of store count and are planning further intensive expansion. Other foreign discounters, such as German-based discount retailers KiK Textilien and Takko Fashion are present in Poland as well.
Number of Stores of Major Clothing Discounters in Selected CE Countries, December 2010 and May 2013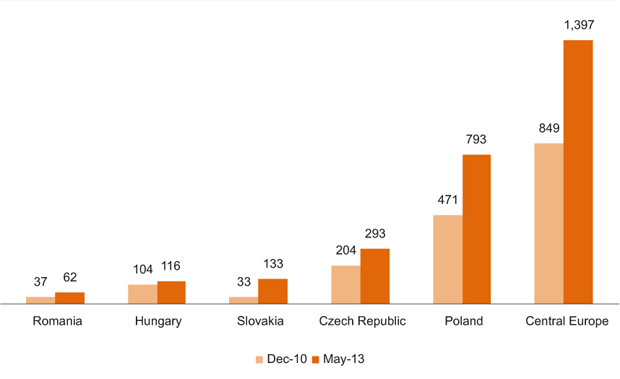 For those consumers who prefer branded products, the solution may be the spreading of monobrand outlets. There are two major concepts when it comes to outlets. On one hand, opening outlets enable retailers to cut prices of outdated product lines without affecting the sales of the newest assortment. On the other hand, it also makes tiering possible, as the physical separation of lower tier products in outlets does not ruin the whole brand image. It is also advantageous for consumers, as they get branded products for lower prices, even if they are from the previous collections. This trend also led to the emergence of specialized outlet shopping centres in Poland, such as the popular Factory Outlets in several larger cities.
In Slovakia, Poland's southern neighbour, price has become the top criterion when buying clothing and footwear products as well. Uniquely in the region, second-hand shops were subdued by hypermarkets and, more recently, discounters. The clothing discounter segment is dominated by foreign companies in Slovakia, German-based Kik Textilien and Takko were recently joined by Pepco here as well.
Something similar is happening in the Czech Republic as well, as we find the same clothing discounters on top of the store count charts. Pepco has also entered the market and there is a local chain called Eurolidovka, with similar business strategy as well.
In Hungary, the situation is different. Taking advantage of discounts has become the favourite strategy of Hungarian consumers in lowering their C&F spending. The monthly break-down of sales data shows that the strongest months in terms of year on year growth were the ones with seasonal discounts. The same trend was confirmed by retailers as well, who, on the other hand, expressed their concerns about the sustainability of the growing rate, length and frequency of promotions. Second-hand stores also gained popularity during the economic crisis, and their share among the distribution channels more than doubled between 2008 and 2012. Such chains are encouraging this trend by refurbishing their shops and moving them to higher-end locations.
As for the Balkans, in Bulgaria, the second-hand business is flourishing and even experiencing a renaissance. It is in the process of seizing the urban landscape. Interest among customers is growing rapidly, along with the number of stores. In Romania, people rather invest in quality products but at affordable prices that is reflected in the popularity of in-store promotions, discounts and the expansion of outlets.
Despite brightening economic conditions in some of the CE countries, these trends are likely to remain on the market in subsequent years and are expected to be among the drivers of growth in the Central European clothing and footwear segment.
The material was prepared in October, 2013.
Skip to top
Ask Your Question
Clothing and Footwear Retail Market in Central Europe 2015