Which factors are critical to the success of Poland's grocery retail market?

Report provides analysis of market influences and forecasts development for 2014-2019.

How much recent growth has been observed in the grocery retail sector in Poland? Which factors are responsible for the changes taking place? What actions have grocery retail companies taken in order to adapt to changing conditions? How have market shares among the top retailers changed? Which retailers are the favourites among consumers? How have Polish shoppers responded to change in the grocery retail market?

Which business publication contains the answers to all of these questions and more? Grocery retail market in Poland 2014, market analysis and development forecasts for 2014-2019 describes the market's leading players, their activities, market conditions and forecasts for the coming years. This publication is filled with historical data from past editions and astute analysis provided by experienced professionals familiar with all aspects of Polish grocery retail.

This report highlights the activities of major grocery retailers in Poland, while providing store counts and financial data and details on newsworthy mergers, acquisitions and other transactions. Full company profiles also contain strategic updates on plans for business growth and expansion and sales data per square metre of space operated by the nation's leading grocery retail chains.

The document examines current macroeconomic conditions in Poland and the changes that have developed as a result of significant market events. It delivers the latest news and events coverage, evaluations of the distribution network, its key channels.

The opinions and shopping habits of Polish consumers concerning topics ranging from changes in spending to favourite products and grocery retail companies are revealed in this report through responses to a special survey conducted by PMR. It also includes additional information about these retailers, such as market share, private label strategies, expansion strategies such as rebranding initiatives and ratio of shops to customers (in millions).

This report is especially vital to the grocery retail market activities of managers, marketing specialists and other grocery retail company professionals, manufacturers and processors of grocery products and suppliers of services and equipment used in retail outlets across Poland. It also presents a wealth of information that is useful to business consultants and analysts, financial and investment concerns and transport and logistics companies that service the grocery retail sector in Poland.

Grocery retail market in Poland 2014, market analysis and development forecasts for 2014-2019 provides answers to many commonly-asked questions about this large and complex market and its distribution network, as well as consumers and participating grocery retail chains. Purchase your copy today and discover how this valuable, economical business tool can help you to work more efficiently and your business to become more profitable!
Methodology
Executive summary
Macroeconomic forecasts – grocery consumption and retail trade
Value and growth of the grocery market in Poland
Selected large-area stores in voivodships and cities – trade map
Top companies on the retail grocery market in Poland
Profiles of the top companies and groups in grocery trade
List of graphs
List of tables
About PMR
The Polish grocery market slowed down in the first months of this year, but an improvement can be expected in the second half of 2013 in line with a general economic recovery, PMR's forecasts show. In 2013 as a whole, the Polish market for grocery products will top PLN 233bn, an increase of 1.5% compared with the year before, according to a new PMR report, "Grocery retail in Poland in 2013. Market analysis and development forecasts for 2013-2016".
The Polish grocery market has not gone unscathed by the global financial crisis. Although the scale of the economic slowdown in Poland was less severe than elsewhere in Europe, the downturn eventually took a major toll, cutting into incomes and consumption and affecting consumer behaviour. The unstable situation weakened Poles' purchasing power and sapped their spending optimism.
The year 2012 was largely a continuation of earlier trends. On the one hand, consumers became more price-conscious, but on the other hand, they remained unwilling to forego some of their favourite little pleasures even as they cut down on certain (non-grocery) purchases. However, the substantial deceleration of economic growth that occurred in the second half of last year, and particularly in the fourth quarter, had a direct and adverse impact on the grocery market, with many retailers (especially in the hypermarket segment) recording declines in revenues. The negative impulses persisted through the first half of 2013.
This was due to the cumulative effect of several factors. First, the Polish economy suffered from a deterioration of external conditions. Second, as the economic outlook grew increasingly uncertain, consumers felt a greater urgency to save. And third, the cost of living has been going up, which in a context of stagnant real incomes led to a fall in consumer spending.
A PMR survey carried out in July 2013 showed that fully 67% of adult Poles thought their spending on grocery items had increased as compared with a year earlier, with one in three describing the increase as significant. In the previous wave of the survey, conducted in October 2012, the percentages were 72% and 45%, respectively. This indicates that growing expenditures on necessities remain a big problem.
As a result, Polish consumers are becoming increasingly deliberate and thoughtful in their purchases, trying to manage their budgets in a rational way. One in two respondents in this year's survey said that they had changed their buying habits in the recent past, and one in three admitted that while they bought similar quantities than a year ago, they were paying more attention to prices.
Value (PLN bn) and growth rate (%) Of the Polish grocery market, 2011-2013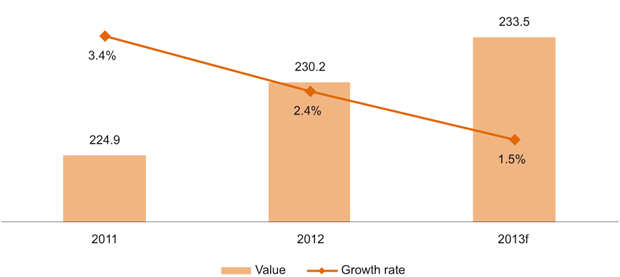 Retailers are taking note of these trends. They are increasingly building their long-term promotional campaigns around low prices, and are giving more importance to private label products, which are highly popular among consumers due to attractive prices.
In the early part of 2013 many retail chains recorded declines in sales revenues. Sales at Tesco, for example, slumped by over 8% in the first quarter. The slowdown eventually caught up even with Biedronka. While the discounter managed to keep its Q2 sales growth in positive territory, like-for-like sales were up by a meagre 2%, the worst result in a long time. The situation can be expected to improve towards the end of 2013, but the growth rates will not significantly exceed levels seen in recent years. According to our forecasts, in 2013 as a whole the market will grow by just 1.5%, to PLN 233.5bn.
The pace of the recovery is set to be slow as no significant positive stimuli are expected in the coming years, though new investments financed from the EU's 2014-2020 budget and resilient exports will, among other factors, protect the Polish economy from recession. Also, after a period of belt-tightening, spending on certain purchases can be expected to start growing again. According to our forecasts, in the years ahead the market will grow by about 3% a year.
The material was prepared in October, 2013.
Skip to top
Ask Your Question
Grocery retail in Poland 2014. Market analysis and development forecasts for 2014-2019.