Keep up with changes in Central Europe's grocery retail sector.

Report delivers forecasts, analysis of opportunities and expected development to 2015.

Retail market conditions in the Central European countries of Bulgaria, the Czech Republic, Hungary, Poland, Romania and Slovakia change often, primarily because the market is in the process of consolidation and fierce competition forces market players to constant innovation. Although economic conditions have influenced consumer spending in recent years, there is still a vast potential for businesses involved in food manufacturing, processing, retailer supply and transport and logistics to succeed in grocery retail in Central Europe.

Many professionals navigate the market using Grocery retail in Poland 2013, Market analysis and development forecasts for 2013-2015. This comprehensive resource of business information helps making sense of the latest legislative developments and market trends while offering solid statistical data and forecasts that are crucial to informed decision making in the current economic climate.

This specialised publication, prepared by market experts with years of experience in analysing grocery retail market segments in Central Europe, contains data describing the size, value and growth potential of the grocery retail markets in Bulgaria, the Czech Republic, Hungary, Poland, Romania and Slovakia. The report pays special attention to the size and structure of the market's distribution network, offering forecasts on the expected development of major channels.

The report supplies facts and analysis on the competitive environment of Central European grocery retail presented in detailed profiles that include store count totals for chains, overview of the assortment, with special focus on private labels, distribution and logistics practices and information on recent and planned investment trends. Readers may learn about new market entries and strategic business responses to new consumer trends.

Macroeconomic and demographic data is provided for each of the six countries covered in this report, along with applicable analysis of the effects of current conditions on the market as well as forecasts for the direction and extent of market expansion. Changes in the legal and regulatory environment, such as changes of the tax system, or antitrust procedures are also discussed, along with their influence on market growth potential.

Grocery retail in Poland 2013, Development forecasts for 2013-2015 utilises the results of consumer surveys conducted by PMR Research and focused on shopping preferences and spending habits, interviews with industry decision makers, and other reliable sources of information to create a complete market guide that is helpful when calculating forecasts, researching the competition, estimating product demand and comparing the viability of logistics strategies.

This report is particularly valuable in performing corporate self-evaluation in terms of market position and share. Satisfied clients have included food manufacturers and processers, businesses offering grocery retail support and business consulting and analysis professionals. Government and academic organisations routinely avail themselves of PMR market information, as do trade and industry leaders, chambers of commerce and those interested in promotion of the grocery retail industry throughout Central Europe.
I. METHODOLOGY

II. EXECUTIVE SUMMARY

III. KEY MACROECONOMIC AND DEMOGRAPHIC INDICATORS

IV. GROCERY RETAIL IN CENTRAL EUROPE

V. GROCERY RETAIL IN BULGARIA

VI. GROCERY RETAIL IN THE CZECH REPUBLIC

VII. GROCERY RETAIL IN HUNGARY

VIII. GROCERY RETAIL IN POLAND

IX. GROCERY RETAIL IN ROMANIA

X. GROCERY RETAIL IN SLOVAKIA

XI. LIST OF GRAPHS

XII. LIST OF TABLES

XIII. ABOUT PMR
The popularity of hypermarket chains is decreasing in many Central European countries. There are several reasons for this decline, ranging from changing consumer preferences to financial constraints. Consequently, hypermarket operators have had to introduce innovations in order to keep up their market shares. These are some of the conclusions of PMR's new report, Grocery retail in Central Europe 2013.
Hypermarkets have had to face more challenges of late. A rise in fuel prices has made shipping more expensive for remote stores, which decreases the price advantage of hypermarkets, as well as their customers' willingness to make weekend shopping trips by car. In general, consumers have recently shown a preference for shopping close to home or work. Also, discount stores pose very strong competition in terms of basic grocery goods.
Number of new hypermarket stores in Central Europe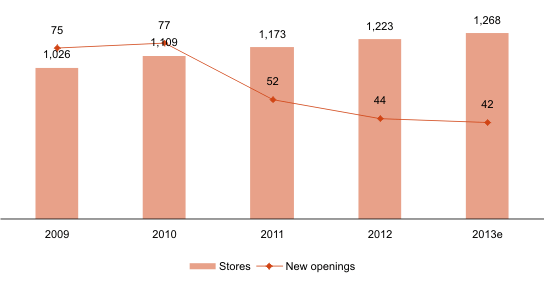 In addition to these market and consumer trends, financial constraints have affected hypermarkets just as hard. As a result of growing price competition in the grocery market, retail chains have been forced to lower their costs in order to maintain their profit margins. Due to a hypermarket's larger size, maintaining the operation of these stores and providing the additional investment necessary to lower operating expenditures (such as installing energy-efficient equipment) is more costly than for supermarkets or discounters. These factors together have led to a decline in new hypermarket store openings in recent years. Increasing saturation may also be a viable explanation for the slowdown of new openings in some countries, where it might play a significant role. Overall, though, it isn't, considering that the number of hypermarkets per 100,000 inhabitants in the CE region is still only 1.3.
Hypermarket operators have launched several innovations in order to counter these trends. First of all, the average sales floor space of hypermarket stores has been decreased and many chains have refurbished their stores. Ahold's Albert and Hypernova chains were among the first in the region to radically downsize and get a fresh design, completing this in 2009.
Another step has been to expand the product line, including also services. The best example of this is Tesco, which introduced its Extra format to the regional market in 2010. Tesco Extra hypermarkets have an extended assortment of fresh grocery products, clothing and footwear and other non-food products, as well as additional services, such as a pharmacy, photo service, optical shop, and telecommunications centres.
In reaction to the rising cost of fuel, which has reduced customers' ability to make large, weekend shopping trips, hypermarkets have started operating fuel stations near their stores that offer discount prices on fuel. Every major hypermarket chain in the region operates fuel stations next to selected hypermarkets with the exception of Schwarz Group's Kaufland. Kaufland offers fuel at only one store in Poland so far, but has not ruled out an expansion of the service.
One of the most significant innovations of late has been the large-scale launch of online shopping in the grocery segment, mainly by Tesco. It is important to point out that Tesco was not the first retailer to offer such a service; there have been several smaller chains in many countries that preceded Tesco. None of them, though, operates at the same scale as Tesco, which introduced the service in every CE country in which it operates in a single year. Online ordering and delivery makes shopping even more convenient than corner stores. Tesco launched its service in and around the countries' respective capitals, but after it was well-received there, the company started expanding the area of operations. Every Tesco subsidiary has reported a strong start, with more than 10,000 orders in the first two months of operation. In some countries, the launch brought about unexpected results, such as in Hungary, where the value of the average online shopping basket exceeded the average in-store basket. The share of online grocery sales is limited in the region, and the effect of Tesco's launch is not yet apparent in statistics, but Tesco's constant expansion and the launch of similar services by other players will definitely change the status quo soon.
The material was prepared in December, 2013.
Skip to top
Ask Your Question
Grocery retail in Central Europe 2013