Abstracts
Contents
List of Tables
About
SUMMARY
The value of the cider category went up, even though the category performed flatly in terms of volume. Beer was heavily promoted during the FIFA World Cup giving cider strong competition. Flavoured cider performed strongly attracting a younger audience who prefer the sweeter taste. Promotions within off-premise were aggressive and promotions were seen in all supermarkets. The trend for craft cider continued as people increasingly looked for more artisan products.
KEY FINDINGS
The UK cider market had a flat performance in terms of volume, but gained some value
Duty on cider has been reduced
Consumers are seeking out artisan products
SYNOPSIS
Canadean's United Kingdom Cider Market Insights 2015 Report provides a complete overview of the United Kingdom cider industry structure offering a comprehensive insight into historical background trends, 2014 performance and 2015 outlook. Covering total market (on and off-premise) the report details:
2010-2014 actual detailed cider consumption volume data by segment, brand, brewer, packaging and distribution (on-/off-premise), with 2015 forecasts
Top line production, import, export and consumption volume from 2004-2014 with forecasts for 2015
Value by distribution channel 2010-2014, with 2015 forecasts

2013-2015 selected on-/ off-premise retail prices

Details of key cider new product launches in 2014 by company
Overview of the competitive landscape in the cider market, with analysis of key company performance
Insightful and valuable analysis of the drivers behind both current and emerging trends in the cider market
Data is also available in excel format
REASONS TO BUY
Gain in-depth understanding of the dynamics and structure of the United Kingdom cider industry, from the latest competitive intelligence of both historical and forecast trends to enhance your corporate strategic planning
Evaluate the current emerging trends and future growth opportunities in the United Kingdom cider market to support your brand development and marketing initiatives
Compare and track the performance of brands and brewers to develop a competitive advantage
Understand volume vs value trends and identify the key growth opportunities across the super-premium, premium, mainstream and discount segments to best target profitability
Identify how brewers can capitalise on current consumer trends and increase brand volume and profit by expanding operations into new areas such as cider
Interrogate the unique granularity of our data to analyse the market on a variety of levels to make well-informed decisions on future threats and growth prospects in the marketplace for your company
Use our new powerpoint add-on to quickly absorb a succinct summary of the key trends in the United Kingdom cider market
View a selection of the key 2014 product launches and identify competitor activity and product innovation and differentiation prospects
1 DATA REVISIONS SUMMARY

2 MARKET UPDATE

2.1 Market Commentary
2.2 New Products and Photo Shots
2.3 Packaging Trends
2.4 Legislation and Taxation Tables
2.5 Cider Pricing Tables
2.6 Cider Data Tables

3 CIDER PRODUCERS/IMPORTERS

4 APPENDIX

4.1 Disclaimer
4.2 Methodology and Product Definitions
4.3 Map

LIST OF FIGURES

Figure 1: New Products and Photo Shots
Figure 2: Cider Leading Brewers/Importers, 2014
Figure 3: Cider Consumption by Pack Material/Type, 2014
Figure 4: Cider Distribution by Channel, 2014
Figure 5: Cider Consumption by Price Segment, 2014

COMPANIES MENTIONED

A-BInBev
Aston Manor Brewery
C and C Group
Heineken UK
Aspalls
Brothers Drinks Co Ltd
Kopparberg
SHS Drinks
Thatchers Cider Co
H Weston and Sons Ltd
Although the cool start to 2013 points to another year of downward sales Canadean believes that, there are a number of reasons for the industry to be optimistic. Key will be a better summer; even an average summer should be good enough to prompt growth this year.
The arrival of Carling and Somersby is another factor that should boost the market. The marketing investment should raise the noise level of the category and improve its profile. The involvement of Molson Coors, Carlsberg and recently Fullers is an endorsement of the future prospects of the category.
The outlook for ciders has been dramatically improved now that the threat from minimum pricing has been removed. Government estimates suggested that the cider market would nearly be halved if the policy was introduced.
Private Label squeezed by brands
Cider is a very price sensitive category and, with sales bias towards the off-premise, Private Label has a share of around 8% of the market. The alcoholic duties order has pushed prices up and the drop in overall off-premise sales has contributed to the estimated 5% decline in consumption last year.
Aston Manor now produces the vast majority of all Private Label ciders in the UK. C&C Group cut out the less profitable Private Label contracts in 2011 but remains an important producer. Malt House Vintners produces own label volumes for Bookers.
Cider Leading Brewers/Importers, 2012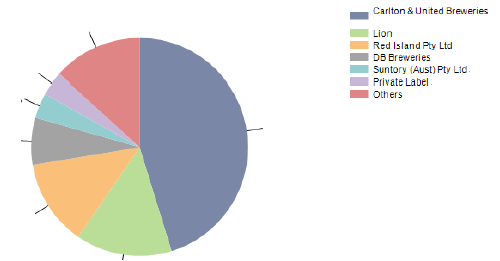 Strongbow still dominates but volumes tumble
A new pear variant and a lower 5.0% Abv could not prevent Strongbow falling steeply last year. The brand remains a cider giant and still accounts for well over a quarter of total sales. The pear variant was relatively well received and this helped packaged sales hold up. The pear variant is now the biggest branded pear product in the off-premise. Draft sales were the main factor behind the 2012 performance. A 7% increase in prices was a driver but the continued success, albeit at a slower rate, of draft variants of Thatchers, Stowford Press and Magners is hitting the brand hard. Not to miss out on the flavored cider boom, a dark fruit variant has appeared in 2013. Heineken continues to support the brand and has international aspirations for it.
Minimum pricing threat to white ciders fades
The key segment movement in 2012 was the rise of flavored cider, which has now overtaken the pear segment to make up around a tenth of the market. The launch of Stella Cidre pear and Strongbow Pear more than compensated for the fall in other branded pear offerings and pear share did increase last year, standing at almost 9% of the market. Apple continues to dominate but has dropped to little more than 80%. Until recently the market was split between the dry apple ciders popular in the West Country and the sweet apple ciders enjoyed in the North East. The dry ciders make up the bulk of sales.
The arrival of Kopparberg reignited the pear segment (or what industry purists would call perry) and its success prompted Magners, Bulmers, Stella Cidre and Strongbow among others to introduce pear variants. When Kopparberg began to enjoy phenomenal success with other flavors, the big players followed suit culminating in the jump in flavored ciders in 2012.
The material was prepared in September, 2013.
LIST OF TABLES

Table 1: Cider Key Facts
Table 2: Top 10 Cider Brands - Volume, 2012-2014
Table 3: Top 10 International Premium and Superpremium Cider Brands - Volume, 2012-2014
Table 4: Licensed Brand Owners and Licensees
Table 5: Cider Market Valuation (Local Currency), 2013-2015F
Table 6: Taxation Base (March 2013 Budget)
Table 7: Historical Excise Rates of Cider
Table 8: Legal Controls on Cider
Table 9: Tax Burden on Cider
Table 10: Selected Consumer Cider Prices: On-Premise, 2012-2014
Table 11: Selected Consumer Cider Prices: Off-Premise, 2012-2014
Table 12: Cider Production/Trade/Consumption 000 HL, 2005-2015F
Table 13: Cider Production/Trade/Consumption - Growth, 2005-2015F
Table 14: Consumption of FABs and Cider (000 HL), 2004-2015F
Table 15: Cider Market Valuation (Local Currency), 2013-2015F
Table 16: Cider Consumption by Local Definition, 2011-2015F
Table 17: Cider Consumption by Standard Price Segmentation, 2011-2015F
Table 18: Cider Consumption by Alcoholic Strength, 2011-2015F
Table 19: Cider Consumption by Type, 2011-2015F
Table 20: Cider Consumption by Geographic Scope, 2011-2015F
Table 21: Cider All Trademarks, 2010-2014
Table 22: Cider Brands by Local Definition, 2010-2014
Table 23: Cider Brands by Standard Price Segment, 2010-2014
Table 24: Cider Brands by Alcoholic Strength, 2010-2014
Table 25: Cider Brands by Type, 2010-2014
Table 26: Imported Brands by Origin, 2010-2014
Table 27: Cider Licensed Brands, 2012-2014
Table 28: Cider Private Label Brands, 2010-2014
Table 29: Cider Trademark Owners, 2010-2014
Table 30: Cider Local Operators, 2010-2014
Table 31: Cider leading Brewers/Importers, 2010-2014
Table 32: Cider Consumption by Pack Mix: Refillability/Pack/Size, 2011-2015F
Table 33: Cider Distribution: On vs Off Premise, 2011-2015F
Table 34: A-BInBev UK Brand Volumes 2011-2014
Table 35: Aston Manor Brewery Brand Volumes 2010-2014
Table 36: Carlsberg UK Brand Volumes 2012-2014
Table 37: CandC Group Brand Volumes 2010-2014
Table 38: Heineken UK Brand Volumes 2010-2014
Table 39: Molson Coors Brewers UK Brand Volumes 2011-2014


Skip to top
Ask Your Question
United Kingdom Cider Market Insights Report 2015