Chinese Smartphone Market Development, 4Q 2015
As of the third quarter of 2015, the number of China's mobile phone subscribers topped 1.3 billion, with the adoption of 3G/4G services reaching 57.6%. There were 102.6 million smartphones shipped in the quarter. When it comes to performance of individual brands in China, Huawei and Xiaomi continued to stage the best performance while Apple maintained around 10% market share. Sales of Samsung and Lenovo, however, continued to slide further. This report examines the development of the Chinese smartphone market during the third and fourth quarter of 2015 from the perspective of telecom operators and smartphone branded vendors.
1. DEVELOPMENT OF THE CHINESE MOBILE COMMUNICATIONS MARKET

1.1 China Mobile
1.2 China Telecom
1.3 China Unicom

2. DEVELOPMENT OF THE CHINESE SMARTPHONE MARKET AND MAJOR PLAYERS

2.1 Samsung
2.2 Apple
2.3 Lenovo
2.4 Huawei
2.5 Xiaomi
2.6 HTC

3. DEVELOPMENT OF MAJOR CHINESE SMARTPHONE VENDORS

Appendix
Glossary of Terms

LIST OF COMPANIES

Apple
China Mobile
China Telecom
China Unicom
Gionee
Google
Hisilicon
HTC
Huawei
JD.com
K-Touch
Lenovo
MediaTek
Meizu
Motorola
Oppo
Qualcomm
Samsung
Spreadtrum
Suning
Taobao
Tmall
Valve
Xiaomi
ZTE
ZU


LIST OF TABLES

Table 1: Smartphones Launched by Chinese Branded Vendors in 4Q 2015


As of the third quarter of 2013, the number of Chinese mobile phone users reached around 1.2 billion, 377.6 million of which were 3G users, representing a penetration rate of 31.2%. China Telecom and China Unicom saw their 3G user adoption arrive around 50% and 40%, respectively, while China Mobile's user adoption of 3G hit around 22.4% in the same quarter, posting a stronger growth momentum compared to its rivals.
Accumulated Subscriber Base of China Mobile, China Unicom, China Telecom, 1Q 2011 - 3Q 2013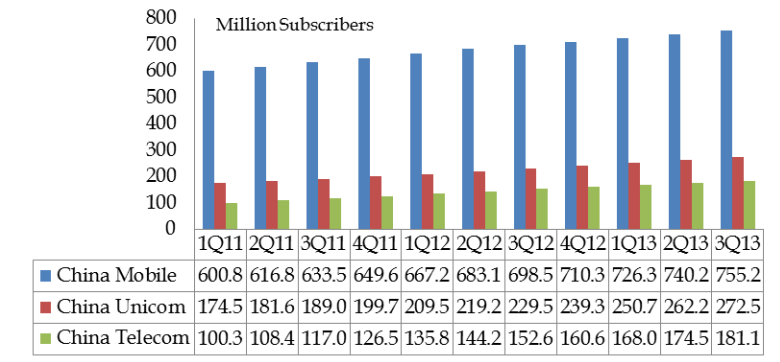 Accumulated 3G Subscriber Base of China Mobile, China Unicom, China Telecom, 1Q 2011 - 3Q 2013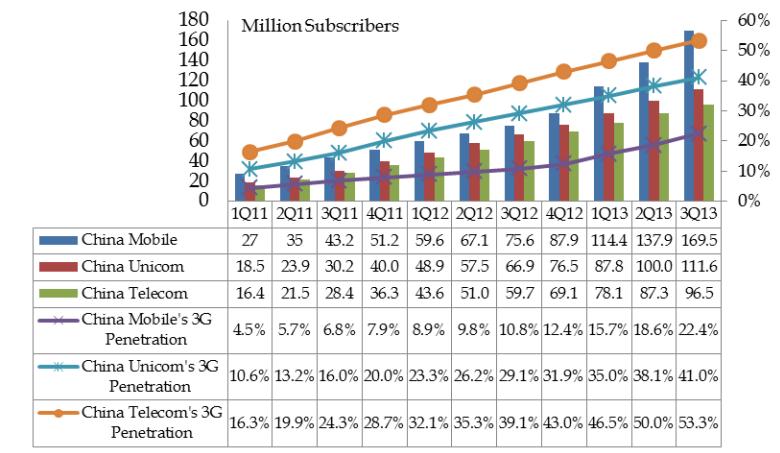 ---
---
More Publications